As much as I would like to proclaim from the mountaintops that I can grow food from the earth with my own two hands, I cannot. I kill most things I look at. I try, I really do. I planted some parsley, basil and chives at the beginning of the summer - and they were growing nice and lush, until I forgot to water them.
Plants need water, plants need water, plants need water.
Lucky for me, a coworker has a much greener thumb than I, and she doesn't mind sharing her bounty, for which I am forever grateful. I left work last Friday with a huge bundle of fresh basil just wanting to be made into homemade pesto!
PESTO

1 bunch fresh basil, leaves cleaned and removed1/2 cup toasted pine nuts*1 garlic clove1 tbsp grated lemon peeljuice of 1 lemonsalt and pepperextra virgin olive oilIn a food processor, blend together basil, pine nuts, garlic, lemon peel and juice and salt and pepper. While blending, stream in olive oil until the pesto reaches the desired consistancy. (I like it a little runny, so I use more oil.)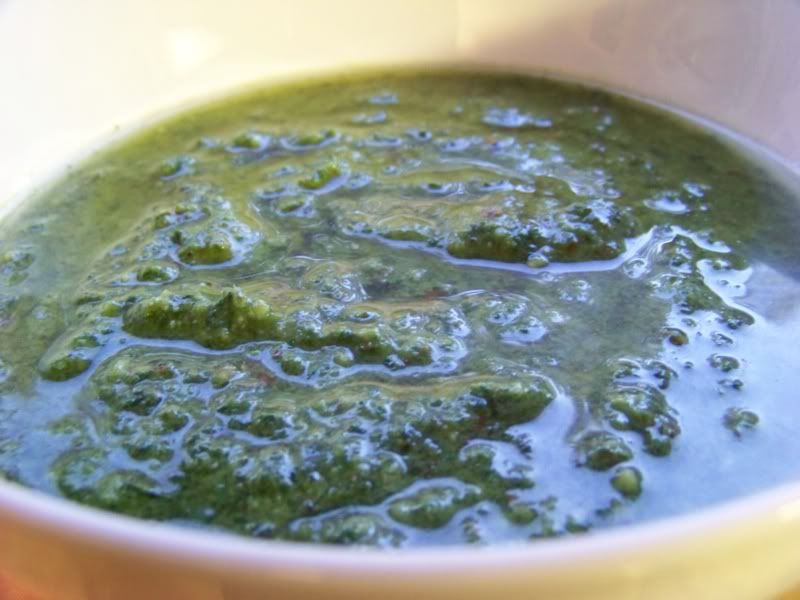 Pesto works well on meats such as chicken, beef and fish...and it of course, it is delicious as a pasta sauce. I like to also use it in soups for an extra punch of flavor, and I also add it to homemade pizza, under the tomato sauce.
Want pesto all year round? After preparation, freeze it in ice cube trays!
Of course, I went the traditional route and enjoyed this batch with some pasta.
*To toast your pine nuts: place nuts in a single layer in a dry skillet. Bring skillet to medium heat, shaking nuts every couple of seconds so they do not burn. When they turn a golden brown, take them off the heat. Toasting your nuts brings out the natural oils and develops the flavor. You can certainly make pesto without doing this step, but it won't be as tasty!