Korean food anyone? Growing up I was a meat and potatoes kind of girl. We just didn't do ethnic food of any kind (even Chinese take out) until I was well into high school - and even then, it was basic Chicken and Broccoli. It wasn't until I started dating Nathan, who is 1/2 Korean (his mom), that a whole new world opened up to me.
And, he reminds me every time we eat anything remotely "un-american."
For a while I have been wanting to make Bulgogi (Korean BBQ Beef) at home. I always thought it was too complicated...too time consuming. It's not - and what makes it even easier, is that you can do most of the prep work the night before. (I tastes better that way anyway!) The most complicated part of the meal is making the rice!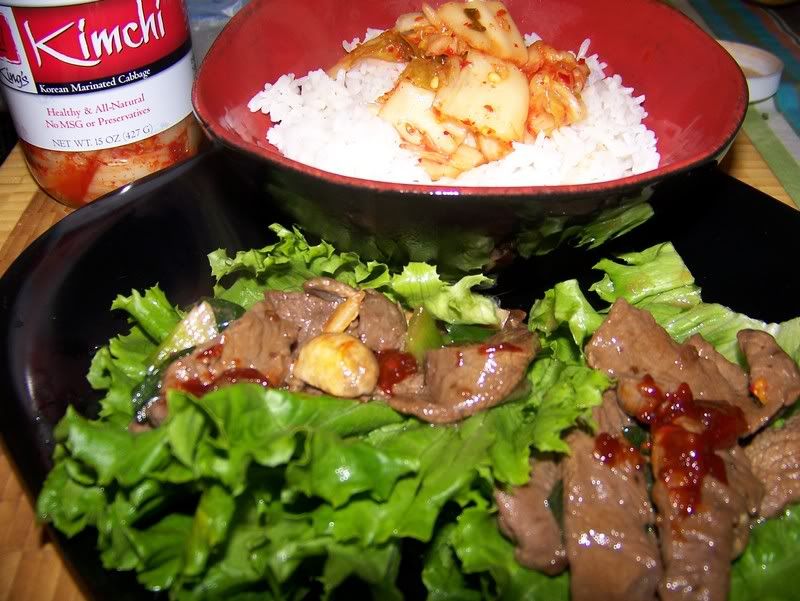 If you have an Asian Market in your city, take a visit, and pick up some Kimchi, pickled Diakon Radish, and Gochujang - a spicy chili paste. (And, look for a product called "Lux" - the body wash is amazing!!!) You will then be on your way to absolute deliciousness!
KOREAN BULGOGI

1 lb top sirloin3 tbsp soy sauce1 tbsp sesame oil1 garlic clove, minced1 tsp white sugarsalt and pepper3 green onions, sliced on an angle1/2 cup sliced white button mushroomslettuce of your choiceprepared riceThe night before: Slice beef super thin. (Hint - stick the beef into the freezer until the meat just begins to freeze - it will make slicing it a lot easier!) Place beef, green onions and mushrooms into a zip-locked plastic bag. In a small bowl, combine soy sauce, sesame oil, garlic, sugar and salt and pepper. Pour into bag. Refridgerate over night, turning bag once halfway through.Day of: Make rice. Preheat an indoor grill pan. Once pan is hot, place marinated beef and vegetables on grill and cook until beef is no longer pink. Remove from heat.To eat: Wrap meat, vegetables and rice inside a lettuce leaf. Top with a little Gochujang. Enjoy!