Halloween is tomorrow, so it is only fitting that we celebrate with something creepy!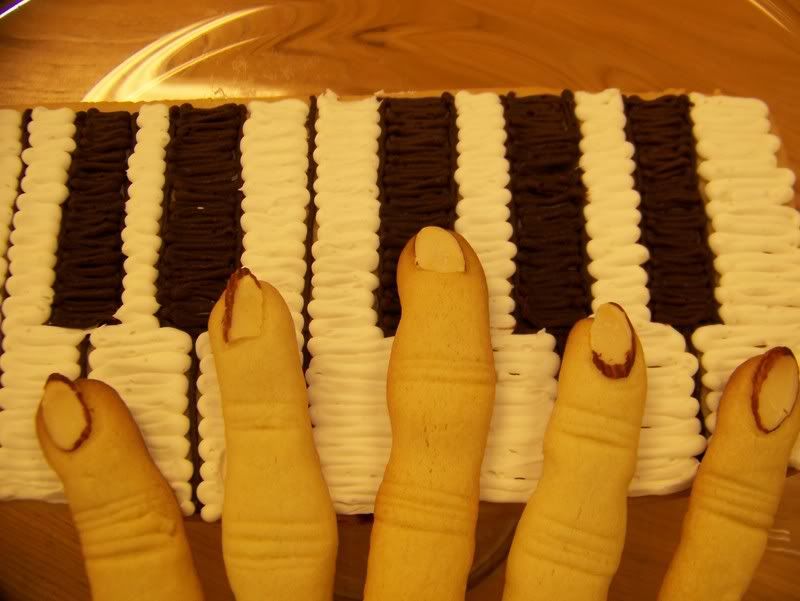 Sugar Cookie Fingers! Ewwwwww!
I saw an original recipe at http://www.epicurious.com/, but decided to use my family's "Delux Sugar Cookie" recipe, since those cookies come out perfect every time. Everyone is totally freaked out by the fingers this morning at work!
DELUX SUGAR COOKIES
1 cup butter, softened
1 1/2 cups confectioner's sugar
1 egg
1 tsp vanilla
1/2 tsp almond extract
2 1/2 cups flour
1 tsp baking soda
1 tsp cream of tartar
In a large bowl, mix together butter, confectioner's sugar, egg, vanilla and almond extracts. Blend in flour, soda and cream of tartar. Form dough into a ball, cover and chill for 2-3 hours.
Preheat oven to 375 degrees.
Divide dough. Roll out tiny finger shapes on a lightly floured surface, pinching around the knuckle area to create a knarly shape. (The first batch I did was so big, that I scaled down the dough on the second batch - which worked perfectly.) Use a knife to create the lines of the knuckles. Gently place an almond slice as the fingernail. Place on a greased cookie sheet. Bake 7-8 minutes. Cool on a wire rack.
With the other half of the dough, I decided to make a cookie piano. (What better way to highlight my gorgeous fingers?!) The piano is frosted with vanilla and chocolate store-bought icing.