Valentine's Day - a day to show your love to the special person in your life. If you play your cards right, what you feed your loved one could enhance the rest of your evening, if you catch my drift! Some foods that are known to have aphrodisiac qualities - like asparagus, almonds, avocados, bananas, basil, coffee, figs, honey, libations, rosemary, strawberries and oysters. Cayanne and chili are known to rev up the lovin' as well.
If you've been watching Food TV, you'll also know that chocolate is a must-have for any Valentine's cooking...and that chocolate is not just an ingredient for desserts. Case in point, Ellie Krieger's "Roasted Beef Tenderloin with Rosemary, Chocolate and Wine Sauce." Chocolate and beef...a classic combination? Oh yes. And I am not kidding. Make this sauce with your favorite cut of meat, and you will be on the way to the bedroom in no time!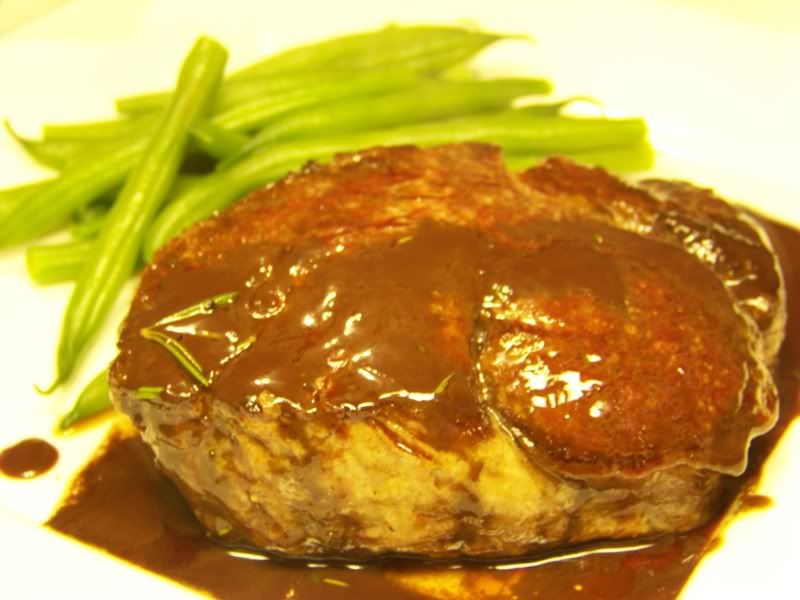 ROSEMARY, CHOCOLATE AND WINE SAUCE

1 tbsp olive oil 1/2 cup chopped shallots 1 small carrot, finely chopped 1 stalk celery, finely chopped (about 1/4 cup) 1 clove garlic, minced (about 1 teaspoon) 2 cups dry red wine 2 cups low-sodium beef broth 2 tablespoons tomato paste 1 bay leaf 1 sprig fresh thyme 1 tablespoon unsweetened natural cocoa powder 1 teaspoon chopped fresh rosemary leaves

Heat the olive oil in a large saucepan over medium-high heat. Add the shallots, carrot and celery and cook, stirring a few times, until softened, about 5 minutes. Add the garlic and cook for 2 minutes more. Add the wine and broth and stir in the tomato paste. Add the bay leaf and thyme and bring to a boil. Simmer until the liquid is reduced to about 1/2 cup, about 40 minutes. Strain through a fine mesh strainer into a small saucepan. Stir in the cocoa and rosemary and season with salt and pepper. Serve on the side with the sliced tenderloin.
This sauce is slightly bitter, due to the wine and cocoa powder, and blends really nicely with the buttery texture of the beef fillet. Nathan thought it was a bit too bitter - - so taste it before serving, and add a tsp or two of honey, if desired, to sweeted the sauce up just a touch.