I had big plans for those lentils, I really did. But, then I made this
soup
and although it was tasty, it looked a wee bit unappetizing, and I became afraid. Afraid not of the lentils themselves - but of what they can become when matched with a immersion blender.
Silly, silly me.
So, after finding 3 bags of lentils (the green variety) in the pantry, I knew that I must search for a recipe that would highlight the little disc-shaped legume and bring it to it's former glory. Since I've been on a
soup
kick
, it only seemed natural that the recipe I would give the thumbs up to would be...soup. Ham and Lentil Soup. Brace yourself for some serious "yum."
HAM AND LENTIL SOUP

1 tbsp olive oil1 tbsp butter1 medium onion, diced2 carrots, peeled and diced2 celery sticks, washed and diced8 oz. cubed ham1 1/2 cups dried green lentils4-6 cups of chicken stock1/2 cup dry vermouth1 can of stewed tomatoes, drained and roughly chopped2 cups baby spinachsalt and pepper, to taste1 tsp dried oregano1 tbsp dried parsleyHeat oil and butter in a large stock pot over medium-high heat. Add onion, carrots and celery and cook, stirring often, until onion becomes translucent. Add vermouth and continue to cook until vermouth reduces by half. Add ham, lentils and tomatoes - followed by 4 cups of chicken stock. Bring to a boil, and cook (with lid on) for about 15-20 minutes, or until lentils are al'dente. Take lid off, add spinach and season with dried herbs and salt and pepper. The spinach will immediately wilt down. If soup is too thick for your liking, add more chicken stock until it becomes the consistency you desire.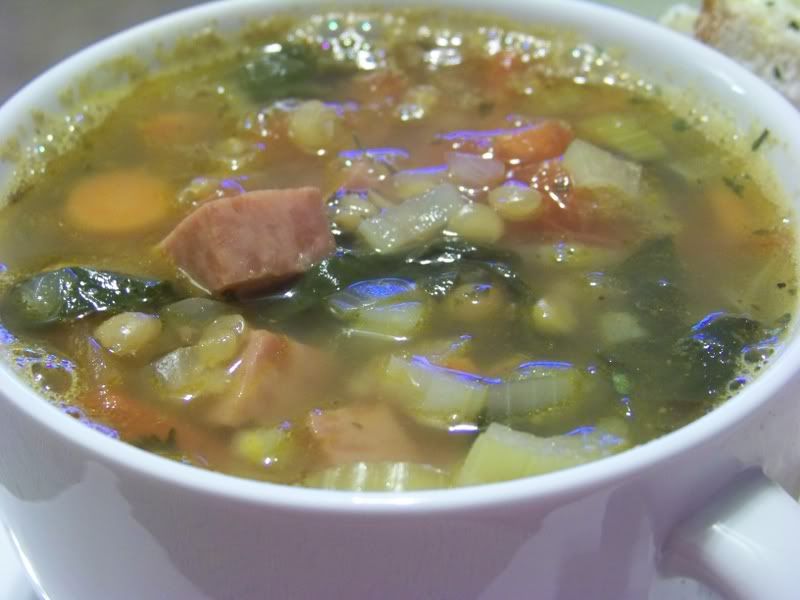 If you are not a lentil fan, prepare to be converted!