For those who watched Top Chef Chicago as faithfully as I did - you will know that the true test of a chef (or, home cook in my case) is making a successful, yet simple homemade soup. Thank you Ming Tsai for that bit of wisdom!
I love soup. For some reason, I especially love soup in the middle of summer, which I understand is very strange for some. It's light and satisfying and you don't feel like a beached whale after dinner. That does have a certain summertime appeal, right? Unfortunately, Nathan doesn't appreciate a bowl of soup for dinner at any time of the year. For him, soup is a good starter - to be combined with his meat and potatoes. When he decided to cash in his free night at the casino, I decided to tinker around in the kitchen with a few basic ingredients.
I've been wanting to try my hand at a tomato soup for a long time...the thing is, I didn't want to spend a long time preparing it...nor did I want to handle potentially harmful salmonella-infused tomatoes!
What is nice about this tomato soup - besides it being absolutely bowl-liking delicious (I kid you not!) is that all of the ingredients are very basic, and will be found in a well stocked kitchen without any issue. Oh, and BTW...not only did I eat this soup for dinner, I also warmed up a little for breakfast, and took some for lunch the next day as well. I also made a notation to double the recipe next time!
KAT'S SUMMERTIME TOMATO SOUP

1 28oz. can of whole plain tomatoes, in their juice1 quart of vegetable stock1 - 1/2 cups heavy cream2 onions, chopped2 large garlic cloves, minced1/4 cup torn fresh basil, plus more for garnishsalt and pepper, to tastecooked rice*, optional2 tbsp olive oilIn a large stock pot, saute onion and garlic in olive oil until translucent. Drain tomatoes, reserving the tomato juice. Add drained tomatoes and vegetable stock to pot, stirring to combine. Bring mixture to a boil, then lower heat and simmer for 20 minutes until the tomatoes break down slightly. Add basil and cook for another 2 minutes. Take pot off the heat, and use a stick blender to puree soup to the desired consistency. Add cream and reserved tomato juice, if desired and stir gently to combine. Return pot to heat. Taste for seasoning and add salt and pepper to taste. Serve with a scoop of cooked rice, and a little fresh basil for garnish.
*Use up those leftovers! Keep the rice separate from the soup until service, or the rice will suck up all the soup and become gummy. You can also substitute your favorite pasta, or omit the starch all together.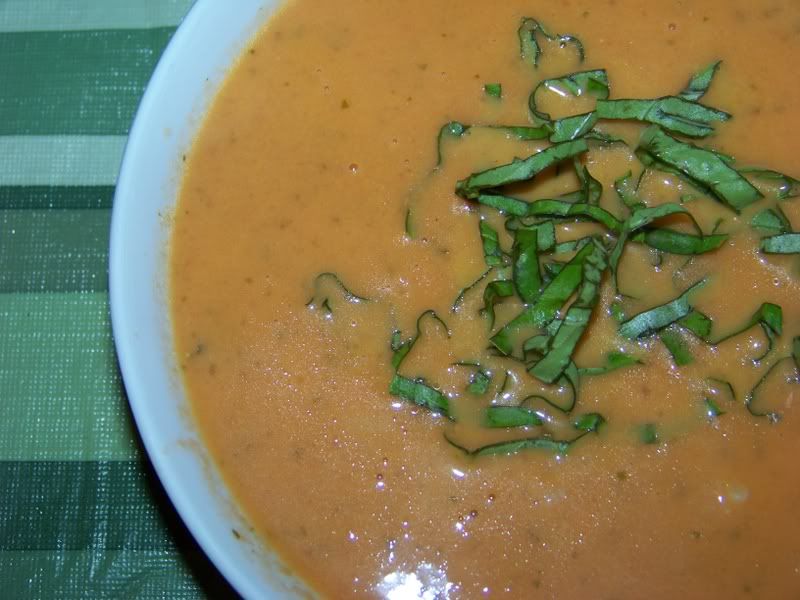 There is nothing better than fresh basil! It's one of those herbs that I have no problem growing myself, thank goodness!