Well, what do we have here? It looks like a steaming pile of ______________________!
It's quite OK to yuck this yum. I had no idea that the soup would come out looking so vomit'ous, or I probably would've skipped the recipe - after all, you do eat with your eyes first. However...for all of the negative reaction, the soup was actually *very* tasty. It is definitely going into my "keeper" pile. (Although next, I will probably serve it in a smaller vessel and top it with a chopped fresh herb so that it takes away from that terrible muddy sight!)
LENTIL SOUP

2 tbsp olive oil
1 yellow onion, finely chopped
1 garlic clove, finely minced
2 carrots, peeled and diced
2 tbsp tomato paste
1 celery stalk, diced
1 leek (white and green parts), washed and diced
7 cups of chicken stock
1/4 cup dry vermouth
2 tbsp sherry wine vinegar
1 3/4 cups of green lentils
1/2 whole lemon, seeded
salt and pepper, to taste
1 tbsp dried oregano
2-4 cups of water (if needed)


Heat oil in a large stock pot. Add onions and garlic and cook until onions are translucent. Add carrots, leek and celery and cook for a couple of minutes longer. Add tomato paste, and cook for about 3-4 minutes, until the paste turns a deep redish-brown. Add your lentils and oregano, then follow up with the dry vermouth, vinegar and chicken stock. Finally, throw the lemon into the soup and submerse.
Cook everything, stirring often, for about 40 minutes, or until the lentils are al dente. (You may have to add water, depending on the rate of evaporation...I used about 3 cups of additional liquid.) At this time, you can either season with salt and pepper and serve, or you choose to go with a little more body, and blend half of your soup. This is what I did!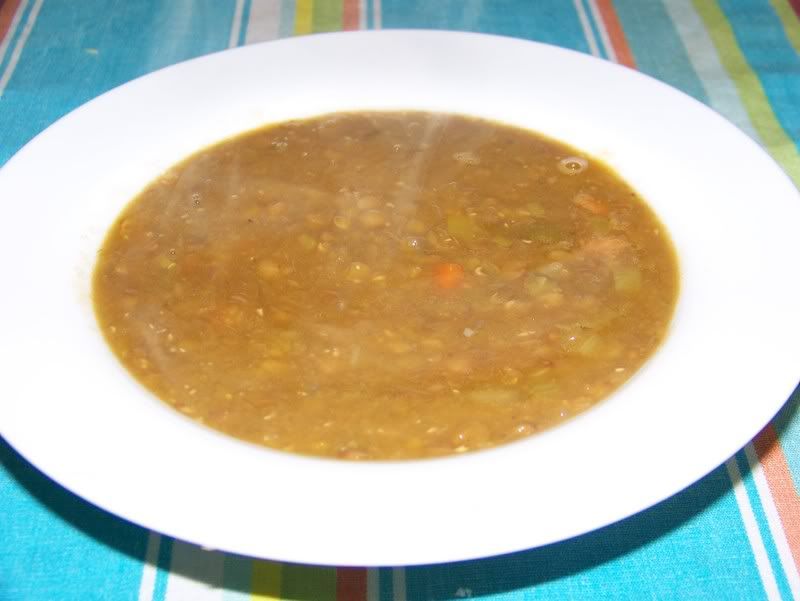 The soup had an earthy, yet sweet flavor, and was completely satisfying with a side of good old fashioned Italian bread and butter for dipping. The balance of blended lentils and whole lentils was really interesting...it gave the soup a nice texture - not unlike a
split pea soup
.