Is there anything better in the whole wide world than watermelon?
No. There's not!
I've been in love with watermelon since I was a wee little child, when it was perfectly acceptable to have juice running down your chin, and red fruit stains on the front of your shirt. Not only is watermelon delicious when in season, but it is also known for it's anti-cancer properties...so eat up!
It seems like everyone in the food blog world has been talking about
gazpacho
, a wonderful tomato based cold soup with loads of chunky vegetables.
It's certainly the season for it...I just harvested 4 huge bright red tomatoes from my pitiful little garden.
I wanted to change up the recipe a little, and substitute watermelon for the tomatoes, to give it more of a refreshing flavor...yet still be a lite starter for a meal. A quick google search showed me that I was not reinventing the wheel...but instead of using someone else's recipe, I created one of my own, to better suit our tastes.
WATERMELON GAZPACHO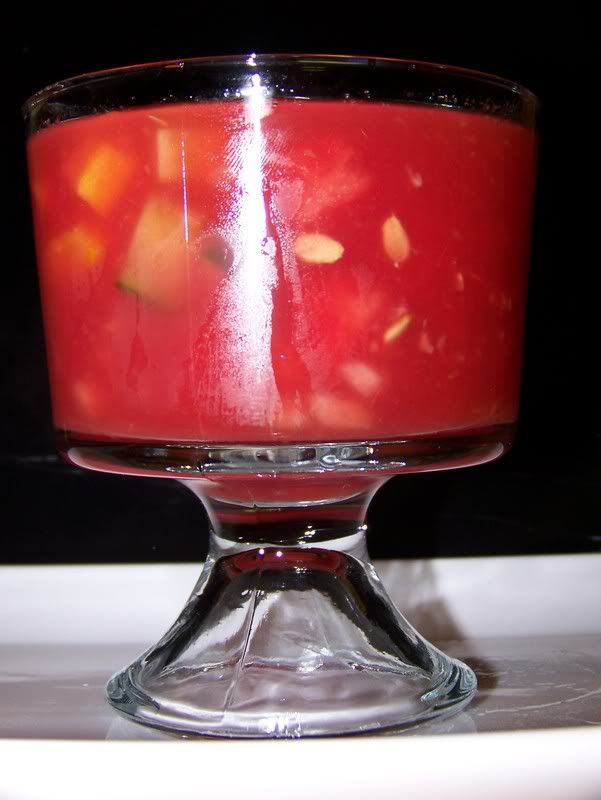 5 cups of seedless watermelon, divided1/2 cup english cucumber, finely diced (also known as "burpless" or "seedless" cucumber)1/2 cup red onion, finely diced1/2 cup yellow pepper, finely diced1/2 cup each of yellow squash and/or zucchini, finely diced1 tbsp finely diced jalepano pepper, seeds removed and discarded1/4 cup of red wine (optional)2 tbsp red wine vinegar1 tbsp lemon or lime juicesalt and pepper, to tasteFresh basilPrepare vegetables and place in a large bowl, along with wine, vinegar and citrus juice. (The wine can be omitted - but it does give the dish a nice robust deep flavor.) In a food processor, blend 2 cups of watermelon until smooth. Empty into bowl. Chop remaining watermelon into bite sized pieces and add to vegetable mixture. Gently stir and season with salt and pepper. Chill for at least 3 hours. Directly before service, garnish with fresh basil.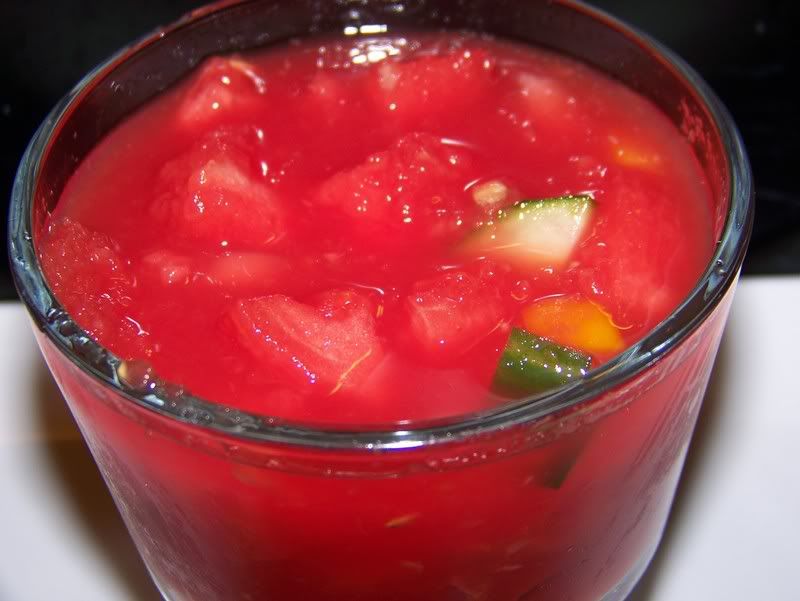 So refreshing!