My mother suffers from a couple of digestive ailments, including (but not limited to) acid reflux. About 3 years ago, she went to a nutricianist for some advice on how to treat these ailments - and returned home with a brand new wacky diet, which basically included only sweet potatoes and chicken. I'm not kidding. Thanksgiving was a
blast
that year.
Since then, her choices have been expanded - but not by much. Today, she is having surgery on her right shoulder and will be out of commission for quite a while as she heals. She asked me if I could help her make some dinners, since she will not be able to do much cooking, nor are my brother or stepfather much help in the kitchen. I was given a list of the foods she could eat (since the list of the foods she can't eat was much,
much
,
much
longer).
Foods she can eat, besides chicken and sweet potatoes...lean beef, turkey, radishes, lettuce, most fish, seaweed, carrots, zucchini, squash, tomatoes, eggs, spinach, onions and garlic.
Foods she can not eat...beans, peas, corn and corn products, pork, shell fish of any kind - shrimp, mussels, lobster, etc - avocados, cucumbers, eggplant, soy, dairy (including milk, yogurt, sour cream and cheese), flour, rice, potatoes, oatmeal, lentils, most every grain - including wheat, bread, asparagus, salad dressings, etc...the list goes on and on and on. Everytime I came up with an idea - it would be knocked down because one of the main ingredients was on the damn list!
Saturday became cooking day. We made:
Butternut Squash Soup
Chicken Soup
(sans noodles)
Egg, spinach, feta and leek
Fritatta
2 Veggie packed
Meatloaf
(one for now, one to freeze for later)
A big garden salad to last the week
And,
Smitten Kitchen's
Ratatouille
, revised (to omit the eggplant, which is a no-no according to mom's restricted diet):
With all that cooking, in a very small amount of time, I needed helpers! I recruited my neice and nephew - as they had plenty of
experience
in my kitchen.
Kelsey was in charge of the stirring on the stove, which was quite a job, as we had many pots and pans going at one time. Shakeer helped me at the table, cutting vegetables and transferring those veggies to the pans for a little saute action. He also got his hands dirty mixing the meat for the meatloaf, and they both took turn cracking the eggs.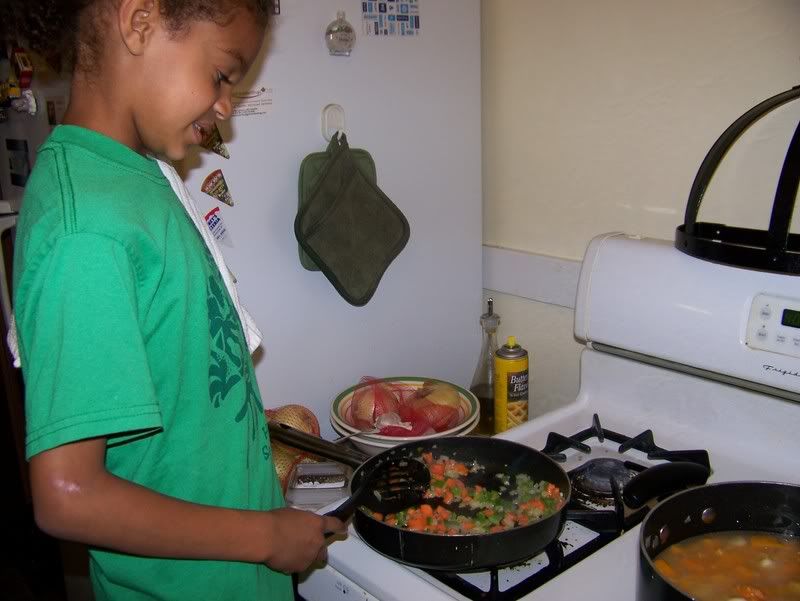 Kelsey, admiring her handy work.
All in all, we were quite successful - and got everything we wanted accomplished in the time we had, included grocery shopping for all of the ingredients! And, we had a blast. The kids tasted everything we made (for seasoning, because that's what "chef's" do!)...and found out that they both loved the Butternut Squash Soup they refused to eat the last time I made it. Who'da thunk?!
Get well soon mom...we'll talk about next week's meals a little later. I'm thinking chicken picatta and baked tilapia!