Tonight is my big cooking and prepping night, and I have been carefully plotting out a gameplan for the past couple of days! Tonight, we will eat the rest of the Chicken Noodle Soup I made on Monday, and snack (or rather, "test") the appetizers I am making for Thanksgiving day.
And, can I just mention how good Chicken Noodle Soup is on a cold evening?! The weather has been rather strange as of late - just last week our daytime temps topped out at 70 degrees! Yet, this morning, is was a chilly 23 degrees, with frost on my windshield.
Soup season has officially arrived - although a little later than expected.
KAT'S

MORE

CHICKEN AND NOODLE

THAN

SOUP

6 cups of Chicken stock (I make my own, but a 2 large paper containers of store bought can be substituted here.)
2 cups of shredded chicken meat, white or dark or both
2 celery stalks, chopped
2 carrots, peeled and chopped
1 onion, minced
1 garlic clove, minced
1 tbsp each - dried thyme and oregano
1 dried bay leaf
2 tbsp olive oil
1 tbsp butter
2 tbsp fresh parsley
2 cups of dry egg noodles
Water, if needed
Salt and pepper, to taste

Heat oil and butter in a large stock pot. Add onions, garlic, carrots and celery. Let vegetables saute until onions are translucent and carrots become soft. Add the bay leaf, as well as the dried thyme, oregano, salt and pepper. Add chicken stock. Bring to a boil, then add shredded chicken meat. Continue cooking, covered, on medium high for 20 minutes, so that the flavors can develope.

Check your soup...if you need to add water, do so. After the soup is brought up to a boil again, add the pasta of your choice. I chose egg noodles, because they have a great shape and provide wonderful texture. Cook for another 7-8 minutes, until the pasta is al'dente. (You can also add prepared rice for Chicken and Rice Soup!) Serve with some crusty bread for dippin'!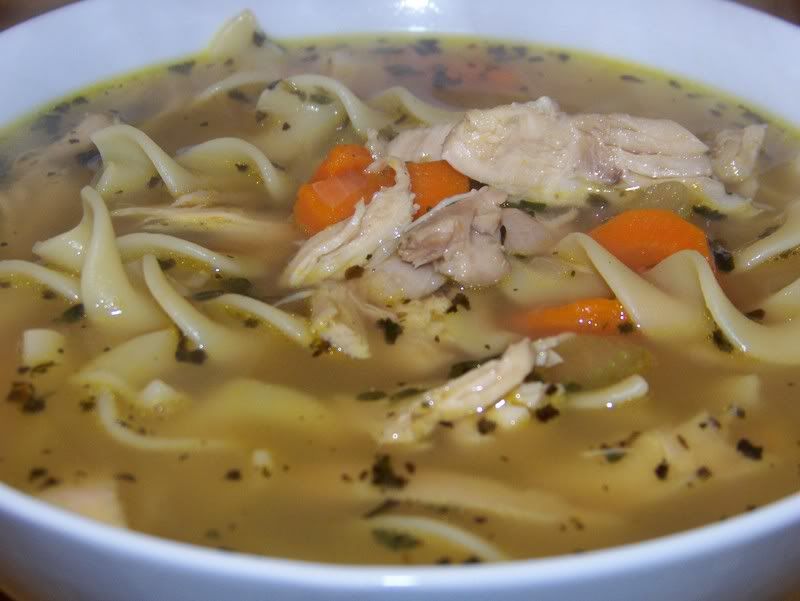 I really like the herbs that are used in this dish...and I like how they add some floating color to the stock when served. Even though it is quick cooking, it looks very authentic - and tastes so much better that soup from a can - no matter how many "ummm, ummm's" they put on the packaging. Plus, it is a great refridgerator clean out!