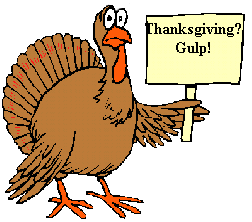 I don't know how Thanksgiving creeped up on me this year, but it did...in fact, I didn't even realize that it was so close until last week!
My memories of Thanksgiving are not as fond as some. Especially in the last couple of years, after my grandmother's death. Family just doesn't gather like they did when she was around. It's a bit sad, and a bit frustrating - but life goes on, and people will do as they please.
Anyway, on to cheerier things:
Last night, I sat down with my mom (who is hosting the dinner) and decided on a menu. We are planning on feeding 13 people, in total.
To Start:
Shrimp and Cucumber on toasts*Risotto Balls*Japanese Eggplant with mozzarella and roasted tomato*
Cheese Ball and crackers
Veggie Platter
Main Meal:
Roasted turkey
Stuffing
Mashed Potatoes
Gravy (duh)
Cranberry Fruit Compote*Sweet Potato Casserole*Green Bean Casserole*
Steamed Vegetables
Fruit Salad with Walnuts
9-Grain Rolls*
Dessert:
Homemade Vanilla Ice Cream*Chocolate Angel Food Cake with Mint Chocolate Ganache*
Sugar-free Apple Pie
Pumpkin something (pie or squares)
The * is my responsibility. Personally, I'd like to skip the meal and head straight for dessert! (recipes to follow at a later time)