I've been craving Chili for the past couple weeks now, but it's been so unseasonably warm that I kept putting it off. I decided I could not wait to satisfy my craving any longer.
Chili is one of those dishes that seems like it would take forever to cook. But, it's really quite easy and not at all time consuming. Basically, you dump all your ingredients into a great big pot, and let it cook! Everyone has their own favorite recipe for Chili - below is mine.
KAT'S CHILI CON CARNE

1 lb ground sirloin (I like the 90/10 fat ratio)
1 large can of red kidney beans, drained
1 green bell pepper, cut into small cubes
1 onion, chopped
1-2 garlic cloves, minced
1 large can crushed tomatoes (or 1 jar of your favorite tomato sauce)
2 cups of water
1 tbsp olive oil
2 tbsp chili powder
1 tsp paprika
salt and pepper, to taste
1 tbsp cayanne pepper (you can add more if you like your chili spicy)

Heat oil in a large pot over medium-high heat. Brown beef. Add onions and garlic, and continue cooking until onion is translucent. Season with chili powder, cayanne and paprika. Add crushed tomatoes, and 2 cups of water. Bring to a boil, cover and cook for 20 minutes, stirring occasionally. After 20 minutes, add kidney beans and green pepper. Cook until heated through - approximately 7-10 minutes more. Serve!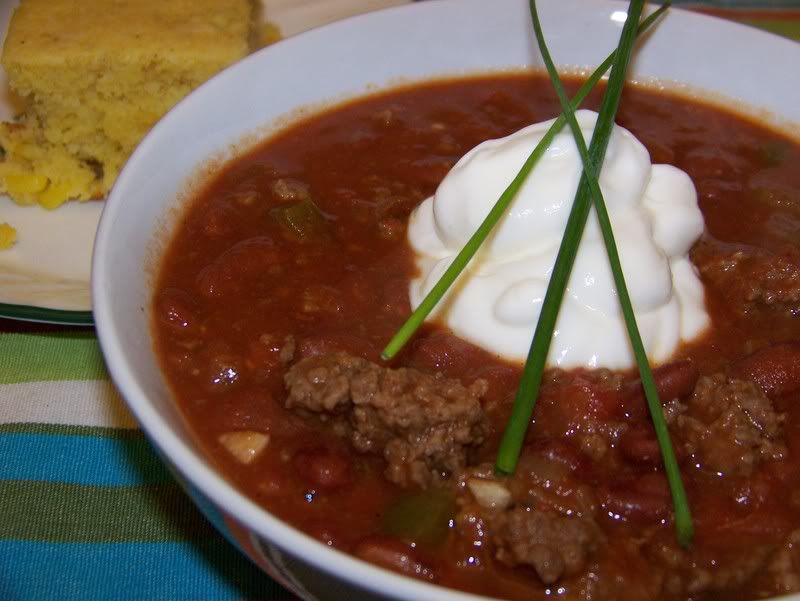 There are so many garnishes that you can add to make your Chili even more special...I like the mixture of sour cream and chives - which is what I added last night to my serving. Nathan likes shredded cheddar cheese. A little minced onion is also a nice accompaniment.
What do you put in your chili?
I'm also patting myself on the back because I finally found a recipe for cornbread that doesn't taste like cardboard!
CORNBREAD
(recipe adapted from
Martha Stewart's Baking Handbook
)
1 cup all purpose flour1 cup of yellow cornmeal1/3 cup of shortening, plus more to grease pan2 tsp baking powder3/4 tsp salt1/3 cup sugar, plus 2 tbsp1 cup of milk1 egg, slightly beaten1 tbsp butter1 cup of frozen or fresh cornPreheat oven to 425 degrees. Grease 8x8 inch baking pan with shortening, and dust lightly with cornmeal. Melt butter in a small skillet, and add corn. Saute until corn turns slightly brown. Take off heat, and set aside.In a large bowl, combine flour, sugar, baking powder and salt. Add shortening and cut in until mixture resembles coarse crumbs. Add milk, egg and corn mixture, and mix until just combined. Pour batter into the prepared pan, and cook in oven for 18-20 minutes, or until a toothpick comes out clean from the center. Cut into squares and serve with a little pat of butter.