Thanksgiving is the perfect time to test out lucious desserts! Our family eats the obigatory pumpkin and apple pies...but what is a satisfying dessert without
chocolate
?
DEVIL'S FOOD CAKE

WITH

MINT-CHOCOLATE GANACHE
(recipe courtesy of Martha Stewart's Baking Handbook)
Makes one 9'' layer cake.
3 sticks butter, room temperature, plus more for pans
3/4 cup Dutch-processed cocoa powder, sifted, plus more for pans
3/4 cup hot water
3/4 cup sour cream
3 cups cake flour (not self-rising), sifted
1 tsp baking soda
1/2 tsp salt
2 1/4 cups sugar
4 large eggs
1 tbsp pure vanilla extract
Mint-chocolate ganache (recipe to follow)

Preheat oven to 350 degrees. Butter two 9x2 inch round cake pans; dust with cocoa butter, taping out excess. In a medium bowl, whick together cocoa and hot water, until smooth. Whisk in sour cream. Set aside and let cool. (It doesn't matter how beatiful the chocolate mixture looks!!!! Do not taste it at this time!!!! You may throw up a bit in your mouth!) Into another medium bowl, sift together flour, baking soda and salt, and set aside.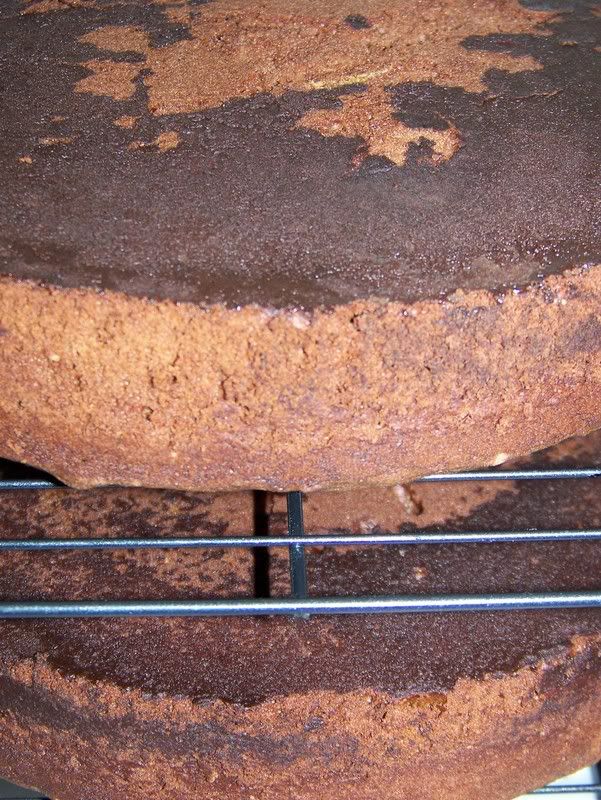 In the bowl of an electric mixer fitted with the paddle attachment, beat butter and sugar on medium speed until light and fluffy, 3 to 4 minutes. Add eggs, one at a time, beating to combine after each; scrape down the sides of the bowl as needed. Beat in vanilla. With mixer on low speed, add flour mixture in two parts, alternating with the cocoa mixture and beginning and ending with the flour; beat until combined.

Divide batter between prepared pans; smooth with an offset spatula. Bake approximately 45-50 minutes, or until a cake tester comes out clean. Transfer pans to a wire rack to cool. After 15 minutes of cooling, take cakes out of pans, and let cool completely on the wire racks.



MINT CHOCOLATE GANACHE



4 cups of heavy cream
2 lbs of quality semisweet chocolate, finely chopped - if not in chip form
1/4 cup light corn syrup
1/4 tsp salt
1 1/2 tsp pour peppermint extract

Empty chocolate into a large bowl. In a small saucepan over medium-high heat, bring the cream to a full boil. Turn off heat. Pour heated cream onto chocolate, and let melt for approximately 2-3 minutes. Slowly whisk until smooth. Add the corn syrup, salt and peppermint extract, and stir until well combined. Let set.

Using a serrated knife, trim the tops of the cake to make levels even. Transfer one of the layers to a cake serving dish, lined with strips of parchment paper. Use 1/2 of prepared ganache over first layer. Let set. Add second layer to cake, and pour the rest of the ganache over the top - let the ganache fall over the sides. Put cake into the refridgerator to set completely.

Before service, remove the parchment paper to create a clean edge along the cake plate. Garnish with a couple of mint leaves, if desired.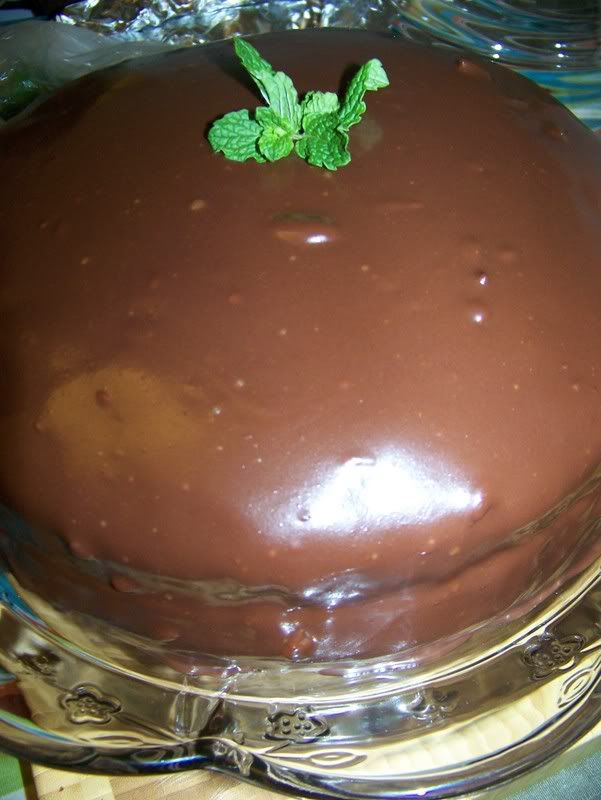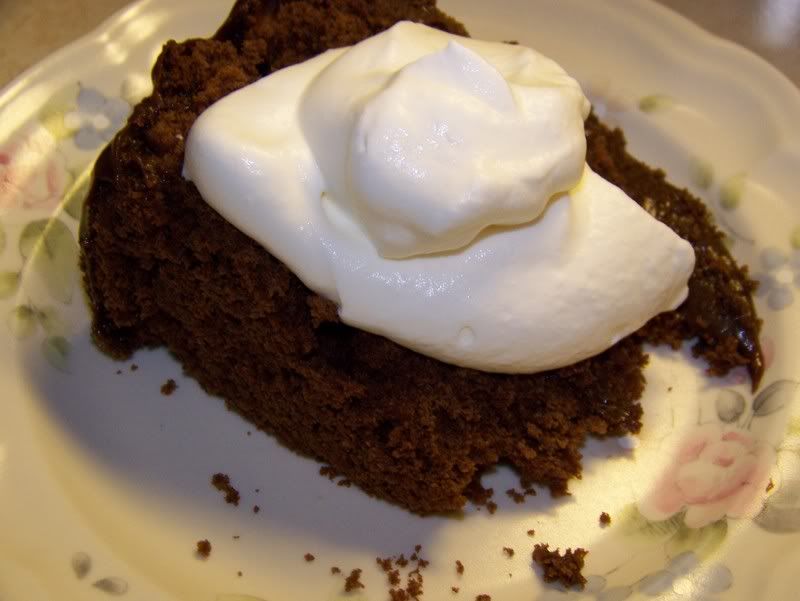 The cake came out so light and fluffy, not at all like the picture in the cookbook...I'm not sure if it was some trickery on the part of the photographer, or if I overbeat the "wet" ingredients. Either way, it didn't matter, because the cake was so great tasting!
I was a little concerned about the mint in the ganache - but again, there was not much to worry about...the mint was so subtle, and not at all "toothpaste tasting" like I dredded. Of course, if you are not a fan of mint, you can omit the flavoring all together!