From time to time I like to go all out for Sunday dinner. To me, Sunday dinner was the one night of the week where the whole family comes together to eat, talk and laugh. Memories were made on Sundays!
And, what goes with Sunday Dinner better than...DESSERT?!
Nothing!
Special thank you to my Aunt Jane who gifted me
Martha Stewart's Baking Handbook
for Christmas last year. It is full of amazing recipes, and I totally recommend it to any beginner, intermediate or advanced baker. Every recipe I have tried, has been a raving success on every level.
BANANA-CARAMEL CAKE
1 1/2 sticks, plus 3 tbsp butter, at room temperature2 3/4 cups flour1 1/2 tsp baking powder1 tsp baking soda1/2 tsp salt3 very ripe bananas, mashed, plus 3 ripe bananas sliced lengthwise for filling1/2 cup sour cream1 tsp vanilla extract1 2/3 cups plus 1/4 cup sugar2 large eggsMascarpone Frosting (recipe follows)Caramel Sauce (recipe follows)Preheat oven to 350 degrees. Butter two 9 inch round baking pans, then dust with flour. Set aside. Into a medium bowl, sift together flour, baking powder, baking soda and salt. In a small bowl, stir together mashed bananas, sour cream and vanilla. Set aside.In the bowl of an electric mixer fitted with a paddle attachment, beat 1 1/2 sticks of butter and 1 2/3 cups sugar on medium-high speed until light and fluffy, app. 3-4 minutes, scraping down the sides of the bowl often. Add the eggs, one at a time, beating well after each addition. With the mixer on low speed, add the flour mixture in 2 parts, beating until combined after each, about 2-3 minutes. Using a rubber spatula, fold in the banana mixture, being careful not to overmix.Divide the batter equally between the two prepared pans. Bake for 30-35 minutes. Cool on wire rack (in pans still) for about 20 minutes, or until the pans are cool to the touch. Invert pans onto racks and let cake cool completely outside of the pans.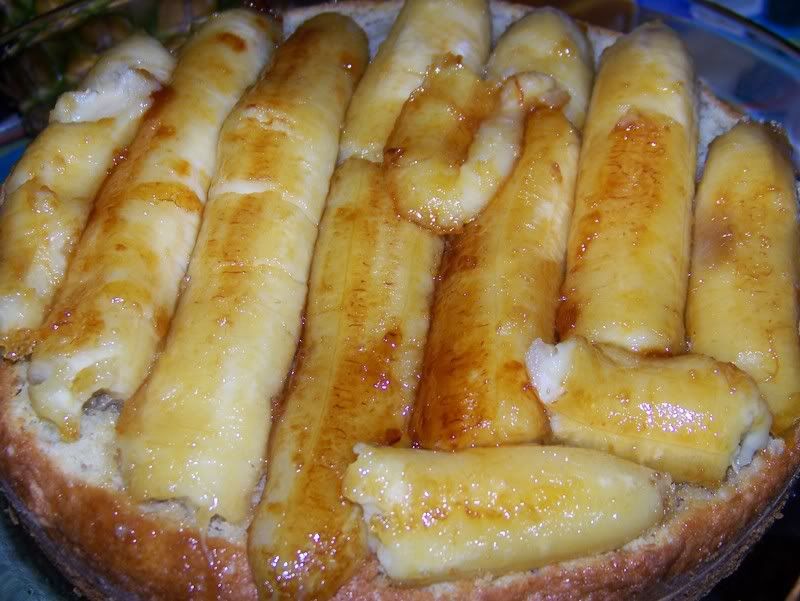 Meanwhile, sprinkle remaining 1/4 cup of sugar into a large skillet. Cook over high heat, shaking the pan occasionally, until sugar is caramelized. Remove from heat. Stir in remaining 3 tbsp butter until melted. Return pan to heat. Add the sliced bananas, cooking until they start to brown. Gently turn bananas so that both sides are browned.
Place one cake layer on a cake plate. Arrage caramelized banana slices on top. Place remaining layer on top. Using a large spatula, spread Mascarpone Frosting over entire cake, swirling to completely cover. Drizzle Caramel Sauce over the top of the cake. Serve immediately, or refridgerate, covered for up to 3 days.
MASCARPONE FROSTING
1 lb mascarpone cheese1 1/4 cups heavy cream1/2 cup confectioner's sugarIn the bowl of an electric mixer fitted with a paddle attachment, beat the mascarpone cheese, cream and confectioner's sugar until medium soft peaks form, app. 1-2 minutes. Use immediately.
CARAMEL SAUCE
1/2 cup sugar1/2 cup heavy creamPrepare an ice bath, set aside. Cook sugar in a medium saucepan over medium-low heat, until it starts to melt around the edges. Shake pan to melt remaining sugar. Continue to cook app. 3 more minutes until sugar turns to an amber color. Remove from heat. Stirring constantly, add cream in a slow, steady stream. Place caramel in a bowl in the ice bath, and let stand until cool, stirring frequently.
If you like banana bread, you will flip for this cake. And, even though there seem to be a ton of directions - the recipe is very easy and straight forward. One tip...just make sure you purchase 16 oz. of mascarpone cheese, and not 8 oz. like I did. It would've been nice to be able to frost the entire cake, and not just the top!