There is nothing...
nothing!...
like make ahead dishes for big events.
I love all things cranberry, but once you try this recipe for
Cranberry Fruit Conserve
, you will never go back to opening a can of cranberry sauce or jelly again. (Unless you are under 10 years old, and don't have a developed palate.)
I am also the kind of person who has a hard time eating poultry without the red stuff, so anytime I make a batch, it is eaten up quickly. However, it does keep nicely in the fridge for two weeks, if covered properly.
It's hard to believe that something so little can pack a big punch in the health department! Cranberries contain bacteria-blocking compounds that are believed to be helpful in preventing urinary tract infections, and scientists now think this same function may be useful in blocking the bacteria responsible for ulcers and certain oral bacteria that can lead to gum disease. Current research indicates that approximately 10 ounces of cranberry juice cocktail is needed daily to achieve the bacteria-blocking benefits that ward off UTIs, ulcers and gum disease.
CRANBERRY FRUIT CONSERVE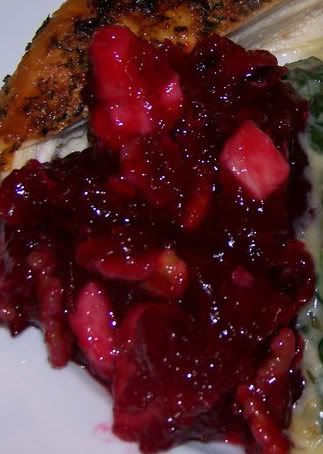 1 (12-ounce) bag of fresh cranberries, cleaned
1 3/4 cups sugar
1 Granny Smith apple, peeled, cored, and chopped
1 orange, zest grated and juiced
1 lemon, zest grated and juiced
3/4 cup raisins (optional)
3/4 cup chopped walnuts or pecans (optional)
1 large banana, sliced into half moons (optional)
1 pint of fresh strawberries, sliced (optional)

Cook the cranberries, sugar, and 1 cup of water in a saucepan over low heat for about 5 minutes, or until the skins pop open. (You will actually hear the popping, which is kind of cool!) Add the apple, zests, and juices and cook for 15 more minutes. Remove from the heat and add the raisins, strawberries, bananas and nuts. Let cool, and serve chilled.