Thanksgiving = leftovers. It's the way it should be forever and ever. Doing something special with those leftovers can be a little difficult. Last night, we had open faced sandwiches, and finished up the stuffing and gravy we were given. And, tonight I finished up the turkey with Turkey and Phyllo Pie.
Try it. It's so good! Not only does the aroma permeate the entire house - - but the dish has so much flavor, it's mindblowing!
TURKEY AND PHYLLO PIE
(recipe adapted from the Better Homes and Gardens 75th Anniversary Cookbook)
2 medium leeks, cut length-ways and thinly sliced1 garlic clove, minced1 tbsp butter3 slightly beaten eggs1 10 oz bag of frozen chopped spinach, thawed and drained1 cup shredded mozzarella cheese2/3 cup milk2 tbsp grated parmesan cheese, plus 1 tsp1/4 tsp black pepper2 cups cooked turkey (you can also use cooked chicken)4 sheets frozen phyllo dough, thawed3 tbsp butter, meltedPreheat oven to 375 degrees.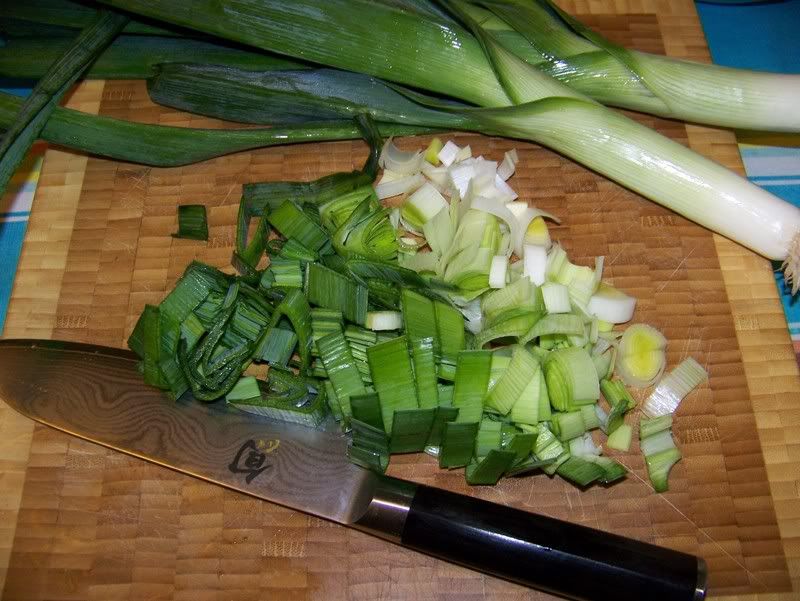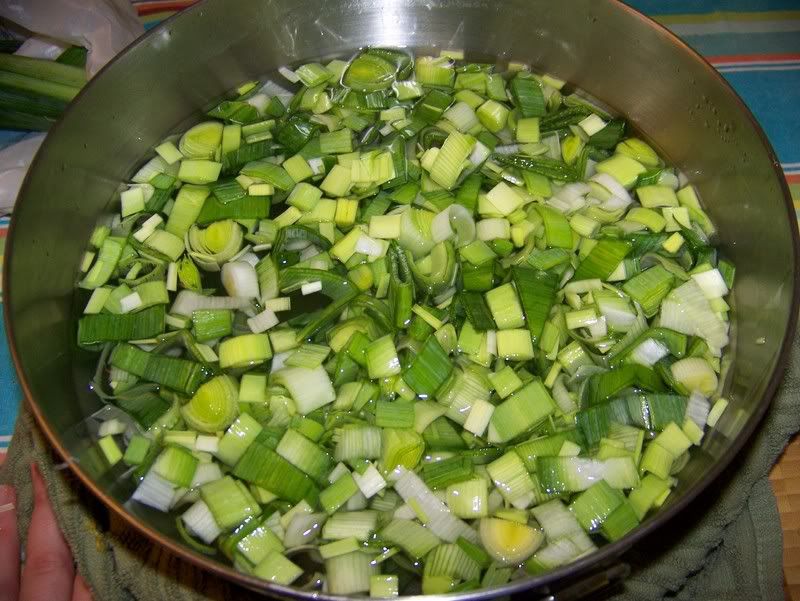 TIP:

Wash leeks.
Fill a large bowl with cold water. Slice each leek down the center, in half - then thinly slice each half, creating half-moons. Transfer sliced leeks to the bowl of water, and use your fingertips to separate the slices. Using a slotted spoon, transfer the washed leeks to a smaller bowl. (Do not drain the water out with the leeks - all the sand and grit that you washed off will get back onto the vegetables!)
In a medium skillet, cook leeks and garlic in 1 tbsp of butter until the leeks are tender. In a large bowl, combine cooked leek mixture, eggs, spinach, mozzarella cheese, milk, 2 tbsp parmesan cheese and pepper. Stir in turkey; set aside.Melt remaining butter. Using a 9 inch pie plate, brush some of the butter on the bottom of the plate, and along the sides. Set 1 sheet of phyllo onto the pie plate, letting the sides hang over for the moment. Brush with butter. Repeat until all phyllo sheets are used, and the pie plate is completely covered. Spoon turkey filling into phyllo crust. Fold ends of the phyllo toward the center. Brush with butter, and sprinkle the edges with remaining 1 tsp parmesan cheese. Bake, uncovered for 45-50 minutes or until a knife inserted near the center comes out clean. Let stand 10 minutes before serving. Cut into wedges for service.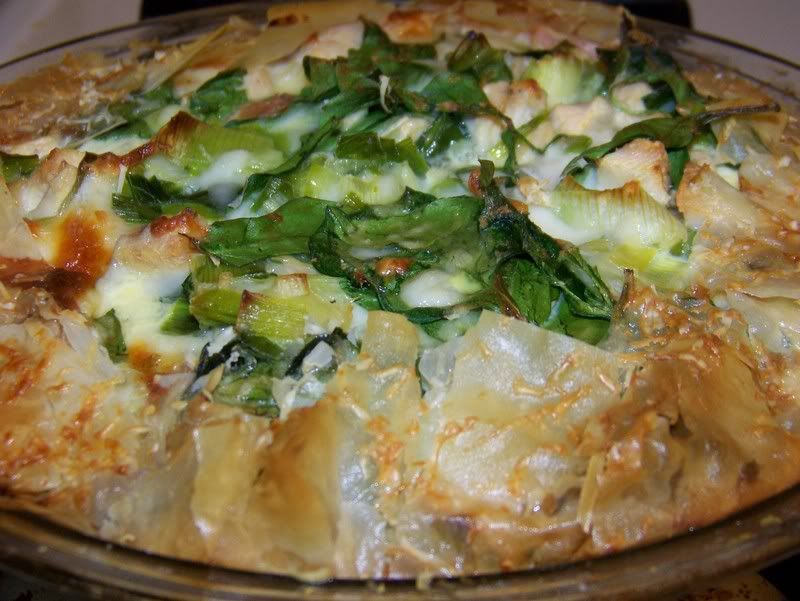 You can also make this into a nice vegetarian option by omitting the turkey/chicken.
All the while we were eating this, I was thinking that it would make a fabulous addition to a brunch!