Who doesn't like Chicken Parmesan? I'm serious, stand up and be counted - - I want to know who you are! It was quite literally the first dish I ever made by myself, when I moved out on my own.
Chicken Parm is a favorite in our house. No only is it a show-stopper, it's also really easy to prepare and
tastily
traditional. I'm sure every single person out there has a recipe that works for them, but I will post mine just the same. Of course, there will be no measurements included, since I just wing it.
(tee-hee, wing it!)
ITALIAN

CHICKEN

PARMESAN



boneless, skinless chicken breasts
italian style bread crumbs
grated parmesan cheese
garlic powder
salt and pepper
dried parsley flakes
tomato sauce, your favorite kind
1-2 whole fresh tomatoes, cubed up - if desired
mozzarella cheese
2 tbsp vegetable oil
2 eggs, beaten

Preheat oven to 375 degrees.

Mix together bread crumbs, parmesan cheese, salt and pepper, garlic powder and parsley.


On a plastic cutting board (be food safe!), "butterfly" chicken breasts. You can also pound them flat, but butterflying them is a lot faster and easier. Basically, you want to open the breast up, to ensure even and fast cooking and pretty presentation.

Heat oil in a large skillet on the stovetop. Beat 2 whole eggs. Dip each breast into egg, then cover with bread crumb mixture. Once oil is hot, carefully place each breast into pan, and cook until nicely browned on each side, flipping only once. Once browned, remove from pan, and place in a 9x13 inch pan. Cover each breast with your favorite tomato sauce. Place cubed fresh tomato on top of each covered breast, if desired - then top liberally with mozzarella cheese.

Bake in oven for 10 - 12 minutes, or until cheese is melted. Serve over pasta, or with a nice salad.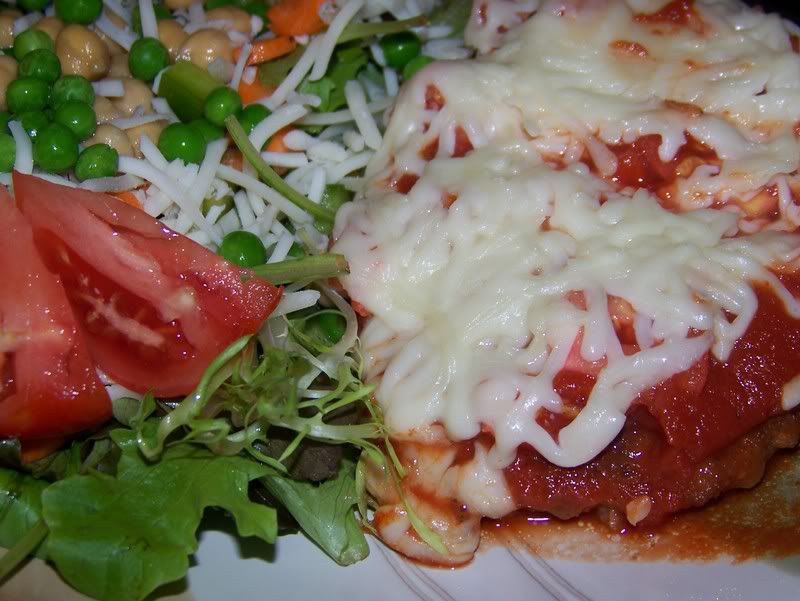 Note: You can also forgo all pan frying, and bake the chicken in the oven. The crust does not come out as crispy - but it is a much healthier option. Just place raw coated chicken in a baking dish, and bake for 20 minutes at 375 degrees. After 20 minutes, take out and cover with sauce and cheese, then return to oven for another 10 minutes, or until chicken is completely cooked through.