Sometimes the easiest and quickest dishes, can be the tastiest. Here's my take on traditional Shrimp Scampi.
Kat's SHRIMP SCAMP'ASTA





1 package of small raw shrimp, peeled and deveined


2 cups fresh baby spinach
1 garlic clove, minced
1 shallot, minced
zest of one lemon
juice of one lemon
3 tbsp butter
2 tbsp olive oil
dash of cayanne pepper
salt and pepper, to taste
1 tbsp dried parsley
1/3 lb dried angel hair pasta
3/4 cup of white wine*
2 tomatoes, cubed (or one whole package of grape tomatoes, left whole)
Reserve 1 cup of cooking liquid

Cook pasta according to package directions.

In a large skillet, melt butter and oil together. Add shallots and garlic and saute until tender. Take off heat, and add white wine. Return to heat, and cook until wine has concentrated down by about half. Add spinach, shrimp, and zest. Cook until spinach is wilted, and shrimp is bright pink. Be careful not to overcook the shrimp, or it will be rubbery!

Season with salt, pepper, parsley and cayanne pepper. Add tomatoes. Add cooked pasta to pan, and toss with shrimp mixture. If needed, add some of the cooking liquid to thin out the sauce, as well as the juice of one lemon. Serve immediately!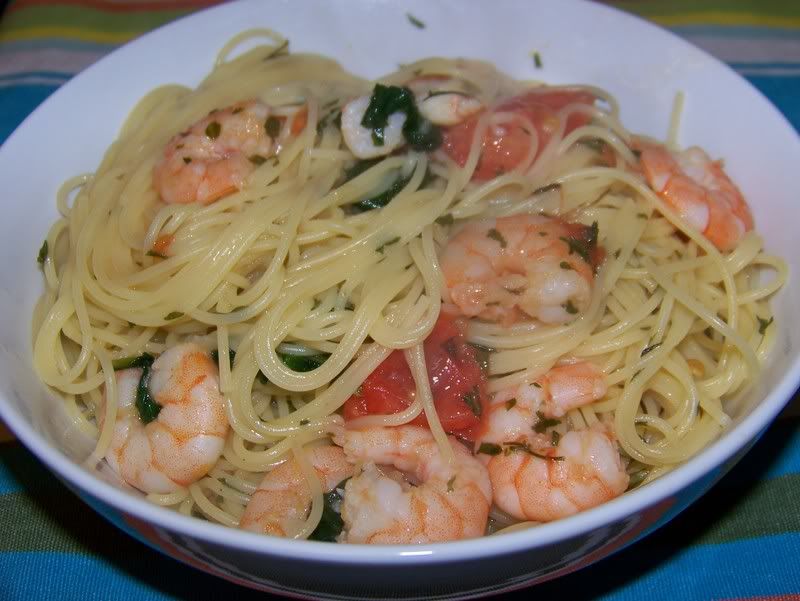 This whole dish took only 15 minutes - tops...just enough time to boil the water and cook the pasta. The flavors are very subtle - just a hit of garlic and lemon and the tangy refreshness of the alcohol.
The ingredients are so simple, that it is important to not overcook them. Let the heat of the pasta soften and sweeten the tomatoes!
*The only substitution I made to my original recipe was to change out the white wine with a little dry vermouth. I've found that dry vermouth has just enough flavor to add to the dish without being overwhelming. (Plus, we drank all the wine!)