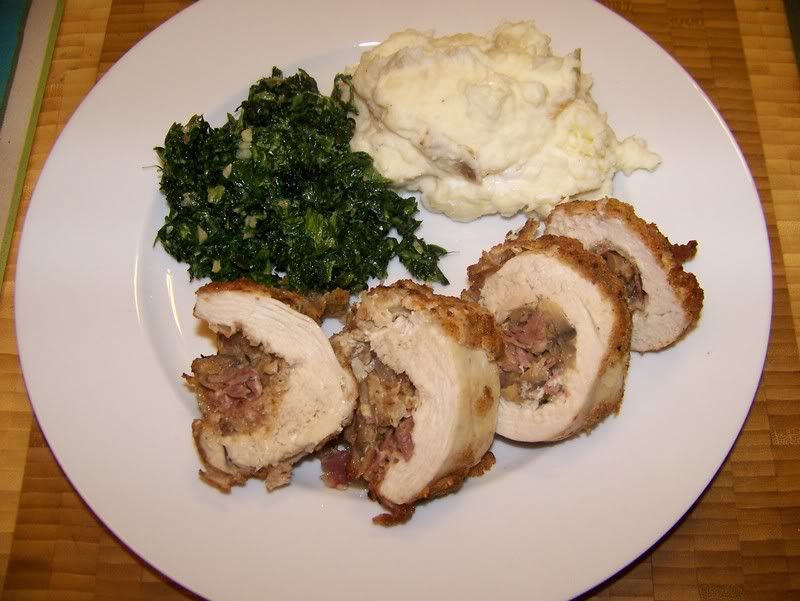 Let me first start by saying - I am a retard at roulade. I realize this statement is not politically correct by any means...but it is totally true. Monday night, while reading the recipe, I thought "why don't they tell me to use toothpicks to secure these little chicken bundles?" And, against my better judgement, I didn't...which meant that my first chicken roulade exploded, with all of the stuffing falling out. Dumb. I need to learn to trust my instincts!
Like most recipes I follow, I changed the ingredients and methods up a little to suit our tastes.
Ham and Mushroom Stuffed Chicken Roulade
2 tbsp butter
1/2 cup finely chopped yellow or white onion
1 small can of sliced mushrooms (you can also use fresh - but they didn't look good at the store this week)
3 thin slices of proscuitto, torn into bite sized pieces
2 tbsp italian style bread crumbs
4 chicken breasts, butterflied and flatened
1 egg, mixed with 2 tbsp of water (egg wash)
1 cup of flour
1 cup of breadcrumbs
salt and pepper, to taste
Vegetable oil, for frying

Sauce:
2 tbsp butter
2 tbsp flour
1 1/4 cups of chicken stock
3/4 cup of heavy cream
Preheat oven to 350 degrees.
In a skillet, melt 2 tbsp butter. Add onions and saute until translucent. Add mushrooms and proscuitto and saute until heated through. Season with salt and pepper. Remove from heat and mix in Italian style bread crumbs. Set aside.
Heat about 2 inches of oil in a large skillet until the temperature reaches about 350 degrees.
Place chicken breast on flat surface, and place 1-2 tbsp stuffing into the center of each breast. Roll chicken up around stuffing, so that stuffing is incapsulated. Secure with toothpick!!!! Roll chicken in flour, then dip in egg wash and finally roll in breadcrumbs. Place in heated oil and cook until all sides are nicely browned. Transfer to baking sheet, and finish with a quick stay in the oven - for about 20 minutes, until the internal temperature of the chicken reaches a safe 170 degrees.
Meanwhile, in a saucepan, start your sauce...melt 2 tbsp butter. Once melted, whisk in 2 tbsp of flour and cook for 1 minute to remove that "raw flour" taste. Slowly pour in chicken stock, whisking the entire time, as well as heavy cream. Stir occassionally, until sauce is thick and creamy. Serve over chicken roulade!
Tip: To make this dish a little less complicated, and more healthy - skip the breading and frying, and just bake the chicken in the 350 degree oven for 40 minutes. You can also substitute proscuitto for low sodium ham.
Once I finally used my brain and broke out the toothpicks, things went a heck of a lot more smoothly - although next time I may skip the frying and just bake the dish instead...because I had to turn the chicken so much to get it to brown on all sides, some of my breading was sacraficed.
I can not believe how flavorful this chicken is!!! It was really, really good - definitely a keeper! The chicken was nice and moist, and the stuffing with the proscuitto just added that little bit of sweet and salty that so many people crave.