Every now and then, I take a trip to the local Asian market to pick up some frozen pork dumplings as a side dish to a homemade stir-fry. They're good...and never in my mind did I think that
I
could make a homemade dumpling that would taste half as good as those frozen ones - not to mention the yummy fresh ones that you find at the Chinese Buffet.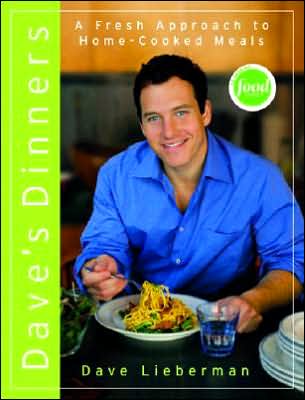 But Dave Lieberman showed me the way!
Dave's Dinners
is one of those cookbooks that fills all of my hard-to-please criteria...lots of full color pictures, little stories that introduce the food and a ton of easy, fresh recipes. Plus, he's darn cute! The funny thing is, I never really dug his original
show
on Food Network, until I bought the cookbook and forced myself to watch. Only then did I realized that he also has a lovely on-air personality...and gives a good name to young chefs.
There are so many recipes that I am dying to try:
Pumpkin and Chipotle Corn Cowder
Jerk Chicken with Fried Banana Rice
Coconut-Ginger Tilapia Packages with Red Potatoes and Snow Peas
Lemon Blueberry Cheesecake with Shortbread Cookie Crust
Lemon Poppy Seed Semifreddo
...and more!
I do believe that this cookbook is going to be stained with food splatter - a gross sign of a well used cookbook!
PORK POTSTICKERS

with

CITRUS-SOY DIPPING SAUCE
For the dumplings:
*1 pound ground pork
*1 egg
*2 tbsp finely sliced scallion
*1 garlic clove, pressed
*1/2 tsp sesame oil
*1 tbsp soy sauce
*1 tbsp rice wine vinegar
*1 tbsp of freshly grated ginger
raw wonton wrappers (found in the organic section of your vegetable aisle)
1 tbsp vegetable oil
Citrus-Soy Dipping Sauce (recipe to follow)
Combine all (*) ingredients in a large mixing bowl and work together until fully incorporated. Keep chilled until ready for assembly.
Lay on wonton wrapper on your work surface, and fill with a heaping tsp of filling into the center. Moisten the four corners, and pinch edges together, forming a dumpling shape. Repeat until all of your dumplings are made.
Heat vegetable oil in a large skillet over medium-high heat. Place all of the dumplings upright into the pan and cook, without disturbing them, until browned on the bottom. Add 1/2 cup of water to the pan and immediately cover. Steam dumplings for 3 minutes, then remove skillet lid. Continue cooking until water has nearly evaporated.
Transfer to a platter and serve with dipping sauce.
For the dipping sauce:
1/4 cup light soy sauce
1 tbsp freshly grated ginger
1 tsp brown sugar
1/2 tsp sesame oil
Zest and juice of 1 lemon
Stir all ingredients together in a small bowl until sugar is dissolved.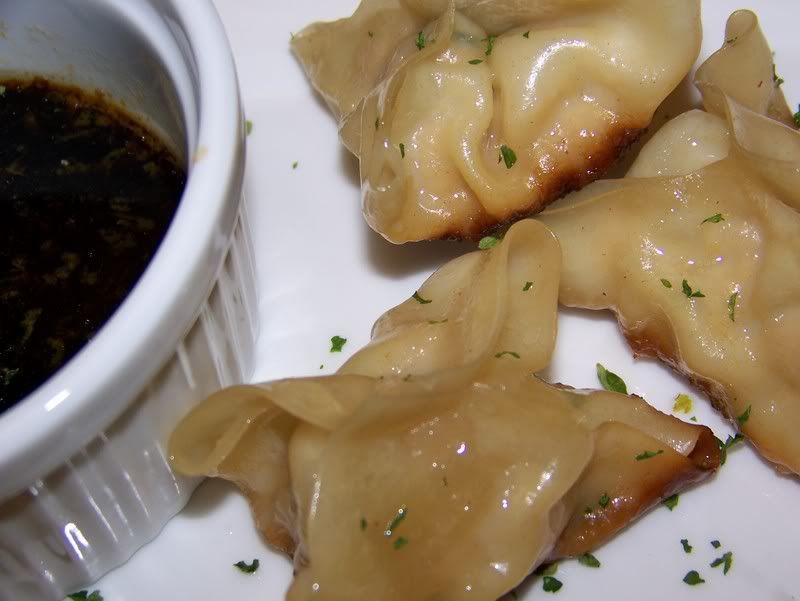 Oh my Lord, these were good!
These will be making an appearance at the next party, for sure.
I was so impressed at how non-labor intensive they were, and how tender the wonton skins came out. The filling was super flavorful - not at all heavy in the soy flavor. They were wonderful with, or without, the dipping sauce.