Now that the weather is warmer, the grill is out...though not completely in full force just yet. Using the grill means that I need a cooking partner, as the grill resides in the backyard of our two family apartment, of which we live in the upper level. It's just easier (planning wise) to have someone else downstairs cooking meat, while I am upstairs preparing the rest of the meal. There's also air conditioning upstairs - - I'm no fool!
So - to use the grill means that I need a willing participant, and after a long day of work, Nathan was ready, and I was very, very pleased.
GRILLED CHICKEN
with a
SPICY CHIPOTLE CREAM SAUCE
4 boneless, skinless chicken pieces (I used breasts, but you could also use thighs)
1 tbsp vegetable oil
2 tsp taco seasoning mix
1/2 cup sour cream
2 canned chipotle chiles in adobo sauce, seeded, finely chopped
2-3 tbsp milk
salt and pepper, to taste
1 tbsp chopped fresh parsley, or cilantro
Preheat gas grill to medium.
Brush chicken with oil, season with salt and pepper, then sprinkle with taco seasonings - on both sides. Place chicken onto grill and close lid. After about 6 minutes, rotate chicken 90 degrees so that you have nice grill marks on the meat. After another 6 minutes, flip and repeat the process, until the chicken is cooked through and the juices run clear.
Meanwhile, combine sour cream, chiles, parsley, milk and salt and pepper in a small bowl. Add additional milk if you like your sauce to be of a thinner consistency.
To serve, spoon sauce over grilled chicken and garnish with more chopped parsley for color. I added some creamy polenta (which I am obsessed with recently) to the plate, and a glass of white wine sangria to round out this Spanish-inspired meal.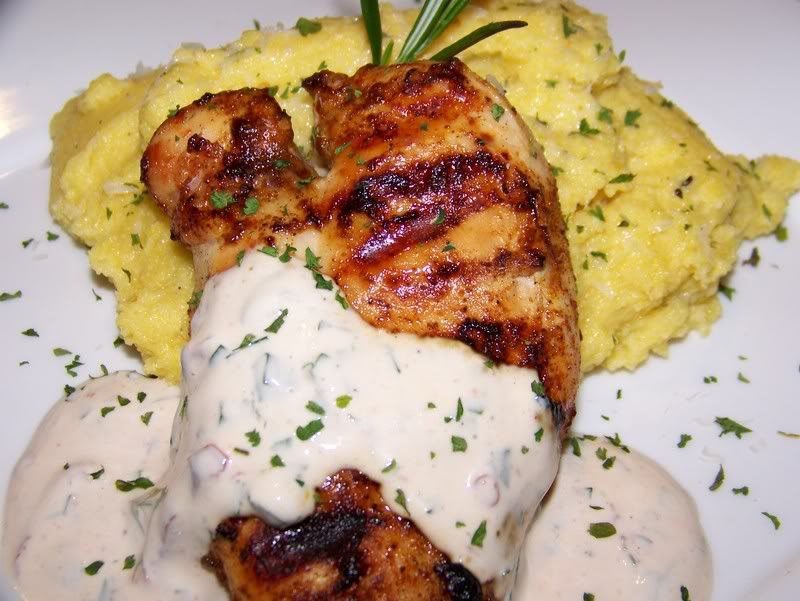 I was also ready with a glass of milk, in case the sauce was more spicy than I could handle, but it was actually quite nice. The chiles hit the back of your throat, but dissipated quickly...and the sauce balanced nicely with the creamy polenta. We both thought the meal was a winner! And, I have to give props to Nathan, who grilled that chicken perfectly.
This is the first time I have ever used chipotle chiles in adobo, so let me pass along a couple of tips that I found during my google search...
1. You will find the item in the international section of your grocery store, in a small can. I think I walked by it 100 times before I realized that it would not be in a jar, and that the can would be teeny-tiny.
2. Chipotle chiles are dried, smoked jalapenos, canned in a spicy tomato sauce, which is called adobo. 2 chiles equals .5 grams of fat; 2 carbohydrate grams; and 15 calories...so they are a great way to add spicy flavor to a dish!
3. To store leftover chiles, pour the remainder of the can into a resealable plastic freezer bag. Press out air and tightly seal the bag. Place in freezer, pressing chiles into a single layer. Once frozen, break one chile off at a time, as needed. Brilliant!