Growing up beets were just...gross. And, yucky. The lunch ladies at my Elementary School served them about once a week with our hot lunches, and made every single child (and teacher) take a scoop for their tray, then (not so) gently pushed us each to "try one bite." Most of the time, I would pretend to swallow, then spit out the red mess into my napkin as soon as they walked away. Suckers!
But, the tide has turned! Beets are very, very good - as long as they are cooked properly. Beets have this really nice earthy sweet flavor...and the color. Oh my goodness! The coloring is absolutely magnificant - beet juice is a natual coloring agent, so be careful when handling and preparing...wear rubber kitchen gloves and an apron for protection!
I picked up a couple absolutely beautiful beets at the Farmer's Market on a whim, and just stared at them for a couple of days while recipe ideas ran rampant in my head. I really had no idea what I wanted to do - but I did know that I wanted the beets to be the star of the show, and not just a ho-hum salad on the side.
So - this is what I came up with (with a little inspiration from Epicurious.com):
ROASTED BEET AND GOAT CHEESE RAVIOLI
2 whole beets, cleaned1 tbsp olive oil 4 oz. goat cheese2 tbsp bread crumbssalt and pepper, to tastewanton wrappers4 tbsp butter1-2 tsp poppy seedsfreshly grated parmesan cheese

Preheat oven to 400 degrees. Wrap beets in foil, with a touch of olive oil. Roast for 40-60 minutes, or until the beets are fork tender. Take them out and let cool. Take each cooled beet, and rub vigorously with a paper towel to remove the outer skin. (Protect your skin - this part is very messy!) In a food processor, combine beets, goat cheese, bread crumbs and salt and pepper. Add more bread crumb if needed - until mixture is thoroughly combined, yet more on the dry side.
Lay out raw wanton wrappers on your work surface. Take a tsp of the beet mixture, and place into the center of each wanton wrapper. Dip your finger in some water, and moisten the edges of half of the wanton. Seal dumpling/ravioli by folding wrapper over on itself - trapping the beet mixture in the center. Crimp edges with the tines of a fork. Place finished ravioli on a lightly floured surface, in a single layer so that they do not stick together. Repeat process until all of the filling is used up. (I got about 25 ravioli out this recipe.)
A sea of tiny pillows
.
Bring a pot of water to a boil. Salt water well. Gently drop each ravioli into the boiling water, and cook until the ravoili floats to the surface.Meanwhile, melt butter in a large skillet. Add 1 tsp poppy seeds. Once ravioli are finished boiling, gently drop them into the butter mixture for 1 minute, until the edges turn slightly brown. Remove from heat and serve! Garnish with reserved poppy seeds and some freshly grated paremsan cheese. Serve with a simple salad of baby greens.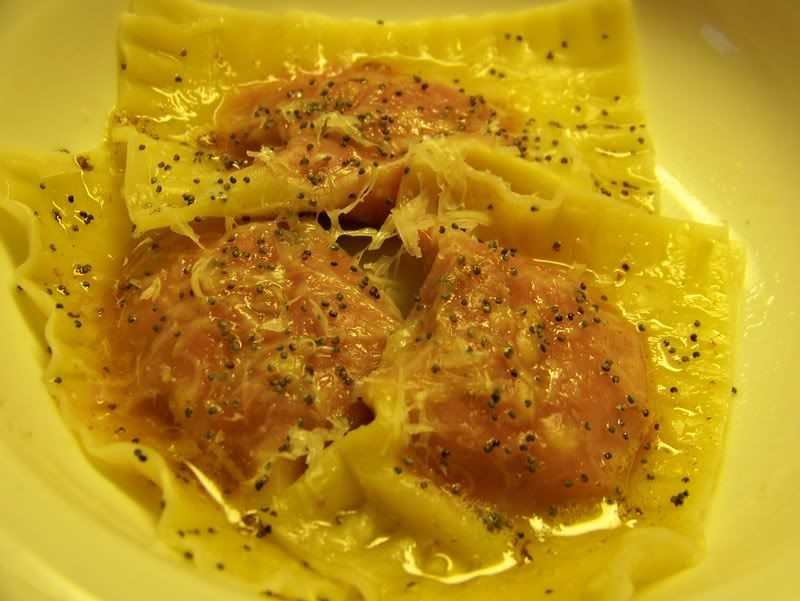 This dish was extremely tasty, and
very
rich. The goat cheese gave the beet mixture a little tang than off-set the sweetness of the roasted beets. It really was a perfect marriage of ingredients! The wantons were a simple replacement for fresh pasta, which I have never really been able to master.
If you have an adversion to beets, these ravioli may be a little hard to swallow. Nathan was truly enjoying the "newness" of it all until I told him what he was eating...