Our markets are currently overloaded with ripe, beautiful cherries - coming in at around $5.99 a pound, and worth every penny!
My bounty included an array of deep burgundy colors, with a light, sweet flavor and a level of juiciness that is beyond words - to a lighter salmon hew, with a bright, sour bitterness and a crisp bite from the skin of the fruit. My mind was racing...thinking of ways that I could use these cherries, besides setting them in a bowl on the table.
This is what I came up with:
CHERRY STUFFED PORK LOIN
with a
POMEGRANATE CHERRY REDUCTION
1 Pork Loin

10-12 pitted cherries

salt and pepper, to taste

1 tbsp olive oil


Preheat oven to 400 degrees.


Butterfly the pork loin. Place pitted cherries in the center of the pork, and roll the meat around the "stuffing" and secure with either toothpicks, or cotton kitchen string. Season meat with salt and pepper.


Heat oil in a large skillet. When hot, place the raw stuffed pork into the skillet, and sear all sides, until golden brown. Transfer to a cookie sheet, and place in the oven. Cook for approximately 25-30 minutes.
While meat is cooking, start on the sauce...


1
cup Pomegranate juice (like POM)
1/4 cup pitted cherries

1 tbsp sugar
(if necessary)

2 tbsp dried cranberries
pinch of salt

1 sprig of fresh rosemary


Combine all ingredients in a small saucepan, minus sugar. Simmer over medium heat, until the mixture thickens by half (at least) and coats the back of a wooden spoon. Before service, taste and add sugar if/as necessary.


I served this with some rosemary polenta. (Polenta is a 3 to 1 ratio of liquid to corn meal. I used two cups of chicken stock and 1 cup of heavy cream as the liquid - brought to a boil, as well as a tbsp of butter, salt and pepper, a tbsp of chopped fresh rosemary and 1 cup of yellow corn meal. Then, whisk...whisk...whisk! You are done in about 3 minutes.)


So good!!!!
The cherries stuffed inside the pork kept the meat really moist, and the sauce added a bit of sweet and sour. Plus, the color was unbeatable!
****************
The cherries were so good in our dinner, I thought we might as well eat them for dessert as well...
Sometimes the most simplistic approach works the best. Meringues are so easy to make, and are the most perfect ending to a rich meal, because although they can be super sweet, they are also as light as air.
CHERRY-TOPPED MERINGUES
4 egg whites
1 cup of sugar
pinch of cream of tartar
pitted cherries, with stems attached
Preheat oven to 200 degrees.
Mix egg whites, sugar and cream of tartar in a heat safe bowl. Whisk for 2-3 minutes over a pot of simmering water, until the mixture is warm. Remove from heat, and beat (beginning with a low speed slowly increasing to high) until you achieve stiff peaks.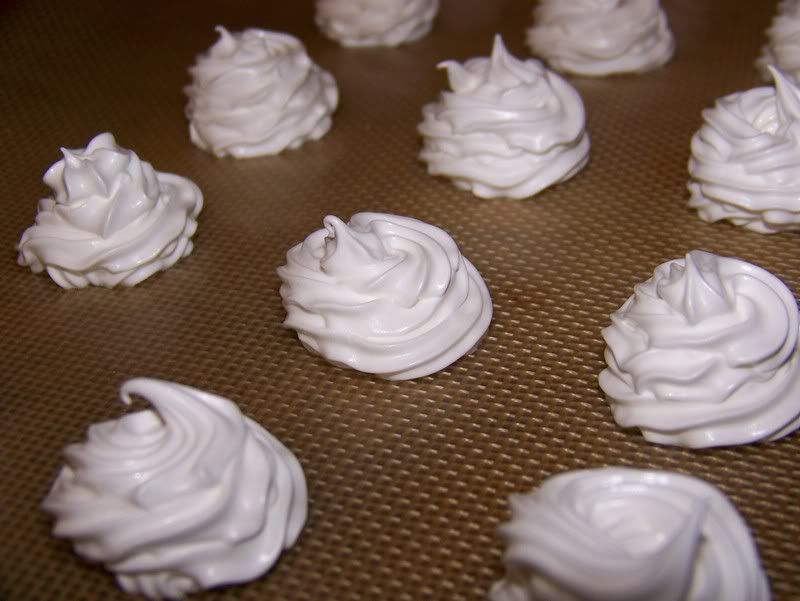 Empty the contents into a pastry bag fitted with a Wilton #16 tip, and pipe 1 inch mountains on a baking sheet, either lined with parchment paper or a silpat. Bake for 20 minutes.
Lower oven temperature to 175 degrees, and bake for another 45 minutes...until the meringues are dried, but still white. Let cool completely. (I threw them into the fridge, so that they are easier to handle!) Top with a cherry!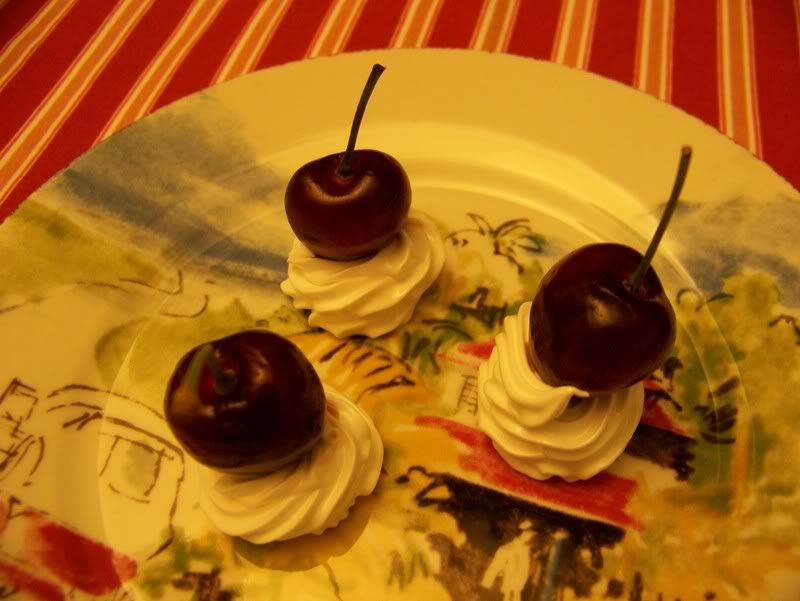 Little bites of joy!