Isn't it a shame how fast vacation time just zooms by?
Wednesday
we docked off the
smokin'
island of Catalina. (
Quite literally
!) We treated ourselves to a lunch of margaritas and coconut shrimp at a local restaurant we found completely by accident. It was so nice not to get stuck in a tourist trap!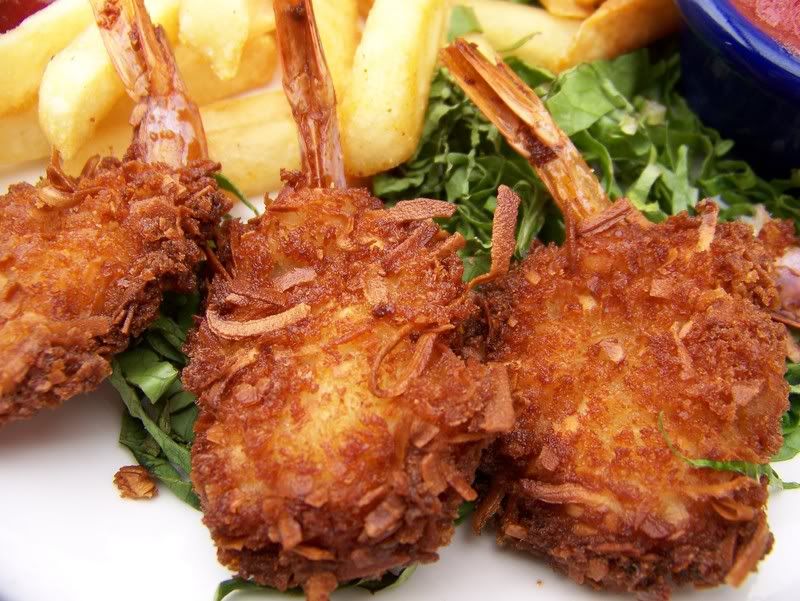 We burnt off the calories by walking around the town of Avalon, then later returned to the ship for a brief nap before prepping ourselves for dinner.
Time to order! I asked for a starter of Watermelon Gazpacho (yes, another chilled soup - but I really, really like them!), an Onion Tartlet instead of the salad, and entree of Prime Rib and for dessert the Puff Pastry Swan. Ohhhhhh...I was so excited about that darn swan!!!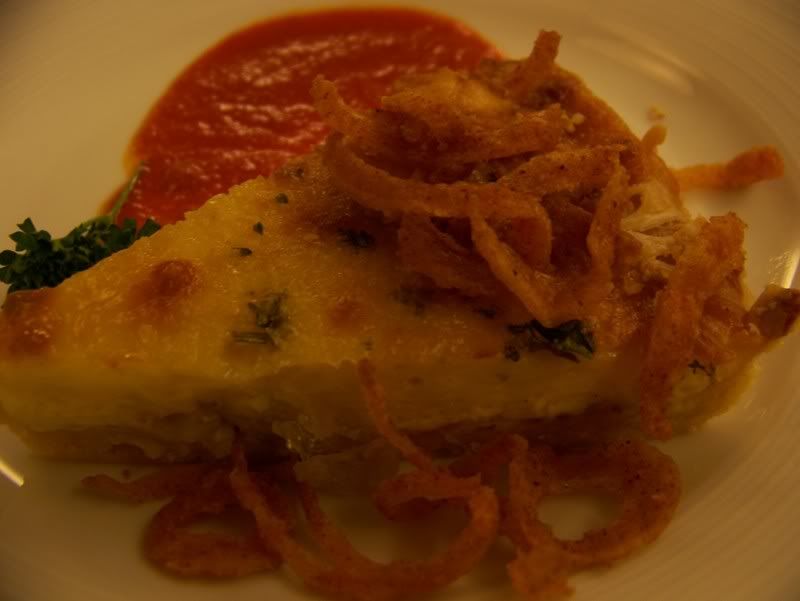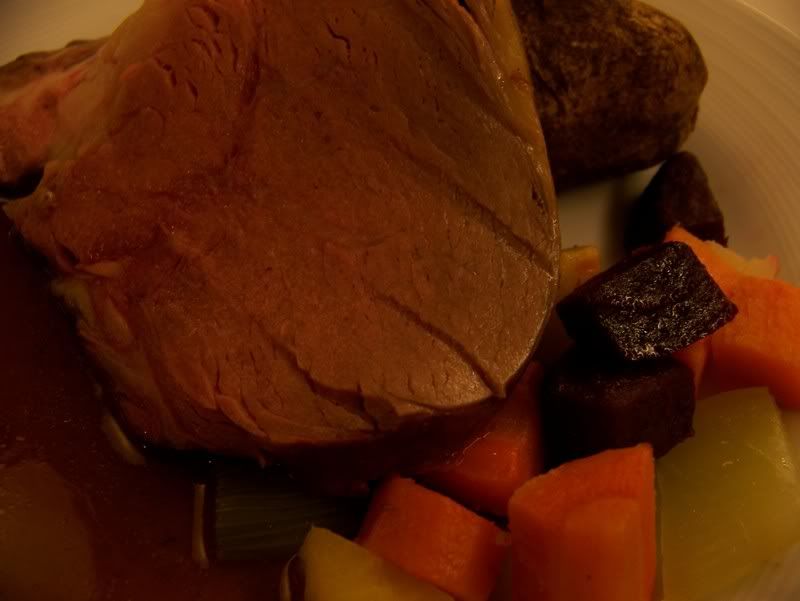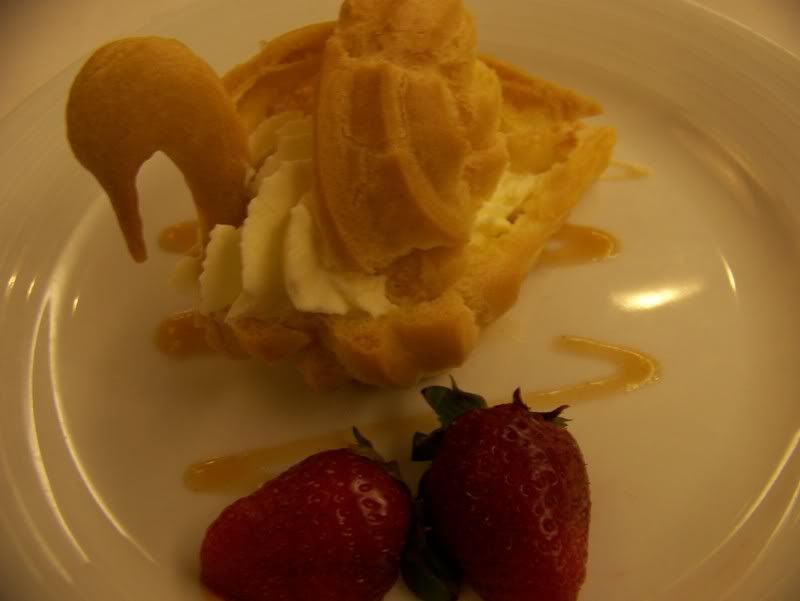 The Chilled Watermelon Gazpacho was basically juiced watermelon put through a sieve with small chunks of celery, green bell pepper and seedless watermelon. The juice from the melon was so smooth and clear and just danced on my tongue. The vegetable chunks provided a wonderful contrast in texture and flavor...kind of sweet and savory all in one. It was great! I was a little leery about the combination of fruit and vegetables, but it simply worked. I tried so hard to get a decent picture - but failed miserably.
The Onion Tartlet was also tasty - my only complaint being that the tartlet was more of a quiche. I wanted more onion, and less egg! The dish came garnished with a red bell pepper puree and fried onions on top. Definitely a better choice than a boring salad!
Again, I was hoping for more with the Prime Rib. Although mine was nice and pink, just the way I liked it, everyone else's was more on the well-done side, and didn't look as appetizing. (By now our waitress knew I was blogging our gluttony, so that probably helped in getting the best picture worthy dishes!) Unfortunately my piece of prime had a lot of fat to cut around. I guess that's one way to keep from overeating! The plate was finished with a baked potato loaded with sour cream and a medley of roasted root vegetables.
Like I said above, I was just waiting for
dessert
. What I failed to see when ordering, were the words "Sugar Free." Although the presentation was pretty, the pastry tasted like cardboard....not good! The mascarpone cheese filling was also tasteless. I have no doubt that if this dessert was full of sugar, it would've been divine. I did relish in the ripe berries, so all was not lost.
Thursday
brought a day in Esenada, Mexico - and authentic homemade tacos from a shack in town. (We later found out that this shack did not have running water, which still makes me gag a little...I am so surprised that neither of us got sick!) The soft tortilla shells were pressed right in front of us, into perfect rounds of deliciousness, which were then grilled on a flat iron and filled with grilled beef, onions, cilantro, guacamole and spicy...really spicy!... homemade salsa.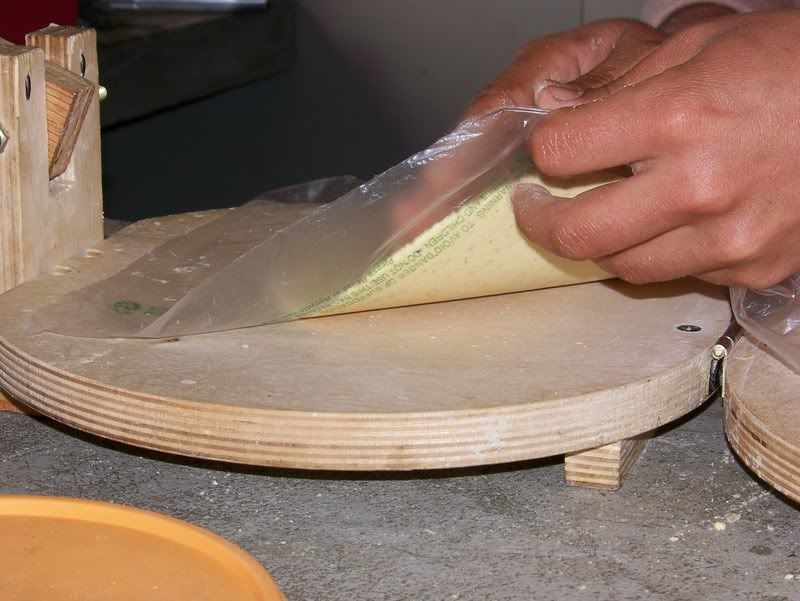 I have never had a taco this yummy! In fact, I pulled out some of my high school "Spanglish" and ordered us a second round. "
Senorita. Dos mas
, por favor
. Gracias
!" Nathan even went for a third, this time asking for chicken. Guess how much!!!??? $1.00 per taco, with no charge on Nate's chicken taco! It was seriously one of the best meals we had on this trip. We washed it down with a couple of Corona's and lime.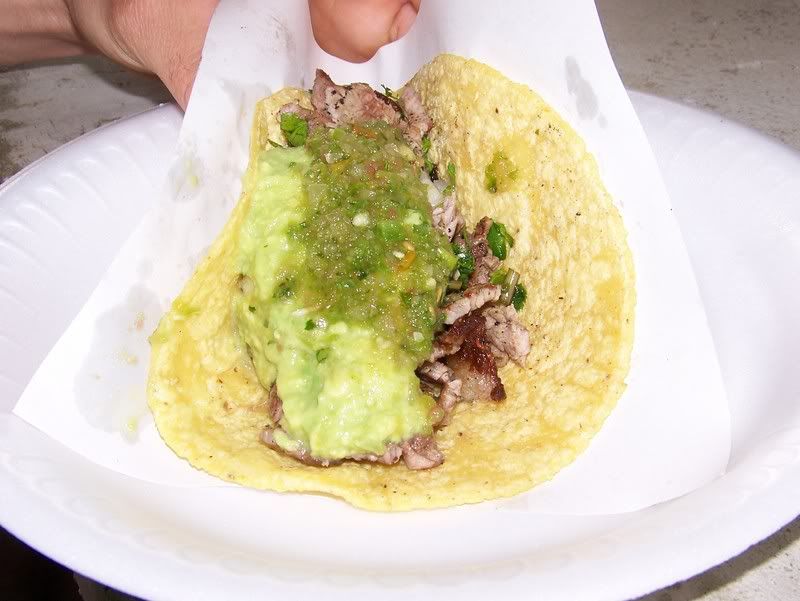 Our vacation was coming to a close, as this night marked our last dinner aboard the ocean liner. It was very sad knowing that our vacation was coming to an end...
My last supper included
(wait for it, wait for it)
Chilled Berry and Buttermilk Soup as a starter, access to the community salad, a la Olive Garden, traditional Thanksgiving Turkey as the entree and to top it all off, bringing on the guilt - Double Chocolate Brownie Supreme. Can you feel the belly ache?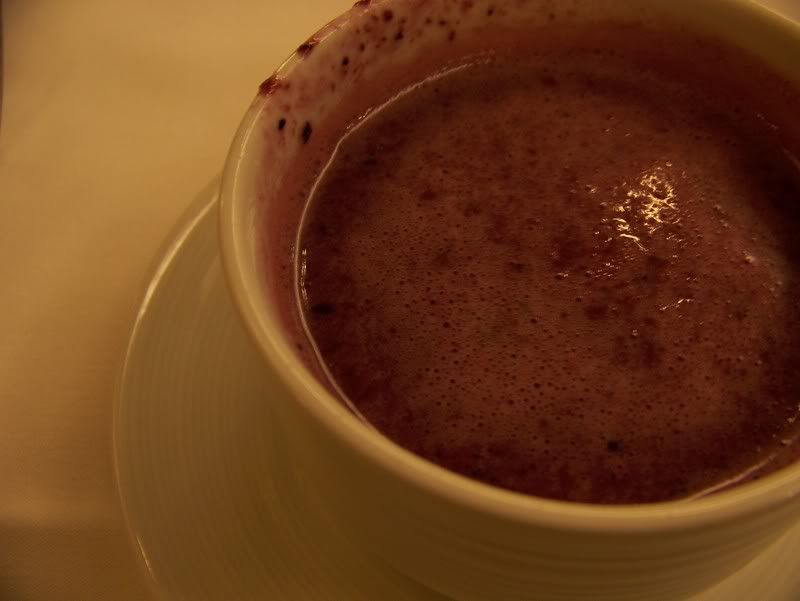 The Chilled Berry soup was spot-on, and something that I am so going to try at home, much to Nathan's dismay. All it was was blended berries and buttermilk. Simple. And perfect. I wanted to lick the bowl, but it was too tiny and I couldn't get my face into it. LOL!
The Turkey was a disappointment. It was dry and covered in gravy - and you will never guess what it was served with...maaaaaaashed potatoes! Do you think that Royal Caribean got a discount on potatoes? Also on the plate, dressing/stuffing, steamed broccoli, a piece of corn on the cob (to which I say, what the hell?) and cranberry sauce. It was what you would find on the menu at a diner.
The Double Chocolate Brownie Supreme sealed the deal on the food voyage. It was a moist, dense brownie filled with walnuts, and slathered in a chocolate mousse, then topped with a chocolate garnish "candy bar." Oy vey! It was sinfully rich, and I could only eat a quarter of it before I started to clutch my stomach! No wonder that was offered last...it was the perfect ending to remember.
**********
Needless to say, since we've gotten back it's been take out and pizza. I hope to get back into the swing of things now that we are unpacked and settled...until our next foodie adventure!