Back in my highschool years, my grandmother took me under her wing, and taught me how to decorate cakes. I used this new found knowledge to the best of my ability, and started making cakes for my family and friends. Back then, it was easy - because the cakes stayed stationary...I baked and decorated where we ate. Fast forward a couple 2, 3, 15 years later, and decorating cakes is not as easy...in fact, it's a wonder I even made it out alive and it's all because of one word - TRANSPORTATION.
My mother asked me to make 3 cakes for this weekend. We were celebrating my niece Kelsey's 7th birthday, my aunt Jane's 50th birthday and my brother Andy's confirmation. And of course (per my mom), each person needed their own cake. I ended up purchasing a three tier stand - a
Wilton
product - that allows each cake to be highlighted on their own...perfect for this application. (It also collapses down to about 2 inches for easy storage!)
Andy wanted a plain cheesecake. That was easy enough...I have a great recipe that is a winner every single time. I was not worried about the cheesecake, however the other two were still weighing heavily on my mind. My Aunt Jane wanted WHITE cake with CHOCOLATE frosting - which I almost reversed while at the market purchasing mixes. (Yep, that's right...mixes! Regular Birthday Cake, for me, always starts with a
mix
.) Kelsey wanted confetti cake, and she wanted something special.
Baking went fine. I had all of the cakes done before bedtime on Friday evening. After they completely cooled, I crumb coated them, wrapped the up and threw them into the refrigerator for safe keeping. Saturday morning, after a beautiful night's sleep, I woke up and set my table as a decorating station. All of my icings were out an mixed into pretty shades of yellow, pink, green and blue. The glass of water, a trick to smoothing out icing, was steaming hot. My Lazy Susan was oiled and ready to be turned and my trusty stool was at the perfect height, so as not to break my back! I also was in a good mood - I knew the look I was going for, and I knew that these cakes would be perfect!
I did my Aunt Jane's first....two layers of moist white cake, frosted with chocolate icing, and decorated with white daisies. (I did the daisies on a piece of parchment paper before I started assembling, so that they could dry out and be easy to place.) I was very happy with the result. It was simple and pretty, and had a lot of little details that you didn't see right away.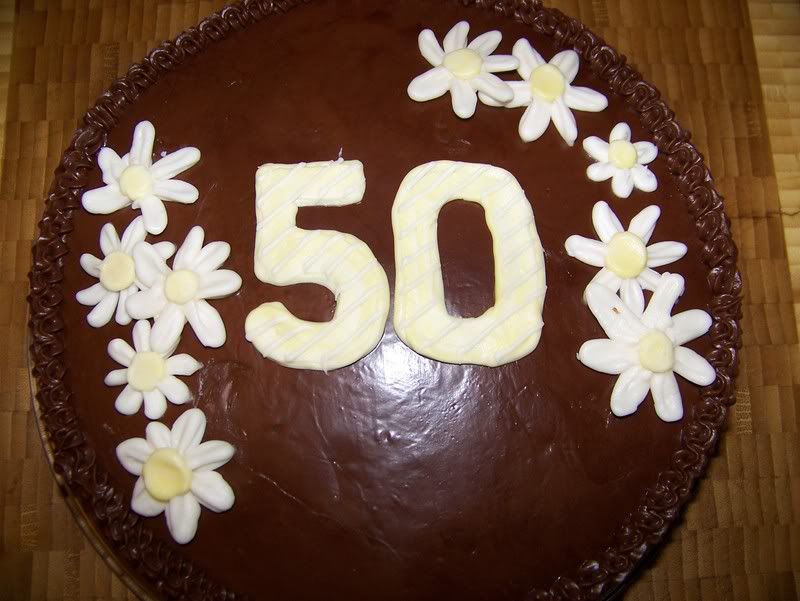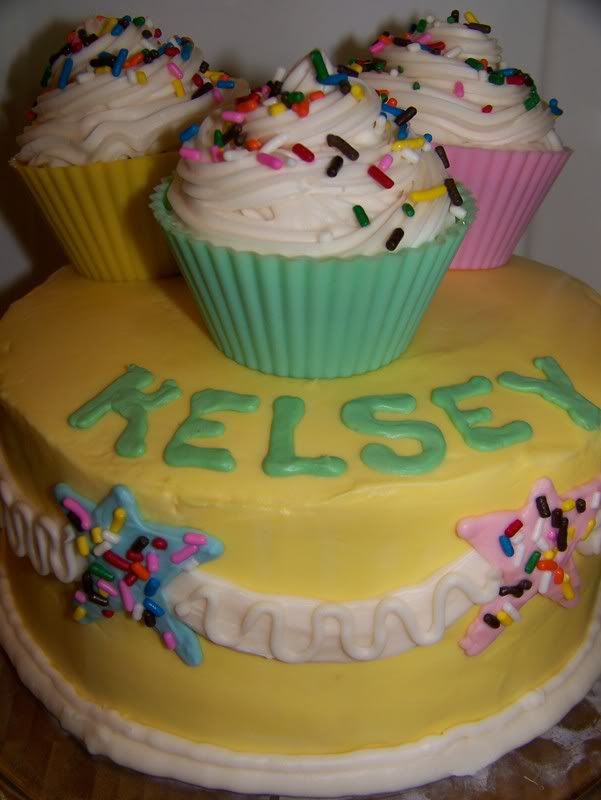 Kelsey's cake was up next...three layers of confetti cake, frosting with yellow-tinted vanilla icing. I smoothed the entire thing out, and decorated it with frosting stars, swags and sprinkles. I also bought a batch of re-useable silicone muffin cups (which are cool as hell, BTW!) and planted those on the top of the cake, to be distributed by the birthday girl.

I started the decorating marathon at 9am - and finished at about 4pm, but it really didn't feel like it took all that long. I called my mother, and asked her if I could bring the finished cakes over to her house, to avoid that transporting frenzy the following day, and I was off to carefully pack my cakes. And, that's when it happened...

I packed up Aunt Jane's cake into a carrier, and apparently the stupid fucking carrier didn't latch correctly. When I picked it up, the bottom of the carrier crashed to the floor, along with the cake I worked so hard on - destroying it in one foul swoop. Did you hear me scream and yell and curse the high heavens, and Nathan? Because I did. Then, I sank to the floor and sobbed, as my dog feasted on cake. Finding no sympathy in Nathan ("Normal people do not react that way"), I called my mother - who totally guilted me into making another cake for my aunt!

All turned out OK (my aunt's cake was not as perfect the second time around, and one of the cupcakes on Kelsey's cake toppled during transport), but everyone was happy. And on a high from all the sugar!

When all else fails - just take a picture of the cake in the dark...no one will notice the flaws!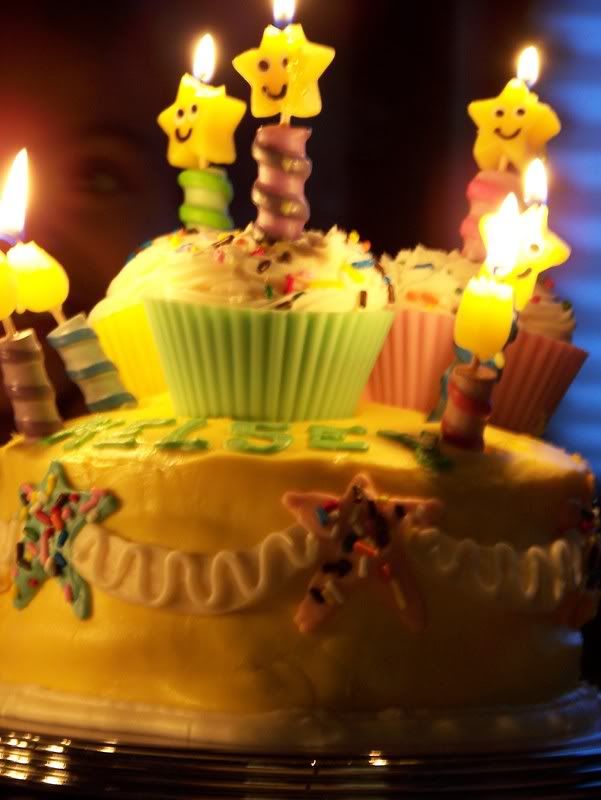 The cheesecake was by far the biggest success. Only one sliver remained.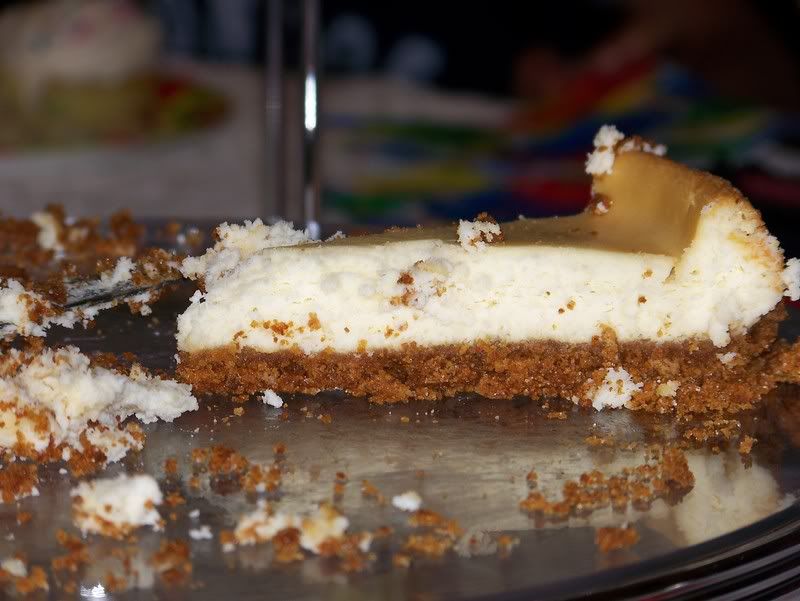 BASIC CHEESECAKE
Crust ingredients:
1 1/4 cups graham cracker crumbs
1/4 cup melted butter
2 tbsp sugar
Filling ingredients:
3 (8 oz) bricks of cream cheese
3/4 cup sugar
3 eggs
2 tsp vanilla extract
1/2 cup sour cream
Preheat oven to 325 degrees. Combine all crust ingredients in medium bowl. Press onto bottom and 1-inch up sides of ungreased 9-inch springform pan. Bake for 10 to 12 minutes or until golden brown. Cool. Meanwhile, combine cream cheese and sugar in large bowl. Beat at medium speed, scraping bowl often, until creamy. Gradually add eggs, one at a time, beating well after each addition. Reduce speed to low; add sour cream and vanilla. Beat until well mixed. Pour cream cheese mixture into baked crust. Bake for 80 to 95 minutes or until set. Loosen sides of cheesecake from pan by running knife around inside of pan; remove sides of pan. Cool completely (about 2 hours). Leave uncovered until completely cooled. Store in the refrigerator, wrapped in plastic.