Vacation
is
all about the food, right?!
This is "part one" of what is shaping up to be a multi-tiered food frenzy recap.
We began our vacation in beautiful Pasadena, California with a visit with Nathan's sister's family. She has three little girls (one whom we had yet to meet!) and we were anxious to spend some time with them.
Not only did we play until we collapsed, but Nate's sister made an absolutely scrumptious meal - complete with chocolate cake!
I was sitting in the livingroom, playing with one of the girls, when I heard Nate's sister as him if he could peel some garlic. Knowing what I know about Nathan and his lack of skills in all areas of the kitchen, I knew that garlic peeling would be an impossible task - so, I volunteered to complete the (stinky) job! Good thing too, because I needed to separate and peel the cloves from 4 heads of garlic! During that time, I was able to carefully glance at Nate's sister to steal the recipe. LOL!
CHICKEN WITH 40 CLOVES(eat with a loved one - two garlics cancel eat other out!)1 large package of chicken thighs1 stick of butter (or, you could do 1/2 butter, 1/2 olive oil to make it a little healthier)40 cloves of garlic, left whole and peeled4 shallots, sliced not too thinly4 tbsp freshly chopped rosemary4 tbsp freshly chopped oregano
It's all about the number 4!
Preheat oven to 400 degrees. In a large pyrex baking dish, heat up butter, garlic, shallots and herbs until butter is melted and herbs are fragrant. Dredge raw chicken in melted butter and position in an even layer in baking dish. Bake for 35-40 minutes, or until chicken is cooked through completely. The heat and butter blistered the skin on the chicken ever so slightly - and made the whole dish very rich and satisfying. I got up for seconds, which I never do with dark meat!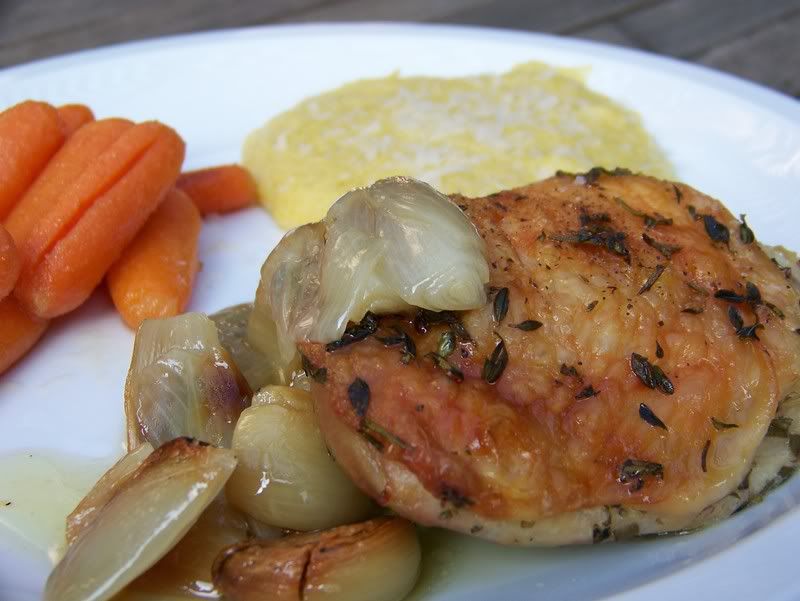 The garlic roasted a little, and became really sweet and soft...spreadable, almost. The garlic made a nice pair with the chicken - like a counterbalance of sorts. It was heaven! Nate's sister served the dish with a side of creamy polenta (with a sprinkle of parmesan cheese) and some roasted baby carrots topped with a drizzle of honey.
And, of course the double chocolate cake was a big surprise and totally hit the spot! It was garnished with flowers from the garden. Nathan helped himself to the largest slice of cake that I have ever seen him eat!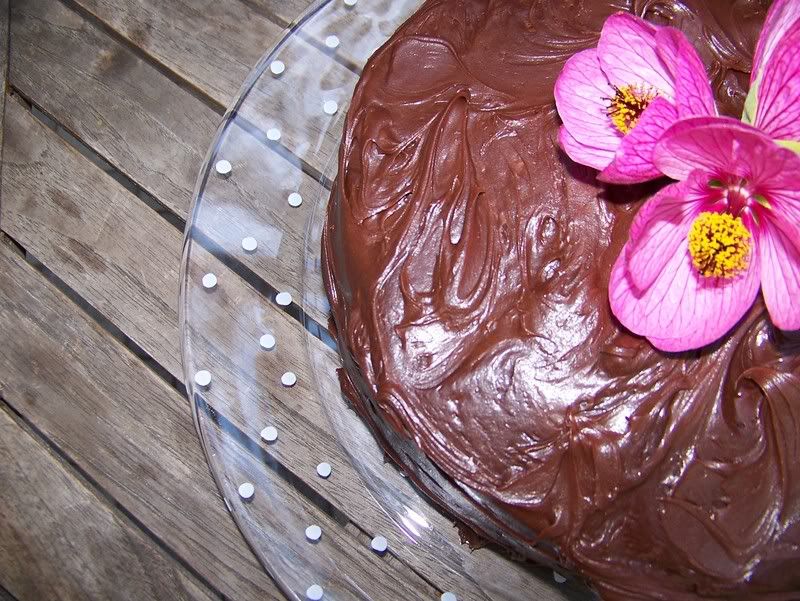 We joked that this meal was all about stretching our stomachs for the cruise we were about to board.
Some of us got a little messy. (including me - but Audrey was waaaaay cuter!)