Hello God? It's me, Kateri. I've sinned. It's been 7 years since my last cruise.
The one thing that everyone tells you about cruises, is that you eat and eat and eat some more. That, and that the food is amazing. I fondly remember my last cruise, which I took with my bestest girlfriend - and I do remember the food being out of this world. We tried a ton of new items...escargot (snails!), caviar, cold soups - the list goes on and on. It was a whole new experience for my taste buds.
This cruise, however, was a little disappointing in terms of food - both in presentation and originality. As Nathan said "Kat, you cook way better than this."
(I apologize in advance for the crappy pictures...apparently, it is a lot harder to focus with a camera when A) your surroundings are in constant motion, B) there is shitty lighting and C) when you are drunk.
Note to self - do not purchase the wine package! We like wine, and by the third night, I was ready to throw the bottle across the room! Just thinking about wine made my stomach turn
.)
Monday
evening was dinner #1, and also the introduction to our dinner mates. We totally lucked out, everyone was charming and interesting. No one even looked at me funny for taking a boat-load of pictures...although I did explain that I was a food blogger - which seemed to tickle their fancy. I hope that if any of our dinner mates stops by this blog for a visit, they make a little comment!
As soon as introductions were made, we got to ordering. I had the Strawberry Bisque for my starter, the salad, Chicken Marsala for an entree, and finally some kind of berry mousse-like dessert.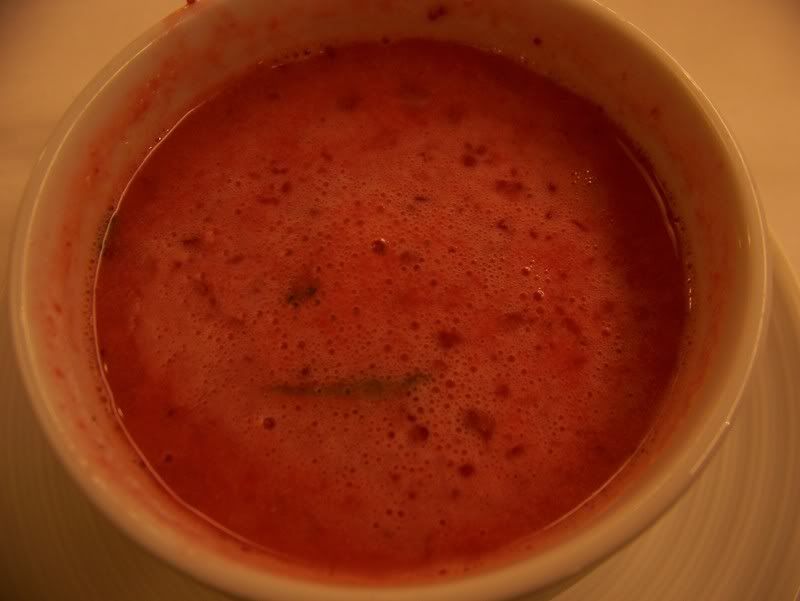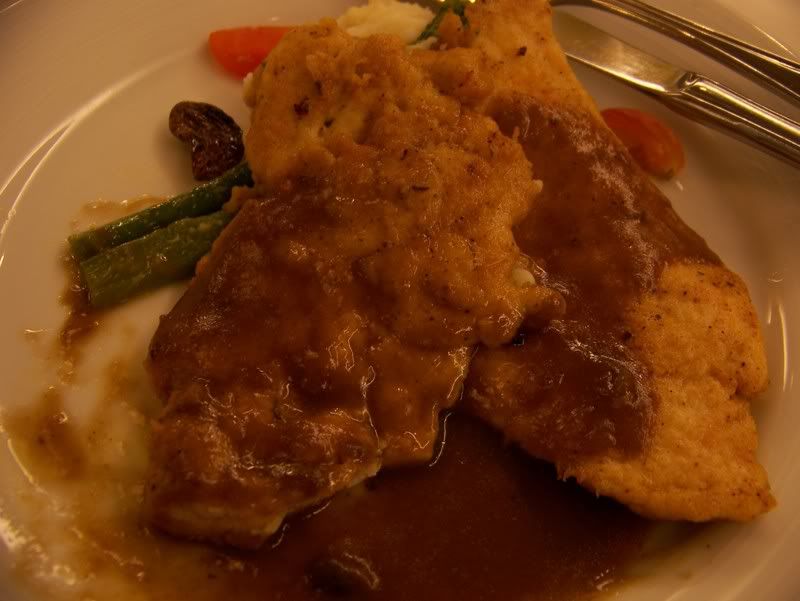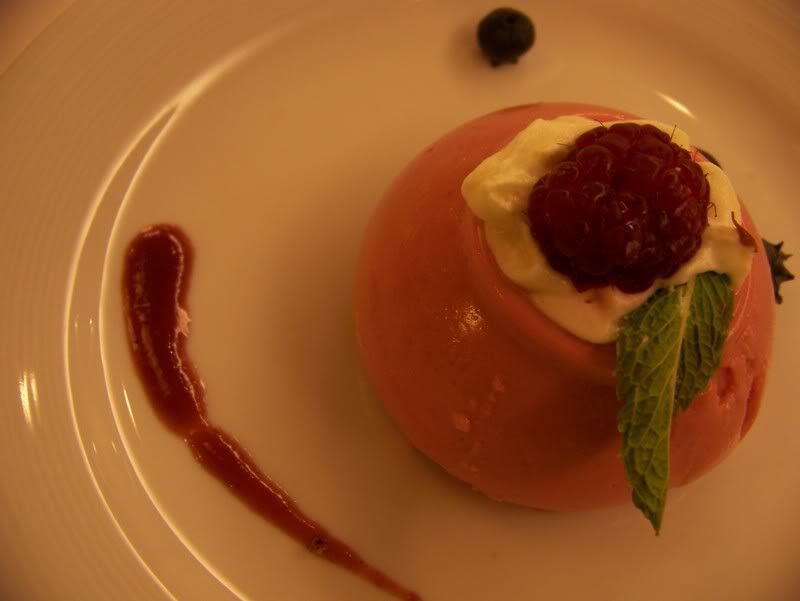 The Strawberry Bisque was served cold, and was delicious - although very sweet. The soup had a frothy quality to it that made it seem really light and airy. The chef smartly garnished the dish with a little fresh mint. Very nice starter.
The Chicken Marsala, in my humble opinion, sucked. Not only was it over salted...but the sauce was more of a gravy.
Marsala is not gravy!
I was really disappointed. I wish that I could've traded with Nathan, but he ordered the EXACT SAME THING. (A trend you will see throughout this food trip. Doesn't he know the rules of dining with a partner? You eat order something different, so that you can taste everything!!!!) The chicken was served alongside mashed potatoes and (over) steamed (mushy) asparagus. Each equally salty.
The dessert I did enjoy, naturally. I can't remember the exact name on the menu - but it was like a cushion of spongy mousse/jell-o like mixed berries, garnished with a little fresh whipped cream and a perfect berry as a crown. There was also some kind of berry puree that was very nice, on the side - and it took all my effort not to scoop it up with my finger!
Tuesday
night's meal was French inspired, which I was really looking forward to. I started with the Chilled Pear and Cranberry Soup, the salad, Fillet of Beef as the entree and Cherries Jubilee for dessert. Nathan tried the escargot, which was downing in butter and melted cheese, but then copied the rest of my order. Why didn't I insist he order first?!
(I tried to get a picture of the escargot, but Nate ate it too fast! I guess he thought it was tasty!)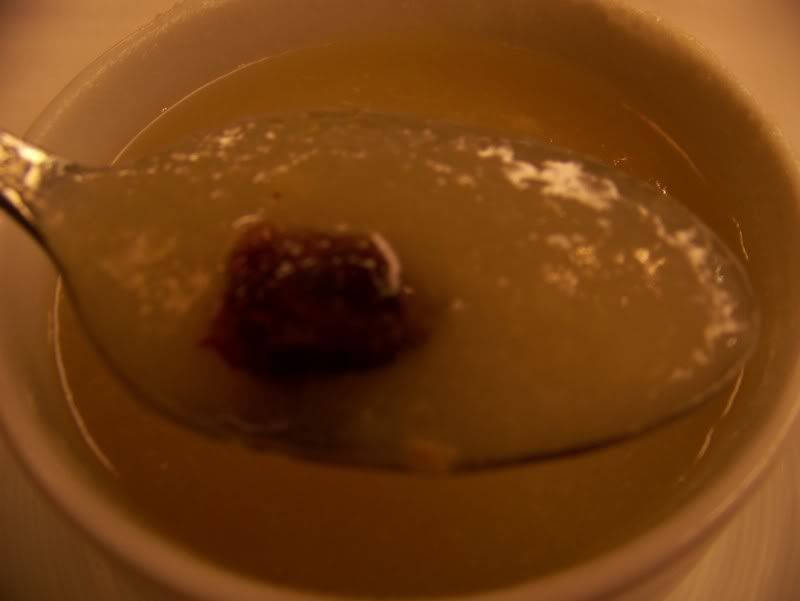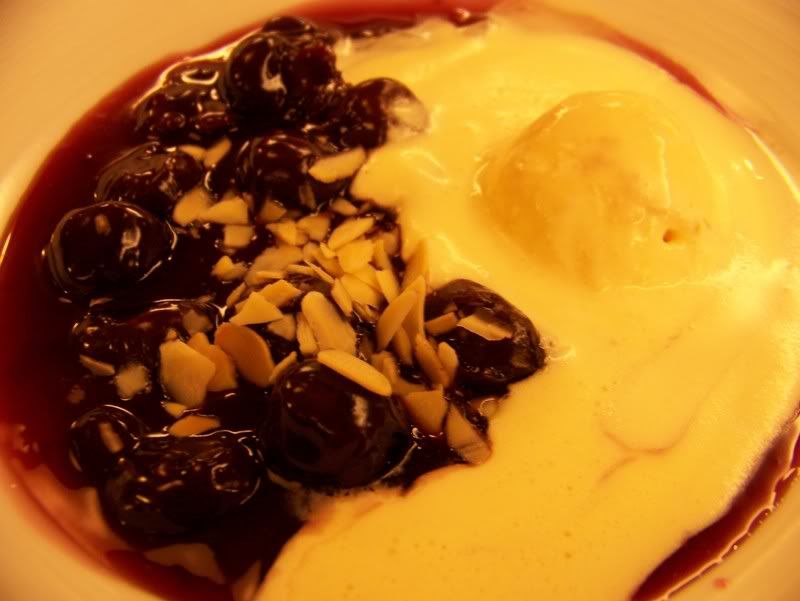 My Chilled Pear and Cranberry Soup tasted like canned pears, blended...or maybe Gerber Baby Food, I couldn't tell. I mean, I like canned fruits - but I expected more...maybe a smoother texture, or a brighter color. The "cranberry" part of the soup was a couple of dried cranberries thrown in, I believe, to compensate for the poor texture and and lack of color. The dish made me want to brush my teeth afterwards.
I love fillet mignon more than anything in the world! I was expecting a 2 inch fillet, but got two thin strips of meat. The beef was cooked to a perfect medium and had great beefy flavor. Served alongside the beef was mashed potatoes (again?) and steamed asparagus (really, again?!), sauteed mushrooms and a sprig of rosemary. The au jus was more of a gravy (this chef must love gravy!), but the overall dish was satisfying and delicious. I think the only thing left on my plate was the rosemary!
Let's talk dessert...I ordered the Cherries Jubilee with a scoop of vanilla ice cream and a handful of toasted slivered almonds. According to the menu, the cherries were flam bayed in bourbon, and they were not kidding! They could've used a little more fire, because the alcohol had not gotten the chance to burn out. It was a little bitter, but very beautiful in presentation. Lucky for me, the ice cream cut some of the bitterness so I was able to enjoy a couple of bits before almost passing out in sugar shock!