As Spring approaches, I find myself wanting to plan menus that are a little lighter - and white fish, namely Tilapia, is perfect for that. I've mentioned it in the past, and it's worth repeating...fish/shellfish is not my favorite thing. As a child I hated it. I would completely turn my nose up at the mention of seafood. My mother used to make haddock, which many people find appealing - but I find disgusting. That lingering smell along would cause me to dry heave. When I "discovered" Tilapia, I was hooked.
It's a fish that I can get behind!
When cooking tilapia, you will find that not only is it extremely delicate, but there is virtually no smell what-so-ever. It doesn't matter which application you cook it in (the oven, on the stovetop, in foil on the grill) - most of the time, the people in your household will not be able to tell that you are even cooking fish until it shows up on your plate. (Not at all like the above mentioned haddock, which stinks your entire house up as soon as you open the butcher paper it comes in!)
The produce at the grocery store also makes a huge turn around at this time. Tomatoes become sweeter - herbs more vibrant in color and flavor...instantly my brain is drawn to vegetables and fruits even more than before. When you can smell the tomatoes as soon as you walk in the door, you just know that they will be finding a home in your grocery cart, even if they were not originally on your shopping list.
PAN SEARED TILAPIA with PARSELY PESTO and TOMATO


4 tilapia filets (fresh or frozen - defrost if frozen)3 roma tomatoes, seeded and diced2 tbsp olive oil1 tbsp butterpesto (recipe to follow)1 tbsp fresh parsley, roughly chopped (can substitute BASIL)salt and pepper, to tasteDice up tomatoes into a small bowl. Add in 1 tbsp of roughly chopped parsley. Season with salt and pepper and a drizzle (1 tbsp) of olive oil. Stir to combine. Set aside.In a large skillet, heat 1 tbsp oil and butter together until sizzling. Season fish with salt and pepper, and place each filet in skillet - seasoned side down. Season second side. Cook fish approximately 3-4 minutes on each side, or until flesh turns a nice golden brown.
To plate: Lay some of the tomato mixture onto your dish. Carefully position a piece of fish over the tomatoes, followed by 1-2 tbsp pesto. Garnish with fresh herbs, or a couple lemon wedges. I chose to serve mine along with a side of good old mashed potatoes!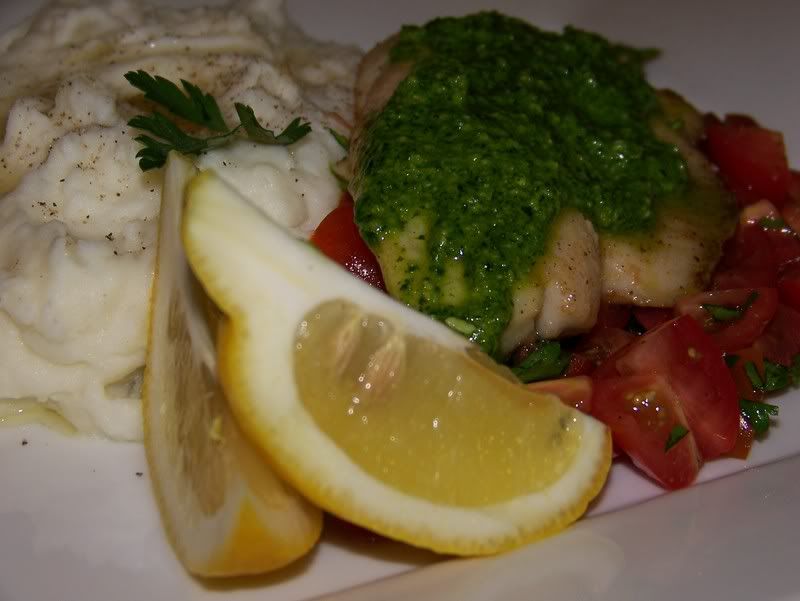 There is absolutely nothing wrong with purchasing store made pesto (found usually in the deli section), but I prefer to make my own - this way I can control the consistancy and the ingredients. Plus, it's easy - and leftovers find their way into my lunch bag on top of pasta or sandwiches. You can make "pesto" with any herb you like. I was planning on using parsley from the start, since it is always available at my market and it's cheap - but "traditional" pesto calls for the use of basil. I've also made it with baby spinach, and cilantro.
Cooking is all about experimentation!
Let loose in the kitchen, baby!
PESTO



1 big bunch of the herb of your choicejuice of one lemonolive oil1 raw garlic clovesalt and pepper1/2 cup of pine nuts (I've also used walnuts with great success!)
3 tbsp freshly grated parmesan cheeseAdd all of the ingredients - minus the oil - into a food proccessor, and pulse to combine. Turn proccessor on completely, and stream in olive oil until you achieve the consistancy you desire. (I end up using about 1/2 cup of oil.) Adjust as needed. Store in a sealed container in the refridgerator for up to a week, or empty into an ice cube tray and freeze! Makes approximately 1 cup of pesto.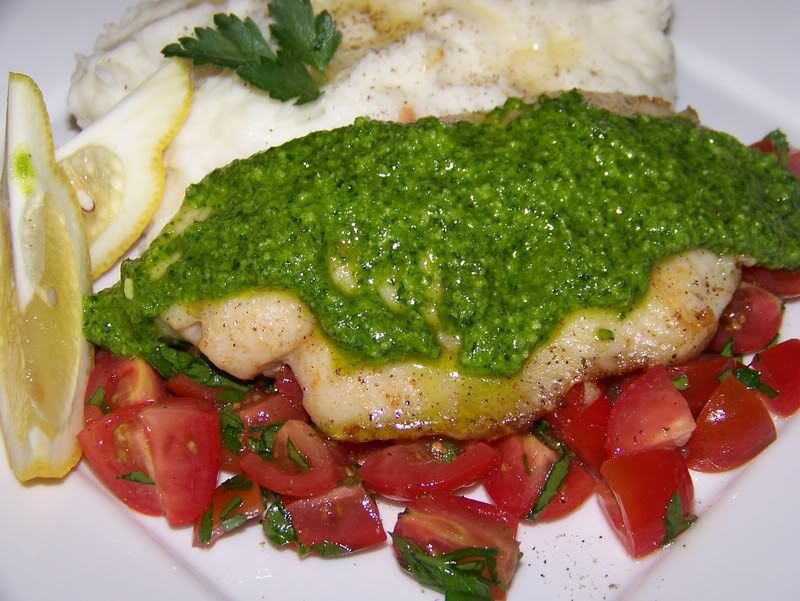 Enjoy the tastes of Spring!