It's officially Spring! Time to phase out all of the hot, tummy warming soups - and add even more fresh vegetables to your diet. I saw this recipe for Springtime Quiche on www.landolakes.com - and decided that this was the perfect dish to help ring in the change of seasons. The recipe is pretty fool proof, if you use a store bought crust, like I did (shameful, I know!)...and it would make a fabulous Mother's Day brunch item! (hint, hint)

SPRINGTIME QUICHE

1 premade pie crust, thawed and rolled out slightly on a well floured surface
8 slices of crispy bacon, cut into 1 inch pieces and drained on a paper towel
1 bunch of fresh asparagus, washed and cut into 1 inch pieces
4 eggs
1 1/2 cups of Half & Half
salt and pepper, to taste
2 cups shredded cheddar cheese

Preheat oven to 375 degrees.

Whisk together the eggs, salt and pepper and Half & Half in a small bowl until well combined. Add a handful of shredded chedder cheese to the mixture and set aside.In an ungreased pie dish, place your premade pie crust, crimping the edges as you go along. (You can certainly make your own...I didn't have the patience - and happened to have the crust in the freezer already - so I was golden!) Sprinkle the rest of the cheese onto the crust, followed by the bacon and asparagus. Pour your egg mixture on top and shimmy the pie plate a little to even distribute. If you wish, you can use a little egg wash (1 egg and 1 tbsp water mixed up) on the crust, to give it a pretty sheen.

Bake for 45-50 minutes, or until center is set. Let quiche rest 10 minutes before serving, or it will be simply impossible to take out of the pie plate neatly and you will burn the roof of your mouth!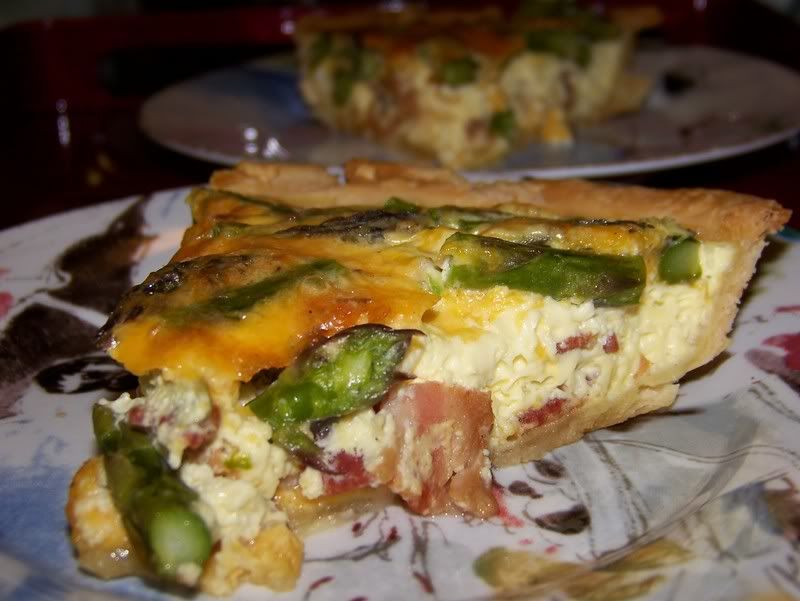 The orginial recipe said that you should leave the asparagus whole, creating a little pattern out of the stalks...I was going to do that, then remembered the last time it made a huge mess when it came time to eat! The asparagus didn't cut easily. So, chopping it up into bite sized pieces made better sense to me - but you can certainly do as you please.
How can you go wrong when BACON is one of the main ingredients?!