Oh yum! And, I don't even like lobster! The original recipe is from Food Network's Paula Deen, (I'd add a link, if Food Network didn't crash on me every time I do a simple search) but in my usual fashion, I added and subtracted a couple of ingredients to make it all mine! The bisque was really creamy and full of flavor - but not fishy at all. The lobster and shrimp were both so tender...it was like heaven in a bowl.
When I make it again, I will probably serve it as a soup course, instead of an entree, because although it is very rich, it isn't very filling. (I managed it make it through the night without snacking, but Nate couldn't help eating out the rest of the refridgerator!) It is a bit on the expensive side - due to the lobster - but you can certainly omit that ingredient and double up on the shrimp, or add some other kind of white seafood (scallops, cod).
LOBSTER AND SHRIMP BISQUE
2-3 large lobster tails, pre-cooked and cut into bite sized pieces
1 lb medium shrimp, tails removed
6 cups of chicken stock
1 cup of heavy cream

2 celery stalks, halved and sliced
2 carrots, halved and sliced
1 onion, chopped
2 garlic cloves, finely minced
4 tbsp butter
4 tbsp flour
1 bay leaf
2 tbsp fresh thyme (or 1 tsp dried)
salt and pepper, to taste
In a large stock pot, melt butter. Add onion, garlic, carrot and celery and cook until veggies are tender. Immediately add flour, stirring to combine. Slowly add chicken stock and bring to a boil, stirring often. Once boiling, add one dried bay leaf to the liquid, followed by the seafood. Let boil further until soup reduces some.

Turn the heat down to simmer, and sprinkle in the thyme, stirring to incorporate. Remove bay leaf and discard. Before service add 1 cup of heavy cream to complete the soup.
A nice loaf of crusty Italian Bread is a must for getting all of that wonderful broth, and much more civilized than licking the bowl itself!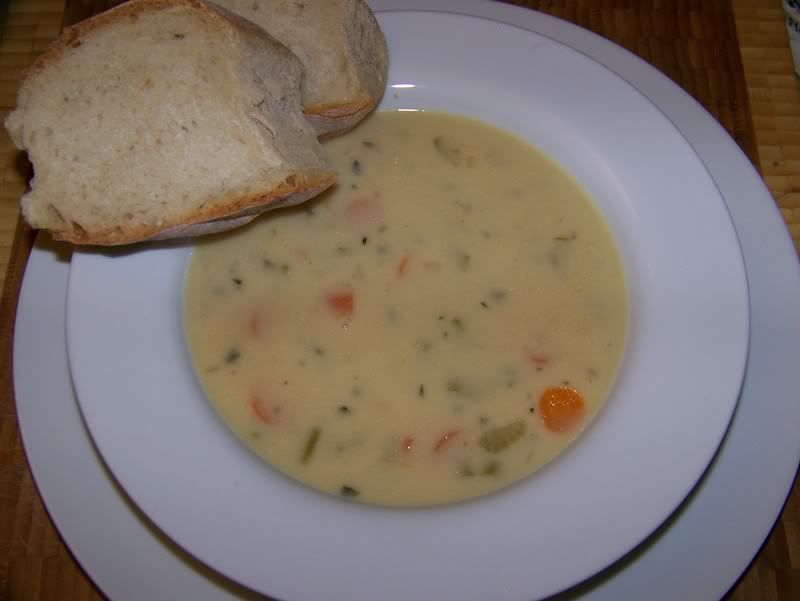 Hey shrimpy, shrimpy - where are you?!