Every once in a while, a bribe is called for. This weekend (before I came down with the dreaded sickies), I decided to take the issues into my own hands - and made some awesome cookies for the boyfriend to drool over.
Kat: Will you please fix the back door?
Nate: Hun, I am awfully busy.
Kat: I'll make you cookies if you do it.
Nate: What kind?
Kat: You choose...chocolate chip or oatmeal raisin?
Nate: Oatmeal raisin!
They're healthier
.
OK - oatmeal in a cookie does not make it healthy. We all know that - but for one moment can we just use his logic as gospel? 'Cause that would sure make life a whole lot tastier!
I searched all over for my great grandmother's recipe, and I could not find it. But, I couldn't give up, because the back door needed fixing badly, so I took out the oatmeal box and peeled off the lid. Horray! A recipe!
So, let me give Quaker some props. The cookies were nice and moist - just as I like them. I still like my recipe better (because it has molasses in it!), but these are a very close second.
QUAKER'S VANISHING OATMEAL RAISIN COOKIES
1 cup (2 sticks) butter, softened
1 cup firmly packed brown sugar
1/2 cup granulated sugar
2 eggs
1 tsp vanilla
1 1/2 cups flour
1 tsp baking soda
1 tsp cinnamon
1/2 tsp salt
3 cups old fashioned oats
1 cup raisins
Preheat oven to 350 degrees.
Beat together butter and sugars until creamy. Add eggs and vanilla, beating well to incorporate. Add flour, baking soda, cinnamon and salt. Mix well. Stir in oats and raisins.
Drop by rounded tablespoonfuls onto a silpat lined baking sheet. Bake 10-12 minutes or until the edges are a golden brown. Let cook for 1 minute on baking sheet, before transferring to a wire rack to completely cool.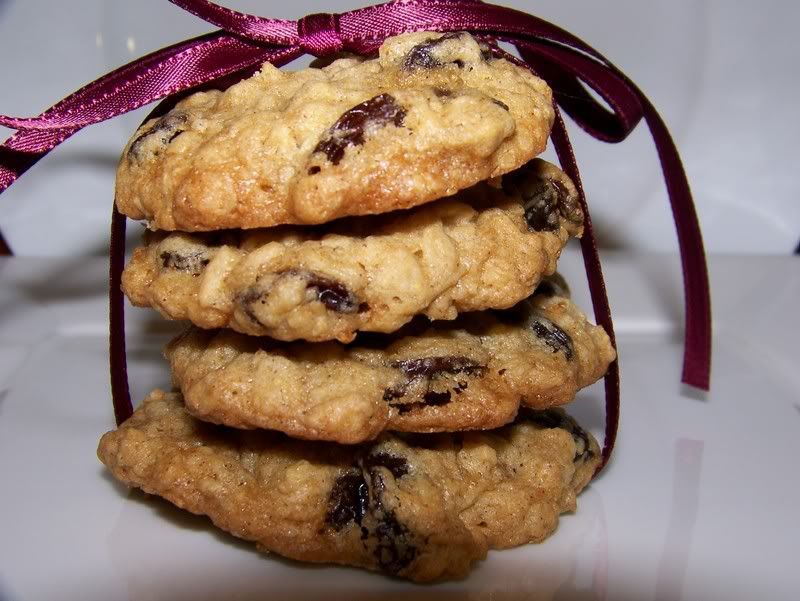 But, you know what? After all that baking and snacking...the door was never fixed! I just may have to bust out a cheesecake or something. (After all, according to Nate, cheesecake is healthy, because it has cheese in it.)