When I think of Thai food, I often think of overly complicated dishes with many steps done in a particular order with ingredients not found in many kitchens. I'm so silly, because in the end - none of that is even true. The most complicated thing about this dish was making the rice. And, who (besides Lisa on
Top Chef
) doesn't know how to make some kind of rice? I also think of my
very special pan thai
. (Cheating is OK!) Thai food has this way of ending with a "pretty" and a "yum." I think what draws me to this particular cuisine over and over are the vibrant colors, different textures and the break from the American norm of meat and potatoes. I went out to dinner with a couple of friends last week to a newly opened Thai restaurant, and tried the fried bananas...you can bet I will be attempting to make those soon!
Give this recipe a shot. I promise you will not be disappointed in the outcome. It's lovely on a warm summer night! Plus, no silverware.
THAI LETTUCE

(under)

WRAPS
2 cups prepare Jasmine Rice
1 head of a leafy green lettuce (such as Boston), leaves separated, cleaned and patted dry
1 1/2 cups fresh pineapple, milled finely to a canned "crushed" texture
1 bell pepper (any color), diced
4 scallions, diced
1 tbsp vegetable oil
4 tsp minced garlic
4 tsp minced ginger
2 lb. lean ground pork
3/4 tsp chili paste, or Tabasco sauce (less if you want less heat)
1/3 cup Thai fish sauce (nam pla)
1 tbsp soy sauce
3 tbsp rice vinegar
1/4 cup brown sugar
1/3 cup fresh cilantro, chopped
Prepare rice according to package directions.
While rice is steaming, prepare lettuce leaves a
nd set aside. Prepare pineapple, scallions and bell peppers and place each ingredient in their own small bowl.
Heat oil in a large skillet over medium high heat. When hot, add ginger and garlic and cook about 30 seconds, until fragrant. Immediately add pork - using a wooden spoon to separate the meat. Season with pepper. Add chili paste and stir to combine. Cook meat until done, approximately 10-12 minutes. Meanwhile, in a small bowl, combine brown sugar, soy sau
ce, vinegar and fish sauce. Add sauce to cooked pork and simmer for 1 minute. Turn off heat. Add chopped cilantro, and transfer to a serving bowl.
Assemble your lettuce wraps using each of the prepared ingredients, and enjoy.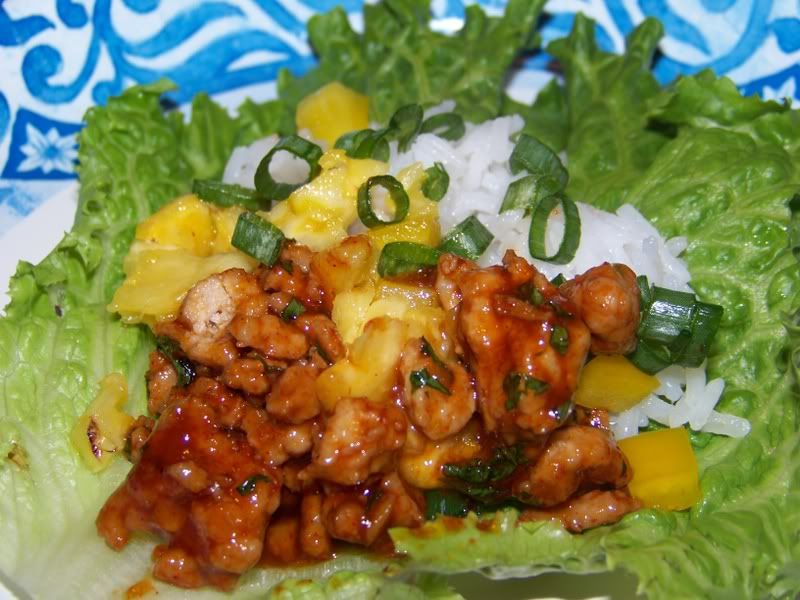 Sometimes you just need to feel like a kid again, and eat with your hands. Pork and pineapple are such a classic combination, there was no doubt in my mind that this recipe would work and be great. Plus, it left ample room for ice cream.