Everything's better with bacon
, right? Does that question even have to be asked? Creamy pasta happens to be one of my major downfalls - and when combined with crisp bacon it means that I ate a whole lot of this meal, then passed out in a coma on the couch cursing at myself. The pasta itself is so rich and flavorful, not only from the glorious bacon that rests on top, but because it's also loaded to the gills with garlic. Hey, I'm not kissin' anyone right now...I can eat all the garlic I like. (And for those of you who are kissing someone, remember that two garlic breaths cancel each other out!)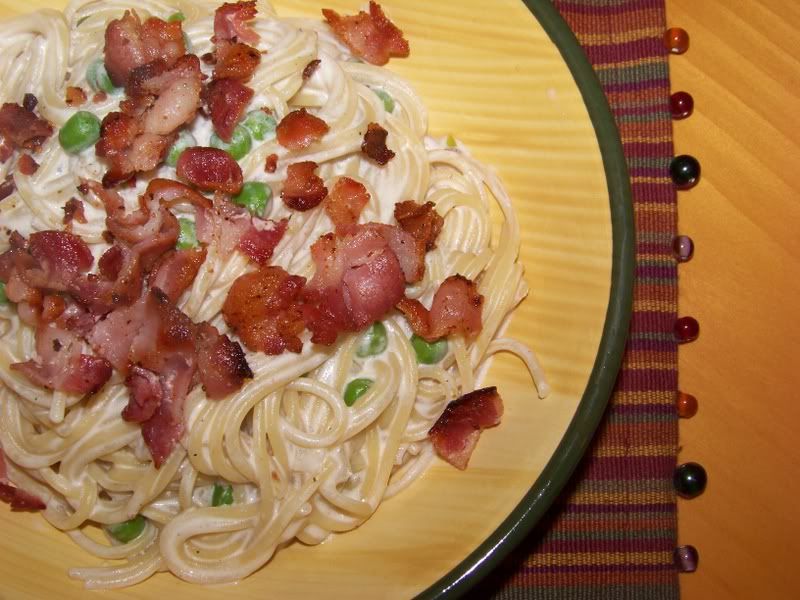 SPAGHETTI WITH CREAMY GARLIC SAUCE

12 oz. uncooked spaghetti, or pasta of your choice
1/2 lb sliced bacon, sliced into 1 inch pieces
1 medium onion, diced
3 garlic cloves, finely minced
1 1/2 cup milk
1 package (8 oz) cream cheese
2 tbsp butter
salt and pepper, to taste
1/4 tsp ground nutmeg (fresh, preferred)
1 cup frozen peas

Cook pasta according to packaged directions.

Meanwhile, crisp bacon and set aside on paper towels to drain excess fat.

In the same pan you used to crisp the bacon, add butter, onion and garlic and saute until onion is translucent. Add cream cheese, milk, nutmeg, salt and pepper and gently stir until cream cheese has melted into a beautifully creamy sauce. Add peas. Once sauce is thickened, add drained pasta and toss to combine. Top with bacon!


When I make this again, I will probably substitute the peas for a little fresh baby spinach, because I felt that the dish needed a little more green in it. Can I also say "yay" that I got to use my pasta bowls for the first time ev-ah! (I've only had them for 4 years, but they were stored away in the attic.)
Be warned - like most pasta dishes, the leftovers were not as satisfying as the actual meal. The cream sauce solidifies (a little extra milk did loosen the sauce, but it wasn't the same) and the bacon loses some of it's crispness. My advice - make only what you plan to eat that night. If you want more, spend the 20 minutes and make it again...after all, you have that 1/2 package of bacon left!