In pouring over various cookbooks and websites, I'm finding that one of the quickest and healthiest ways to add color and flavor to your food is to top it with a homemade salsa. To me, there is nothing better than fresh vegetables and fruits. Salsa is perfect because you are only limited by your own imagination, and what you have in your kitchen. I made mine with the slightest pinch of salt and maybe a tsp of olive oil to bind it all together. I'm totally eating the leftovers for lunch in a lettuce wrap!
CORNMEAL AND CORRIANDER CRUSTED CHICKEN with BLACK BEAN AND MANGO "SALSA"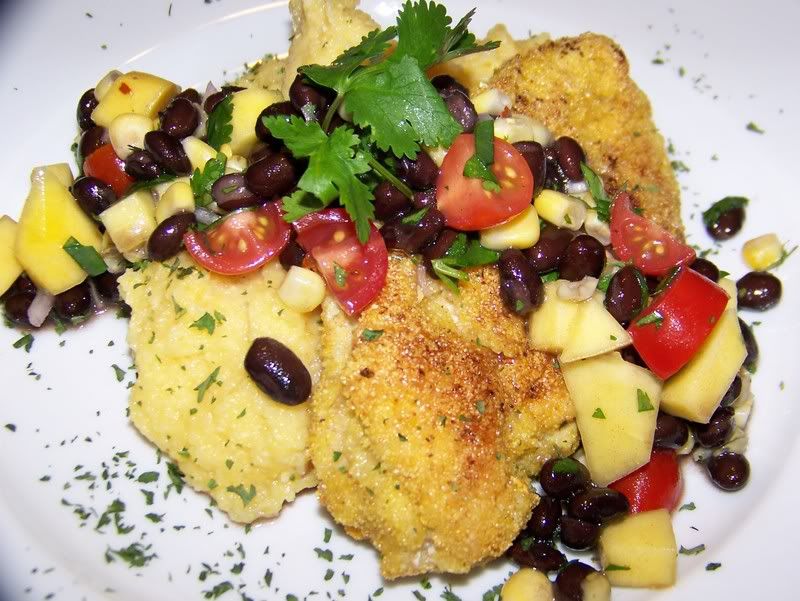 ...for the chicken:4 slightly pounded boneless, skinless chicken breasts1/4 cup yellow cornmeal1 tbsp ground corriander1 tbsp olive oil...for the salsa:1 ripe mango, peeled and diced1/2 cup corn (if using frozen, thawed)1 can of black beans, drained and rinsed1 large shallot, finely diced1/4 cup cherry or grape tomatoes, diced2 tbsp finely chopped cilantro (or parsley, if you do not like cilantro)2 tbsp cider vinegar1 tsp olive oilsalt and pepper, to tastePlace cornmeal and corriander in a large plate and mix with fingertips. Dredge each chicken breast into the mixture until coated. Heat oil in a large skillet over medium-high heat. Cook chicken approximately 7 minutes on each side, until completely cooked through, and the crust turns a nice golden brown.Meanwhile, mix together all salsa ingredients - tasting before adding salt for seasoning. Serve by spooning the salsa over the chicken!
This meal took about 15 minutes to put together, start to finish - so it is the perfect "on the go" dinner. I also whipped up a batch of polenta made the cornmeal, chicken stock and milk (instead of cream and butter). No salt. And you know what?! It totally didn't even need it - - the salsa was the perfect compliment without being overpowering.