Thanks to Nathan, I love Korean food and all things spicy! He's half Korean, and when we started dating he brought me to a Korean restaraunt, opening up a whole new world of sights and tastes.
I rarely dabble into Korean food at home because it is just not the same, unfortunately. However, I've been holding onto this recipe because I thought it might have some potential...and I was right! It was simple to make, the ingredients were easy to find (with an easy substitution if you don't want to go to an Asian food store) and the meal was really, really tasty. But, he forewarned - it was HOT! Grab a glass of milk, a side of
kimchee
, some chop sticks and enjoy Korea, without the plane ride and language barrier.
SPICY NOODLES WITH MUSHROOMS AND CABBAGE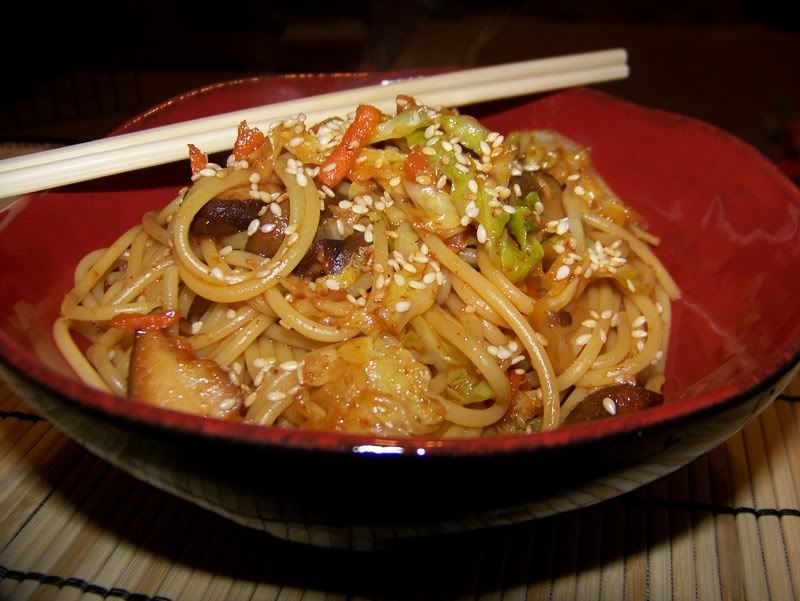 1/3 cup water
1/3 cup soy sauce
3 tsp gochujang* 1 tbsp brown sugar
1 lb dried spaghetti (or soba noodles, if you want to keep it truly authentic)
10 oz. of sliced mushrooms - I prefer shiitake for the visual
2 cups shredded cabbage
1 cup shredded carrot
1/2 cup sliced green onions
2 tbsp sesame seeds, toasted until browned
3 tbsp vegetable oil
2 tsp garlic, finely minced
1 inch of fresh ginger, finely minced

In a small bowl combine water, soy sauce, brown sugar and gochujang together until sugar dissolves and set aside. Prepare pasta as directed.

While pasta is cooking, heat oil in a large skillet until hot. Take off direct heat, and add ginger and garlic. (If you keep your ginger in the freezer, like me - be prepared for some "spitting" when the residual water hits the oil!) Return to the heat and immediately follow with the sliced mushrooms, and cook, stirring constantly, until the mushrooms take on a darker brown color, approximately 6 minutes. Add cabbage, carrot and green onion, and saute until veggies become crisp tender. Add sauce and mix thoroughly, until heated through.

Add your noodles to the vegetable mixture and toss to combine. Sprinkle with toasted sesame seeds for a garnish. Serve immediately.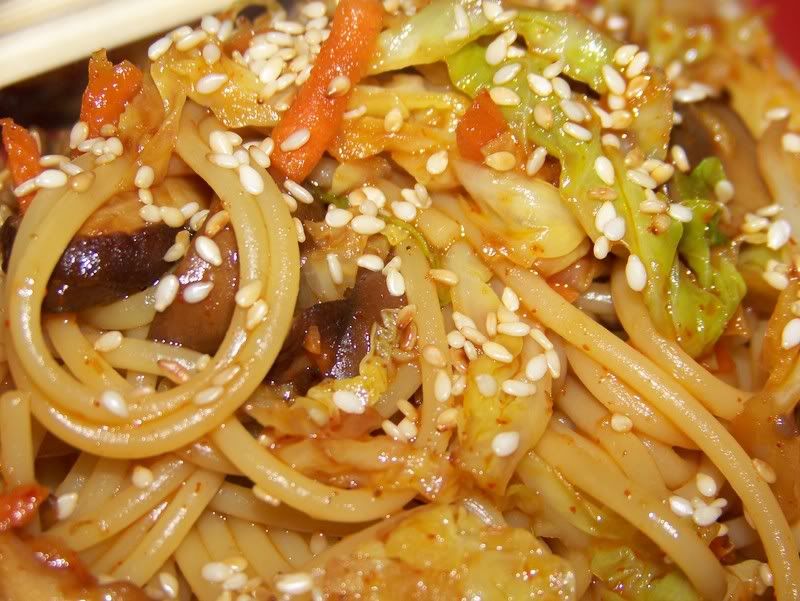 *Gochujang, a Korean spicy bean paste, is readily available in most supermarkets in the international food aisle. If you can't find it there - check out your local Asian Food Market. It retails between $4.00 - $5.00. You can substitute 3/4 teaspoon Chinese chile paste and reduce the amount of soy sauce to 1/4 cup.