I've tried about 13 different recipes for Carbonara, and every single one failed miserably. The eggs curdled, or the sauce somehow separated into a mess or the whole thing was runny, or too dry. You name it! I don't know why I kept working on it though, I guess it was because I was always told that Carbonara was the best comfort food ever. (They also said it was easy...ha!)
So, I decided to take matters into my own hands, and make *my* version of carbonara. I was a little leary at first - - but I finally decided that this time...it wouldn't fail.
And, it didn't. OMG! How amazing! (And filling - believe me, your eyes will be much bigger than your stomach with this one.) The secret is in the bechamel sauce you start with.
KAT'S NO-FAIL CREAMY CARBONARA

with peas and proscuitto
1 lb pasta of your choice - I chose Spaghetti
3 tbsp butter
3 tbsp flour
3 cups of heavy cream
salt and pepper
whole nutmeg
5 egg yolks
1/4 cup frozen peas
6 thin slices of proscuitto, cubed
Prepare pasta. In the last minute of boiling the pasta, add peas.
Meanwhile, in a large skillet, melt butter over medium high heat. Add flour, whisk and cook for one minute to get rid of the raw flour taste. Slowly add in heavy cream, whisking constantly. Bring to a boil, stirring often, until bechamel thickens and coats the back of a spoon. Add proscuitto and season with salt, pepper and grated whole nutmeg. (Just a smidge!) Turn heat down to low.
Separate egg yolks into a small bowl. Whisk to break yolks. Temper your egg yolks with about 1/4 cup of the bechamel sauce. Once thoroughly mixed, add yolks to the white
sauce, stirring constantly to incorporate. Add drained pasta and peas, tossing to combine. Serve as is, or with a sprinkle of freshly chopped parsley.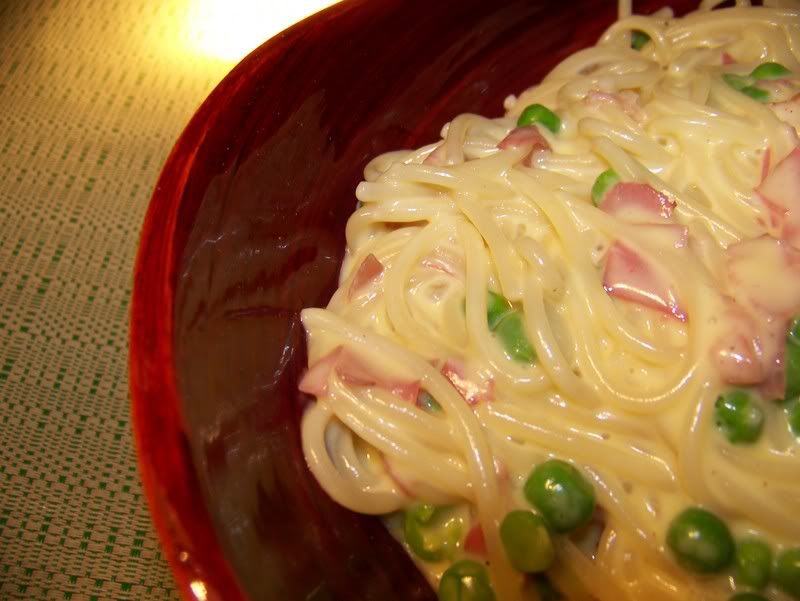 I can not believe how creamy this carbonara turned out. Seriously good! And, a little goes a long way...I was full after only one small serving - I didn't even tough the loaf of homemade bread I made to accompany this dish.