I can not wait until "the house" is completed, and we are in and ready to entertain in our own territory! (For those who do not read my other blog - Nathan bought a house back in 2002, which had been through a fire. We have been rehabbing the hell out of it for the past...ummm...5 years.)
I look forward to the Superbowl every year - not because I'm a sports fan (I'm not!), but because I love to try out new recipes on unsuspecting family members. Bwhahahaha! This year, I left out the "new" and went with a more traditional touch - chili, chicken wings, chips and dip and pigs in a blanket. I did whip up a couple of pinwheel sandwiches that were fantastic and got mad raves from all the boys!
Here are a couple of recipes that highlighted the evening:
PINWHEEL CHEESY MINI SANDWICHES

flour tortillas
1/4 lb each of rare roast beef and cooked ham (or your favorite lunch meat)
handful of baby spinach
yellow mustard
roasted red peppers, packed in oil
baby spinach
shredded cheddar cheese
cream cheese

Imagine your tortilla as a clock....Spread a good layer of cream cheese on the top of one tortilla wrap. Make sure that you bring the cream cheese all the way to 9:00, as it will act like glue when you roll it up. Zig-zag some yellow mustard across the tortilla. Place 3-4 slices of meat, starting at 3:00 - and leaving about an inch of room at the 9:00 mark. Follow with the shredded cheese, spinach and red pepper. Start at 3:00 and roll up the tortilla tightly. Wrap entire roll in plastic and chill for at least 3 hours, or overnight. Cut into pinwheels directly before serving.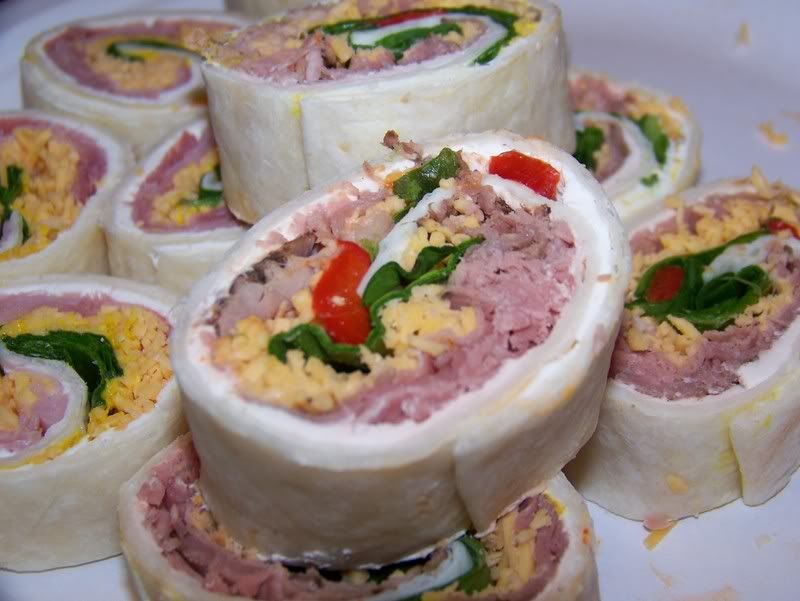 They make handy little bite sized snacks. I made 4 rolls (two of roast beef and two of ham), and they were gone before kick-off!
FANTASTIC SPINACH AND ARTICHOKE DIP

Beware - this recipe will most certainly block your vital arteries - - but it is sooooooooooo good!

8 oz cream cheese
12 oz shredded mozzarella cheese
1 cup mayo
1 cup grated parmesan cheese
1 onion, finely chopped
2 garlic cloves, finely chopped
2 jars of marinated artichoke hearts
10 oz frozen spinach, thawed and drained

Preheat oven to 350 degrees.

Drain artichokes and pull them apart with your fingers. In a large bowl, combine all other ingredients and mash until well mixed. Bake uncovered for 30 minutes, or until dip is bubbly and hot. Serve hot with bread or chips.
You can make this ahead, baking when you get to your destination. Take my word for it - this dip is better than anything you've ever raved about at a restaurant. People will corner you for the recipe.
BBQ MEATBALLS

Mini Meatballs
2 tbsp butter
1/2 tsp garlic powder
2 tbsp mustard
1/4 cup brown sugar
1 cup ketchup
3/4 cup chili sauce
2 tbsp worchestershire sauce
2 cups of water

Melt butter in a large skillet. Add brown sugar and mix over medium heat until dissolved. Add garlic, mustard, ketchup, worchestershire sauce and chili sauce. Slowly add water, mixing thoroughly. Add cooked meatballs and simmer for one hour on low. Serve as is, or over rice for a more substantial meal. This is definitely one of my favorites!

You can also prepare the sauce in a crockpot, and keep them hot all night without having to watch the stove. Just leave out long skewers or little bowls for your guests.