Back to making dinner! At least, for a couple of days, as the later part of the work week is filled with work events (during dinnertime). Both of these dinners were very easy to make and had lots of flavor. If you are afraid of tofu...don't be. Tofu is one of those amazing products that takes on any flavor you are cooking with!
For the Carnivors
:
OLIVE-LACED PORK TENDERLOIN


2 lb pork tenderloin, rinsed and dried

1 jar calamata olives, or olives of your choice (pitted prefered!)

salt and pepper

1 tbsp olive oil


Glazing Sauce:

3 tbsp honey

1 tbsp dijon mustard

2 tbsp balsamic vinegar

water

salt and pepper


Preheat oven to 350 degrees. Use a pairing knife to make "holes" or slits into the pork tenderloin. Place one olive into each slit. Turn pork over, and repeat the process. (You want an olive piece in every slice of tenderloin.) Season both sides of pork with salt and pepper.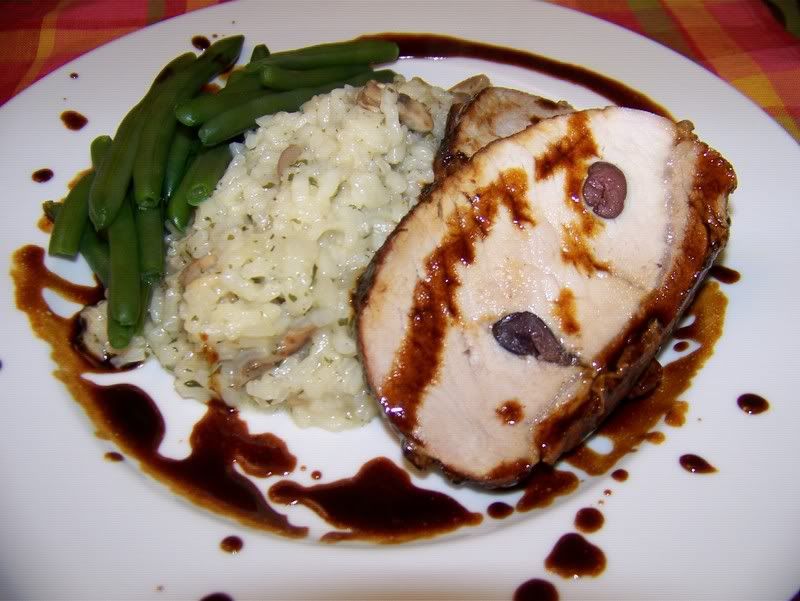 Heat oven proof skillet over medium high heat. Add oil. Sear all sides of the pork. Place enter skillet in the oven to complete cooking.
Cook for approximately 30-45 minutes, depending on the size of your tenderloin. (Internal temperature should reach a safe 170 degrees.)


Meanwhile, mix all sauce
ingredients, minus water, in a small bowl until combined. Place mixture in a saucepan, and heat over medium heat. Add water slowly. Reduce until it is the thickness you desire.
Spoon sauce over sliced tenderloin.
I completed the meal with some steamed fresh green beans, and creamy mushroom risotto.
And, now a recipe and picture for the Veggie lovers:
CRISPY TOFU WITH
VEG
ETA
BLES
OVER RICE
Extra firm tofu, drained
1 yellow bell pepper, cut into stripes
1 red bell pepper, cut into stripes
8 green onions, sliced on the diagonal
2 cups of sugar snap peas
3 tbsp teriyaki sauce
1/4 cup penko bread crumbs
1/8 tsp cayenne pepper
2 tbsp toasted sesame oil
1 tbsp vegetable oil
1 tbsp sesame seeds, toasted (optional)
Cut drained tofu into 1/2 inch slices. Arrange tofu on a plate, and pour 2 tbsp of the teriyaki sauce; turn slices to coat. Let marinate at room temperature for 15 minutes.
Meanwhile, prep all vegetables. Heat 2 tbsp sesame oil in a large skillet. Add pepper, and stir fry 2-3 minutes. Add green onions, sugar snap peas and 1 tbsp teriyaki sauce, and saute another 2-3 minutes, until all vegetables are crisp-tender. Transfer vegetables to serving platter, and keep warm.
Use a paper towel to remove any leftover oil in the skillet. Add 1 tbsp vegetable oil. While the oil is heating up, mix together bread crumbs and cayenne pepper in a shallow vessel. Dip each tofu slice into bread crumbs and coat completely. Carefully place each tofu slice in the skillet. Cook 2-3 minutes each side, carefully turning each slice with a spatula. Place tofu over vegetables. Serve as is, or over rice. Sprinkle with sesame seeds as a garnish.