When I type "tofu" most people say "ewwwww!" Truth of the matter is, tofu takes on the flavors that you are cooking with, and is a great alternative, or substitution to meat in some dishes. It's not just for vegetarians, I swear! I tend to use the extra-firm variety because it has the texture that I prefer.
This particular recipe has a lot of big flavors that blend perfectly. Garlic, lime, ginger, cilantro, curry and cumin. YUM!!! You'll smell for
days
, but it is so worth it!
COCONUT CURRIED TOFU with GREEN JASMINE RICE
1/4 cup unsweetened shredded coconut
2 cups water
1 tsp salt
1 cup jasmine or basmati rice
1 big handful of coarsely chopped fresh cilantro (if you do not like cilantro, you can use parsley)
3/4 cup unsweetened light coconut milk
4 tsp minced fresh ginger
1 tbsp fresh lime juice
2 large garlic cloves, minced
2 tbsp vegetable oil
16 oz. extra firm tofu, drained, patted dry and cut into 1/2 inch cubes
1/2 cup thinly sliced green onion
2 tsp curry powder
1 tsp ground cumin
1/8 tsp dried crushed red pepper flake
1 cup whole small cherry (or grape) tomatoes
2 tbsp coarsely chopped peanuts
Brown shredded coconut in a small saucepan over medium heat, stirring constantly. Set aside.
Bring water and salt to a boil in a heavy saucepan. Stir in rice; return to a boil. Reduce heat to low, cover and simmer until water is absorbed and rice is tender - between 18 to 20 minutes.
Meanwhile, puree cilantro (parsley), 1/2 cup coconut milk, 1 tsp ginger, lime juice and half of the garlic in a blender until smooth. Set aside.
Heat oil in a large non-stick skillet over high heat. Add tofu and stir fry until golden. Add onions, curry, cumin, red pepper flakes, remaining ginger and remaining garlic. Stir fry for 1 minute. Stir in remaining coconut milk, and season with salt and pepper. Right before service, add tomatoes. The residual heat will soften the skins without turning the tomatoes to complete mush.
When rice is finished cooking, stir in shredded coconut and cilantro puree until combined. For service, spoon rice onto plate. Top with tofu mixture and sprinkle with peanuts. Garnish with a little lime, and right before digging in - squeeze that lime over the dish. It adds a wonderful brightness to the whole meal.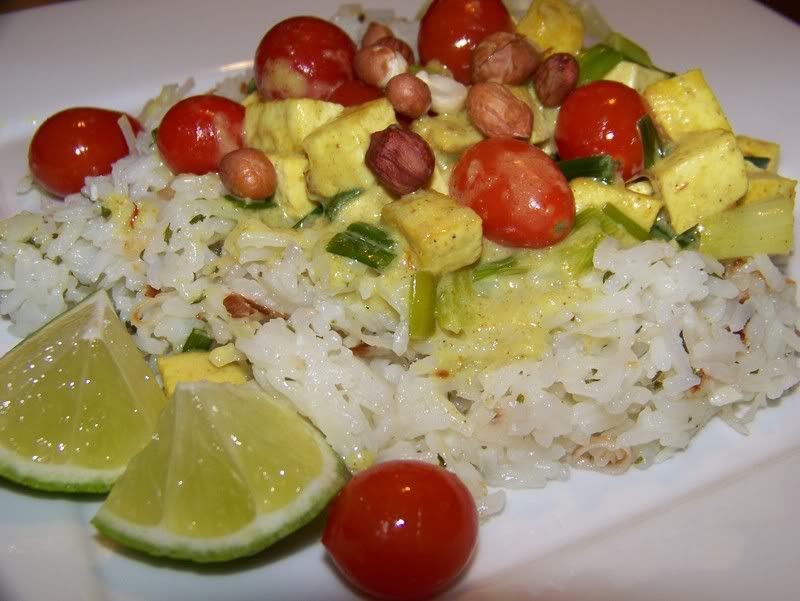 I liked this meal the further I got into eating it, which is just strange. The tofu resembled chicken in taste and texture, and the warmed tomatoes exploded when you bit into them. Each bite had a different flavor - which was so cool. The leftovers were even good!
Of course, my major flaw (which you can see from the picture) is that my rice is not green. The cilantro looked disgusting at the store, and the parsley looked even worse so I used dried parsley instead. It worked, but didn't give that green verdant color that I really wanted. Although, green rice would probably turn a lot of people off!