I adore chickpeas. I love them roasted and covered with garlic powder, or on salads, or mashed up in hummus. My most favorite Indian dishes either include or feature chickpeas in them. When I saw the recipe for this soup, I knew I had to try it. Not only was this meal hearty - but it is also pretty cheap to make, and the leftovers were fantastic.
MOROCCAN SPICED CHICKPEA SOUP
3 tbsp olive oil
1 onion, diced
4 garlic cloves, finely chopped
1 tsp cinnamon
1 tsp cumin
1/4 tsp cayenne pepper
1 tsp paprika
1 can of diced tomatoes
3 (15 oz) cans of chickpeas, rinsed and drained
1 quart chicken or vegetable stock
salt and pepper
2 good handfuls of pre-washed baby spinach
Heat the olive oil in a large skillet over medium high heat. Add onions and garlic and cook until onions become translucent. Add cinnamon, cumin, paprika and cayenne pepper and cook for approximately 2 minutes to develop the flavors. Add the tomatoes, chickpeas and stock and bring to a simmer, stirring occasionally. Continue cooking on medium-low for approximately 45 minutes or until the chickpeas become tender.
Take soup off heat, and use a potato masher to mash up some of the chickpeas right in the pot. (This is an optional step...but it does change up the texture and makes the soup thicker.) Stir in the spinach until it wilts, then season with salt and pepper and serve!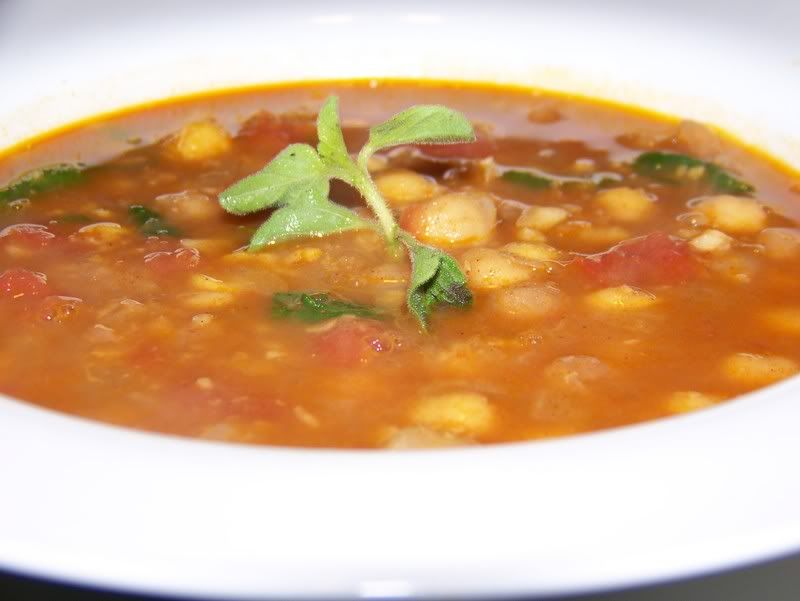 If you don't like the heat, omit the cayenne - because even though you are using just a tad of the spice, it still will hit the back of your throat when you least expect it!