Dark meat chicken is cheap. Most people like it. I do not. I like the breast meat...same goes for turkey. However, every once in a while I purchase the dark meat since it is one of Nate's favorites (and let's face it - all of what I do in the kitchen is for him). This recipe originally calls for boneless, skinless chicken breast - - but the bone-in thigh meat in the store looked really good, so I made a couple of adjustments, and saved myself about $5.00 in the process!
It was absolutely the right thing to do. The meat was succulent, and since the mustards have so much flavor, I was not bothered by the slightly "gamy" taste that I specifically do not like about dark meat. This dish is definitely on our "must make again" list. Plus there are only 4 ingredients. How can you go wrong?
(TWO) MUSTARD CHICKEN
Chicken pieces that you like the best (I chose bone-in and skin-on thighs)*
1/2 cup dijon mustard
1/2 cup honey
1/4 cup stone-ground mustard
(Yep, that's it!)
Preheat oven to 375 degrees.
Mix together mustards and honey in a 9x13 baking dish. Coat chicken in mustard mixture, and bake for 25-30 minutes, until chicken is no longer pink with a safe internal temperature of 170 degrees. Turn chicken once, to ensure that all sides are basted with mustard mixture. Spoon extra mustard mixture over chicken at service.
*If you are using skin-on chicken of any kind, heat a couple of tsp of oil over medium-high heat in a large skillet, and brown on all sides. Transfer to baking dish with mustard, and bake as directed. For bone-in chicken, you may have to add 5-10 minutes onto the cooking time.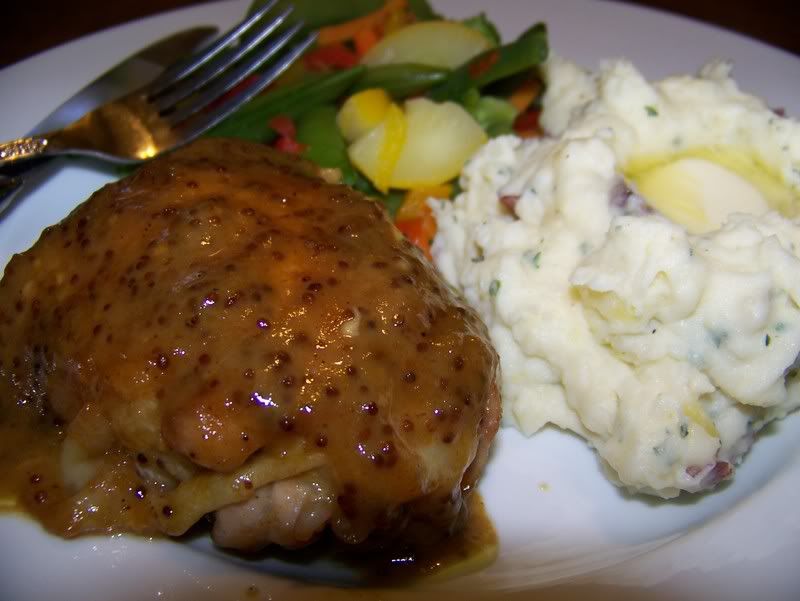 I can not believe how non-mustard'y this meal was...I don't know exactly what I expected - but in my head I really thought that we would be reacting as if we had sucked on a lemon. The sauce was sweet and delicious, the perfect balance of sweet and sour. I served it alongside some mashed potatoes and a bit of vegetable medley, so as not to compete with the main dish. Just look at how that chicken glistens!
Make extra...the leftovers were just as good! Oh, and pack lots of napkins - it's just that finger-lickin' good!