While others are filling their blogs with Corned Beef and Cabbage recipes, I thought I would go the sweet route and tell/show you the cookies I made last night in celebration of this Irish holiday!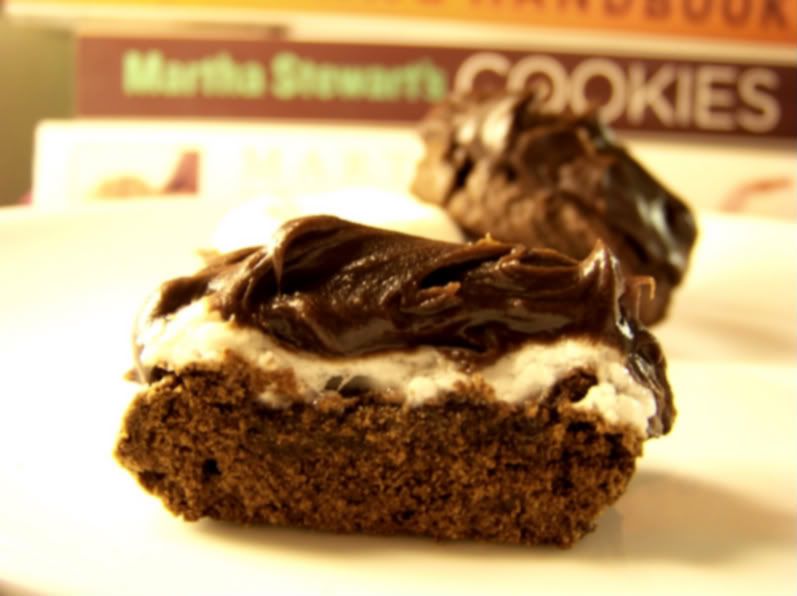 MINTY CHOCOLATE '
SURPRISE
' COOKIES
1 3/4 cups flour
3/4 cup cocoa powder
1/2 tsp baking soda
1/2 tsp salt
1 stick butter, room temperature
1 cup sugar
1/2 cup whole milk
1 egg
1 tsp vanilla
1 tsp mint extract
bag of large marshmallows
chocolate frosting
Green spinkles, optional
Preheat oven to 375 degrees.
In a medium bowl, sift all dry ingredients - flour, cocoa, baking soda and salt. Set aside.
In a large mixing bowl fitted with a paddle attachment, cream together sugar and butter until light and fluffy. Add milk, extracts and egg beating well to throughly combine. Turn mixer onto low and beat in dry ingredients a little at a time until all of the dry is incorporated into the wet. Use a 2 inch cookie scoop to drop dough onto a silpat lined cookie sheet. Bake for 8-10 minutes.
Meanwhile, cut each marshmallow in half. Place one half of a marshmallow onto the hot cookie, pressing gently, and return to oven for an additional 2 minutes. (Any longer and the marshmallow may fall off the cookie!) Remove from heat and let cook on a wire rack.
Once cooled, ice each cookie with the prepared chocolate frosting, completely covering the marshmallow center - making it a 'surprise'! Store in the refrigerator.