Chickpeas are just about my favorite food. I've played around with
chickpeas
before
on this blog with some pretty fantastic results - but this recipe takes the "cake"...uh...literally. Think crab cakes, minus the crab and made with chickpeas instead!
CHICKPEA CAKES

with a Blood Orange SauceFor cakes: 2 cans chickpeas, drained and rinsed2 small garlic cloves, finely minced1/2 cup fresh basil, roughly chopped1/4 cup chopped scallions2 eggs3 tbsp flour1 tsp curry powder4 swipes of whole nutmeg on a
microplane
grater2 tbsp vegetable oilsalt and pepper, to tasteFor sauce:1/4 cup blood orange juice2 tbsp grated blood orange zest1/2 cup chicken or vegetable stock1/4 cup orange marmalade salt and pepper, to taste1 tbsp butterOrange sections (optional)Cherry tomatoes (optional)
Fill a food processor with chickpeas, garlic, basil, scallions, eggs, flour, curry, nutmeg, salt and pepper. Pulse to combine. (I left mine chunky for added texture.)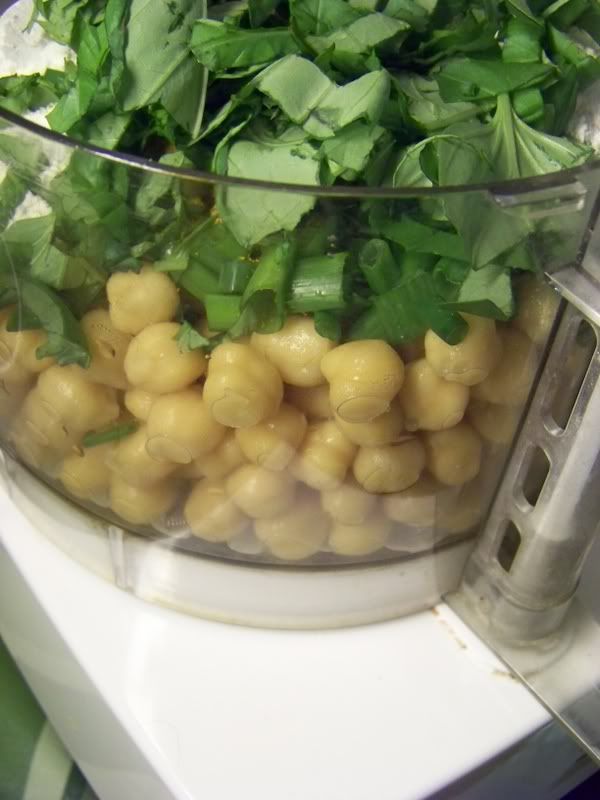 Heat oil in a large frying pan until hot. Scoop out chickpea mixture into large baseball sized rounds, and place in pan. With a spatula dipped in water to prevent sticking, gently flatten each chickpea round slightly. Fry for approximately 4-5 minutes on each side, or until golden brown.Meanwhile, in a small saucepan bring together juice, zest, stock and orange marmalade to a boil. Reduce to about 1/2 cup. Season with salt and pepper and add butter to give the sauce a glistening look. Arrange chickpea cakes on a plate and garnish with halved cherry tomatoes and blood orange sections. Drizzle orange sauce over the top. If desired, juilenne a little extra basil on top.
I served ours with a couple of slices of roasted pork loin and additional blood orange sauce (I made a double batch of the sauce.) It really brought a touch of Spring to our evening! I was surprised at the texture and flavor that the chickpea cakes gave...the curry was definitely the dominant spice. If you don't like curry, then reduce / omit / replace it! The original recipe actually called for cilantro - but the basil looked so nice in the store that I couldn't pass it up...and I'm really glad I made that change. The basil leant a sweet scent to the entire dish without being bitter or overpowering. Super good!
I used this dish as a side, but they can easily be converted to cover all parts of the meal! These cakes would be fabulous as an appetizer if made smaller, and could also be breaded with Italian breadcrumbs or panko crumbs and fried as you would for
risotto rice balls
. The next time I make them I will surely put the front and center as the main part of the meal, along with a salad.
I'm sorry - it's pretty obvious that chickpeas in general excite the heck out of me!