The last time I made
Chicken Tikka Masala
I thought that it would probably be wonderful with chickpeas substituted for the chicken, and I was right! Not only was it very tasty, but the cooking and prep time was cut down significantly - especially if you used canned chickpeas.
The recipe is basically the same, with some minor spice ommissions and technique adjustments.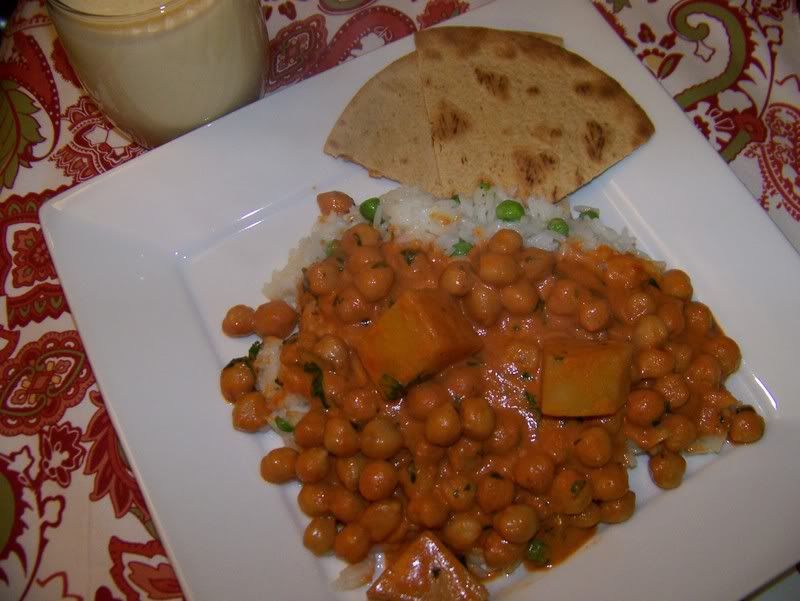 CHICKPEA INDIAN DELIGHT

3 cans of chickpeas, drained1 starchy potato, cut into chunks1 tbsp butter 1 garlic clove, minced 2 tsp cumin 1/2 jalapeno pepper, finely chopped (optional) 2 tsp paprika 1 (8 oz) can of tomato sauce 1 cup heavy cream 1/4 cup chopped fresh cilantro salt, to taste Meanwhile, melt butter in a large skillet over medium-high heat. Saute garlic and jalapeno for 1 minute. Season with 2 tsp cumin, paprila and salt. Stir in tomato sauce and cream, and add cubed potato. Simmer on low hear until sauce thickens and potato softens, about 20 minutes. Add chickpeas and simmer for another 10 minutes. Garnish with cilantro.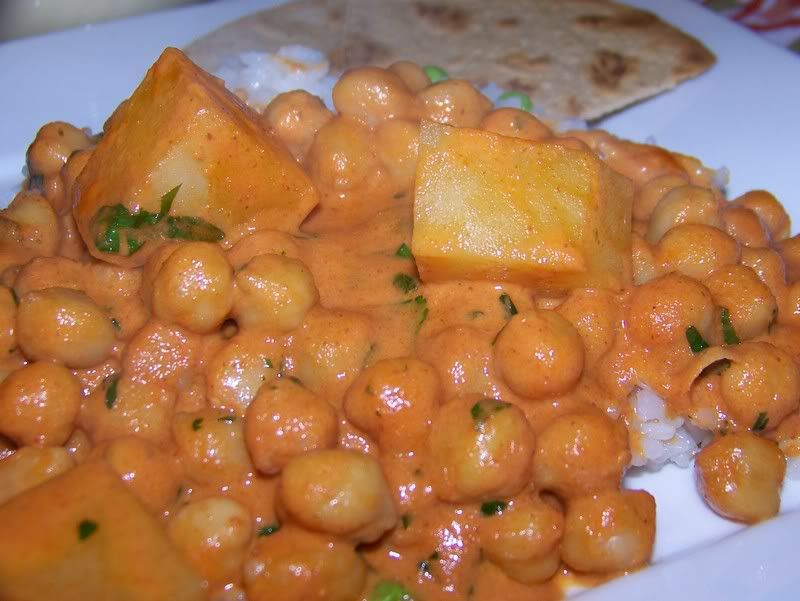 Naturally, Nathan balked at the idea of eating only chickpeas for dinner. He's a meat guy, and even though he likes all kinds of vegetables, the idea of having something "non-meat" for dinner throws him off. After all of the complaining, he ate two servings and told me that he liked it.
Punk!
I also picked up some hummus and pita for a little side dish (and even more chickpeas!), in case the meal failed. You gotta have a back up, ya know.
And, if you are going to go Indian/Pakastiani, you may as well go all the way and treat yourself to a little authentic liquid refreshment. (
of the thick and creamy kind
) A
Lassi
is a non-alcoholic beverage that is very popular in Indian cooking/eating. I made mine with a combination of plain yogurt, mango juice, a pinch of salt and about a tablespoon of sugar. Blend it all together in a blender - and chill. It helps to calm any heat you may experience from the jalepeno and spices.