...er...
cook
, that is. I have not made a single meal all week. I've been lazy to the max - seriously, you should see my kitchen. I just can not muster the strength to do the pile of (stinky) dishes in the sink. I tried to bribe Nathan, but he was not biting. So, we've been eating either cereal, or going out to eat. I going to kick my own ass TONIGHT and finally pick up.
We've had quite a busy week!
Sparky
passed his Beginner's Training Class just last night, with flying colors. He's a show off puppy! Our neighbor's house was raided by the Police the other morning. No one was home at the time, so the action was short-lived. Real life raids look the same as movie raids! I was impressed, and scared. I'm sure they found a ton of illegal *stuff* in the house, and I hope they made a second appearance and finally get the dead beat drug dealers.
And finally - even though I have not been cooking, I have been sitting on this recipe for a very long time. It's one of my favorites, because it is very easy, timely and delicious.
SAUSAGE AND PEPPER BOW TIES
1 lb sweet Italian Sausage, removed from casing and "crumbled"1 bell pepper (any color), cut into strips1 onion, finely chopped3 garlic cloves, minced2 tbsp olive oil2 tbsp butter1 cup of reserved pasta water, if needed1 box Farfalle (bow tie) pastasalt and pepper, to taste1-2 tsp dried parsley (or 1-2 tbsp of freshly chopped parsley)Cook pasta as directed. Reserve 1 cup of the cooking liquid, if needed later in the recipe.In a large skillet, heat oil and butter. Add crumbled sausage, onions and garlic and cook until sausage is completely cooked through. Add bell pepper strips and saute until pepper is crisp-tender. Toss in cooked and drained pasta. If pasta looks too dry, slowly add in some of the cooking liquid, until you achieve the desired consistancy. (Note: if you add too much liquid, your pasta will become soggy - so go against your instincts and keep the pasta on the drier side!) Season with salt and pepper. Add parsley and serve!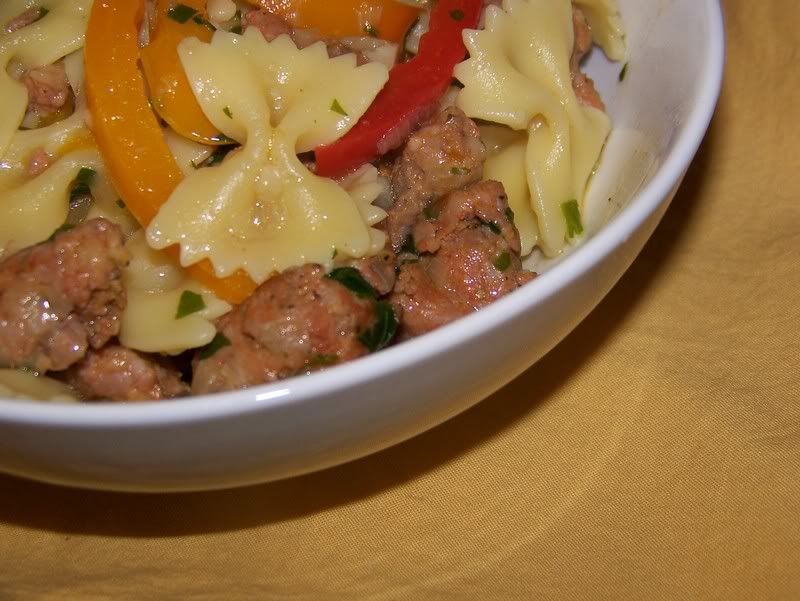 Leftovers are great for lunch the next day...
You will not believe the flavor this dish holds.