Risotto is one of those dishes that scares a lot of people for some reason. Maybe because it is a bit on the labor intesive side - or maybe because the dish itself has such high expectations. Who knows?! For me, the time and labor pay off in the end, with a dish that is flavorful, and creamy - and if you add a little somethin' somethin' at the end - colorful and/or cheesy! (And, who doesn't like Cheese!)
Making risotto is definitely one of those preparations you should commit to memory and have in your overall "bag of culinary tricks." Once you get the idea down, you can add anything you'd like, from mushrooms to squash to lemons to peas to herbs...whatever you'd like, to make it your OWN.
The recipe below is my own take on "basic" risotto - the leftovers of which will appear in tonight's dinner in a completely different form. (ohhhhhhhh, ahhhhhhhhhh!) Naturally, I adjusted the recipe a bit to ensure that leftovers would be had.
KAT'S BASIC RISOTTO



1 cup
arborio rice
2 tbsp extra virgin olive oil1 tbsp butter1 onion, finely chopped 1 garlic clove, finely minced6 cups of chicken stock 1/2 cup dry vermouth3 tbsp freshly grated fontina cheese (my addition - traditionally, you would use parmesan cheese)salt and pepper, to tasteEmpty chicken stock into a saucepan, and keep at a gentle simmer.

(Keeping your stock at a simmer throughout, keeps the cooking process moving - as you are dealing with heated liquids, as opposed to cold liquids that will stunt the cooking process.)

In a large skillet, heat oil and butter over medium to high heat until butter melts. Add rice, onion and garlic, stirring to fully coat with the fat. Cook until onion becomes translucent, approximately 2-3 minutes. Add vermouth, stirring rice until combined. Continue cooking until most of the liquid cooks out.

(Keep stirring! It's the stirring motion that will give you the desired creaminess in your risotto.)

Once vermouth is cooked out, add 1 cup of chicken stock, repeating the process of cooking and stirring. Repeat step until the risotto is cooked through. Season with salt and pepper. Finally, add in any additions - herbs, vegetables, cheese, etc - and stir to combine. Serve!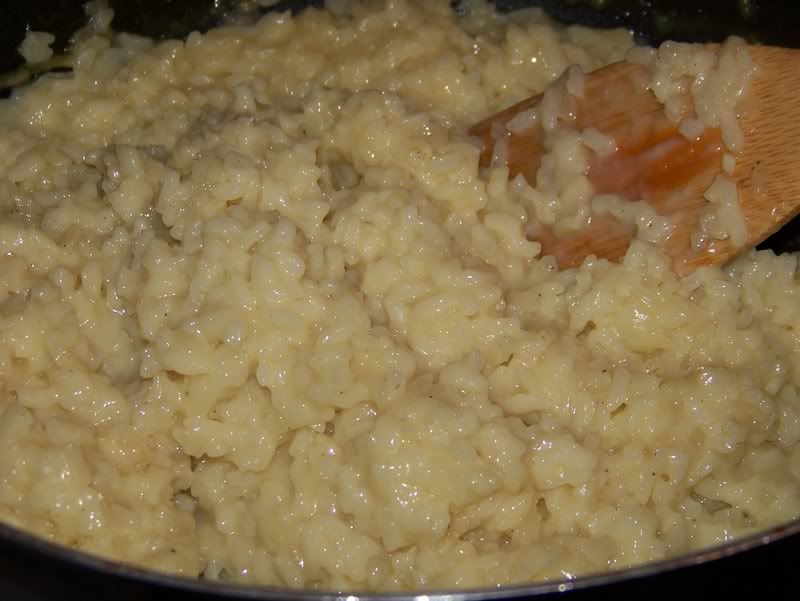 Risotto makes a great side dish - but depending on what you add, it can also be a very suitable meal!