The ways of risotto, part II:
I have never been let down by Martha Stewart. Her cookbooks are filled with wonderful recipes and pictures (!!!!) and her tips and technics always seem to work. My general "cooking" has increased tri-fold with her assistance. Martha's
Hors D'Oeurves Handbook
is another winner, in my book. I first used the cookbook back around Thanksgiving time when I "tested" the rice ball recipe, as well as a couple other appetizer yummies...all were excellent!
The rice balls satisfied, without being heavy in your stomach - and were great with accompanying sauces, like pesto and salsa, or cheese dips. I thought that they could be placed on an even higher pedistal - taking the main stage in a meal.
RISOTTO RICE BALLS

2 cups prepared
risotto
, of your choice (great way to use your leftovers!) - chilled
1 cup italian bread crumbs
4 cups of vegetable oil
small cubes of your favorite cheese - I used fontina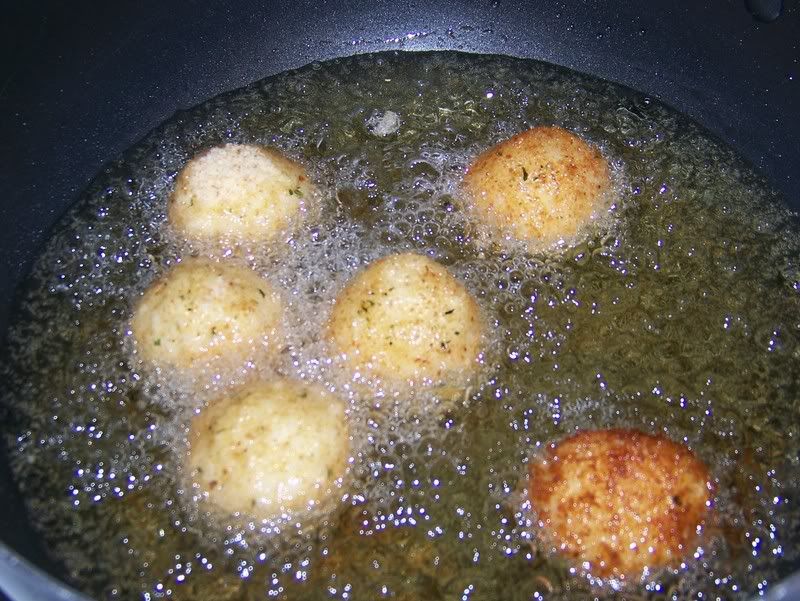 Heat oil in a large skillet over medium high heat. Meanwhile, take approximately 1 - 1 1/2 tbsp of risotto into your palm. Carefully place a cube of cheese in the center, and form a ball around the cheese - totally incapsulating it. Roll ball in bread crumbs, then place in the hot oil. Fry until brown, turning once to cook each side. Remove when browned, and place on a rack to cool. Serve either warm, or chilled.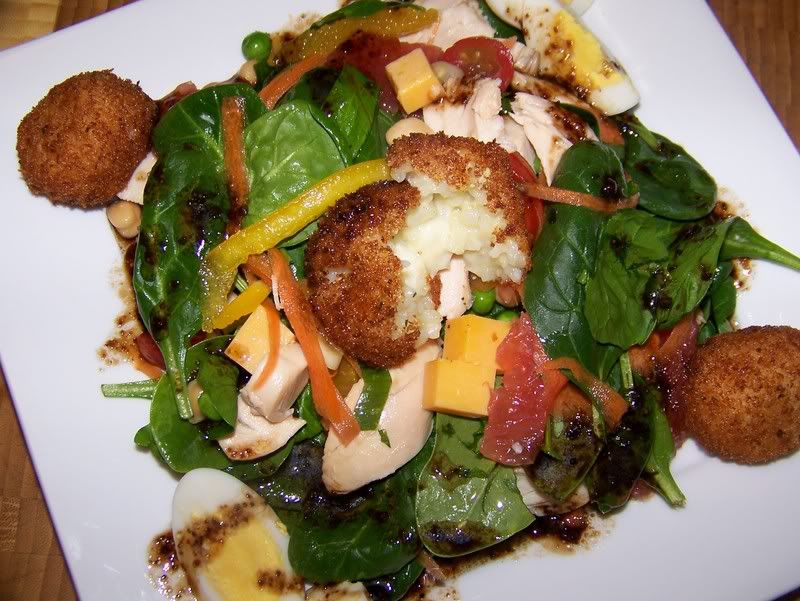 The risotto balls were nice and crisp on the outside, and tender and creamy on the inside - with a special surprise of melted cheese right in the center! I placed them atop a HUGE salad (we aren't mini salad people!) of baby spinach, sectioned grapefruit and navel oranges, smoked cheddar cheese, chicken cubes and other colorful vegetables. I dressed the salad with a little balsamic dressing, and dinner was served!
A close-up of all the goodness!