Last night was new recipe night!
"New recipe night" can either be a positive or negative experience, depending of course, on the meal offering. When I was younger, I would hide in fear when my mother pulled out her gigantic well-worn Betty Crocker cookbook...although some of those "new recipe nights" became "pizza nights!"
INDONESIAN PEANUT CHICKEN
Cut up chicken parts - legs, thighs, wings, etc.*
2 tsbp vegetable oil
1 medium onion, diced
1 small red bell pepper, diced
1/3 cup of smooth peanut butter
1/4 cup of chili sauce
1 cup of water
salt and pepper
dash of cayenne pepper
Salted, or unsalted peanuts, for garnish
Heat oil in a large skillet until hot. Add chicken, and cook thoroughtly until no longer pink on the inside. Remove chicken from skillet, and keep warm.
Add onion to hot skillet, and cook until translucent. Add red bell pepper, peanut butter, chili sauce and cayenne pepper. Stir until all combined. Add water slowly, wisking throughout. Sauce will thicken as it cooks. Season with salt and pepper, to taste. Add chicken to mixture, and heat through. Garnish with chopped peanuts. Serve!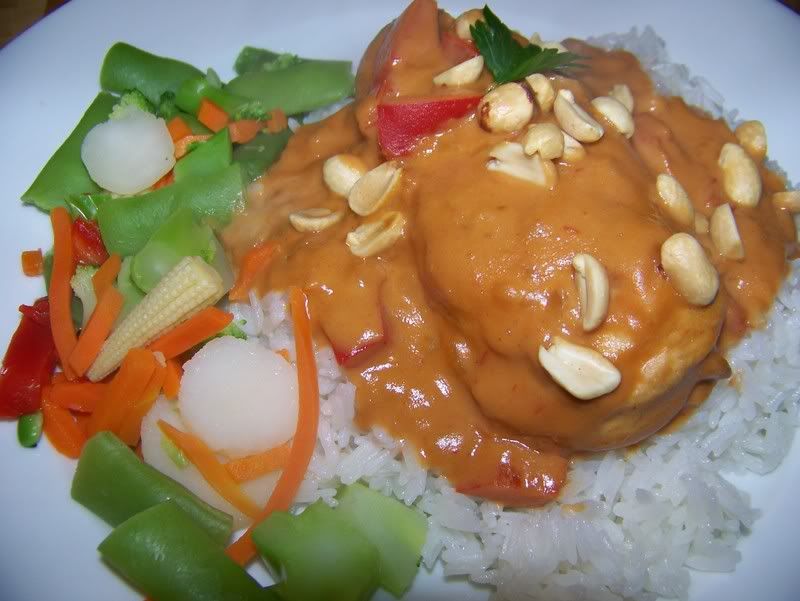 I served this dish over rice, and with a side of asian mixed vegetables.
*Instead of chicken pieces, I used just plain old boneless, skinless chicken breasts. I don't care for dark meat (I'm just not a fan) and I had chicken breasts available in the freezer. If I make this again, I will probably flatten the breasts out, so they cook up a little more tender, and look nicer for the presentation.
The verdict: Nathan hated this dish, yet still licked his plate clean. I thought it was quite tasty...for the first couple of bites. Then the peanut flavor started to assault my taste buds. It got old really fast. However, I think it would be a wonderful starter or appetizer...grill some chicken chunks on skewers, then prepare the "dipping sauce" separately. In that format, I think it would be a huge hit.