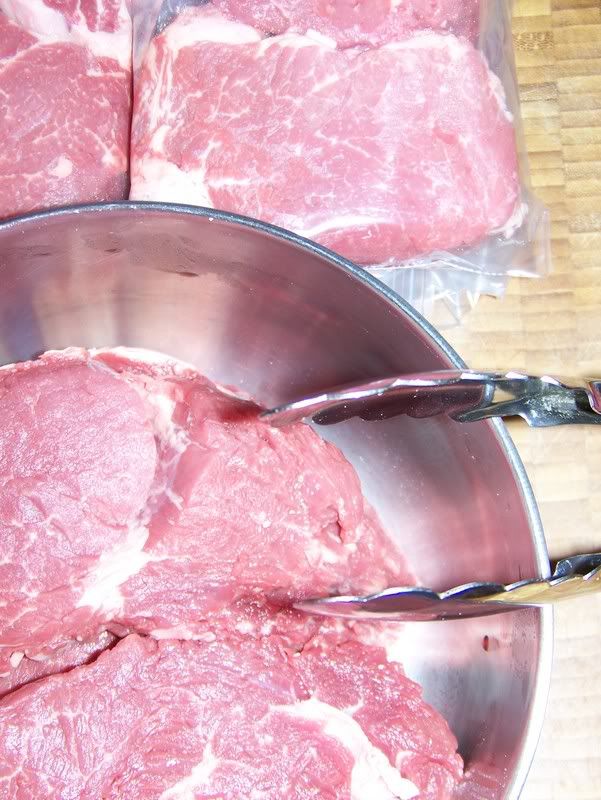 We eat red meat about once a week, typically. Since it is a bit of a "treat" I make sure that it is the best steak money can buy - and what is better than good old filet mignon?! It's so tender that you can use a butter knife to cut it, and it's amazingly flavorful - I mean, just look at that beautiful marbling. It also costs an arm and a leg. Two 1-inch thick filets will set you back approximately $25.00 or more.
Unless.....
I was walking around BJ's Wholesale Club a while back, and noticed that they sold the entire beef tenderloin. It was expensive, as a single item...but if you did the math, there were some great savings to be had!
One tenderloin costs about $50.00, depending on the poundage you are purchasing. What I do, is make my purchase - then process the meat when I return home. I set myself up with my sharp knife, a plastic cutting board and some freezer-grade storage baggies. I trim some of the fat and cut my own filets the size that
I WANT THEM
. I get about 12 pieces of meat out of one tenderloin - that's 6 dinner's worth! I also use the small pieces as stew meat - usually adding up to another whole meal's worth. I save a tremedous amount of money by shopping smart.
The meat freezes beautifully as well.