I am not a seafood lover, besides the occasional peeled and deveined shrimp here and there. However, I do prepare some kind of seafood once every other week or so, for the health benefits - and because Nathan enjoys it so much. I came across this recipe, and it looked super easy so I thought I would give it a go and see if it was something I would add to my recipe collection at home.
LEMON SOLE with CARROT BUNDLES



4 medium carrots, cut into strips approimately 5 inches long
1 1/2 cups herbed stuffing (uncooked)
1/3 cup of butter, melted
2 tbsp fresh lemon juice
1 lb fresh or frozen sole (or other flat white fish) fillets, thawed and drained*
salt and pepper, to taste

Preheat oven to 375 degrees.

Slice carrots, and cook until crisp-tender in plain boiling water. Remove, and set aside to cool.

Meanwhile, melt butter and add to the herbed stuffing in a small bowl. Add lemon juice and stir to combine. Set aside.

Divide carrots into bundles, and wrap fish fillets around the prepared bundles. Place, seam side down, in a greased, shallow 9 x 13 baking dish. Top each bundle with prepared stuffing. Cook, covered with foil for approximately 10 minutes. Uncover, and bake another 10 minutes until fish is flaky. Season with salt and pepper before service.

*I used Cod, because Sole was not available at my grocery market. Talapia would also work beautifully.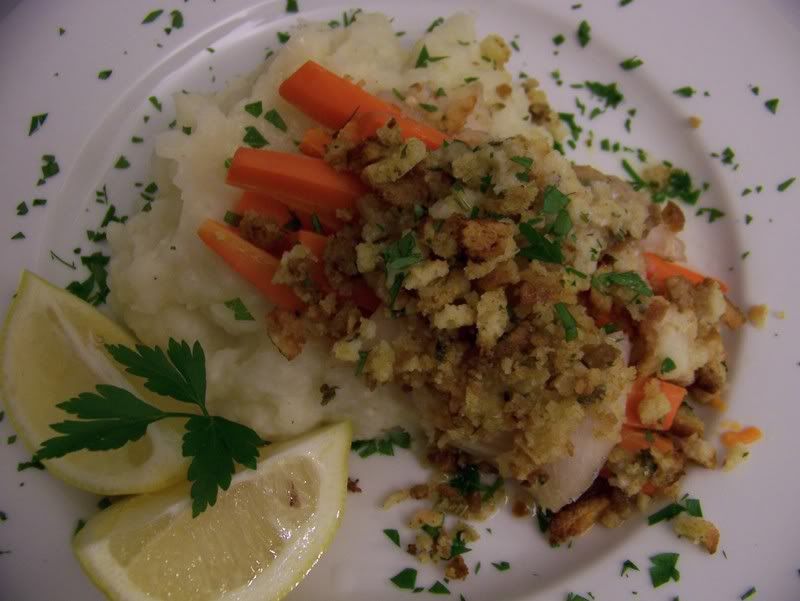 I served the bundles on top of a little whipped parmesan mashed potatoes, and granished it with a little flat leaf parsely for color and cut lemons. Not a sling drop of tartar sauce was needed! (And, that says alot, if you know me!)
A+ recipe! And, from start to finish, the whole process took only about 30 minutes to prepare. Great for a
dazzling
week night menu.